If you've been to Tuscany, you had vin santo, the sweet, thick fragrant nectar often served with another Tuscan legend, cantucci cookies. To be fair, vin santo is typical of all regions of central Italy and some variants of it can be found also in the North-East of the country, especially in Trentino, where it's produced with Nosiola grapes, and in Veneto, where it's made with Garganega.
A special name with a debated origin
The origins of vin santo are mysterious and border on legend, especially when it comes to its name, which translates, literally, as "holy wine." Its first attestations come from the early years of Christianity, when it's likely the expression vin santo was used to indicate wine that was pure enough to be drunk during mass. Fast forward one thousand years and we'll find it again in Siena, in 1348: the town was succumbing to the plague and, legends say, friars would visit the sick and give them a sip of mass wine to restore some of their strength. Apparently, the poor souls would whisper "vin santo," grateful for the short, but certainly welcome, moment of respite from pain the sweet liquor gave them. Soon, people began to believe the wine could cure illnesses, strengthening its fame of being "santo."
Another story places the origin of the name one century later, in 1439, when  pope Eugene IV called the council of Ferrara and Florence to discuss the relationship between the western and the eastern Christian Church. Seven hundred Orthodox priests came to Italy, including the famous humanist cardinal Bessarion, bishop of Nicea. One day, after tasting a glass of our glorious, golden Tuscan wine, he apparently exclaimed:  "But this is Xantos," as in the wine produced on the Greek island of Xantos, which was Italianized later in "santo," holy.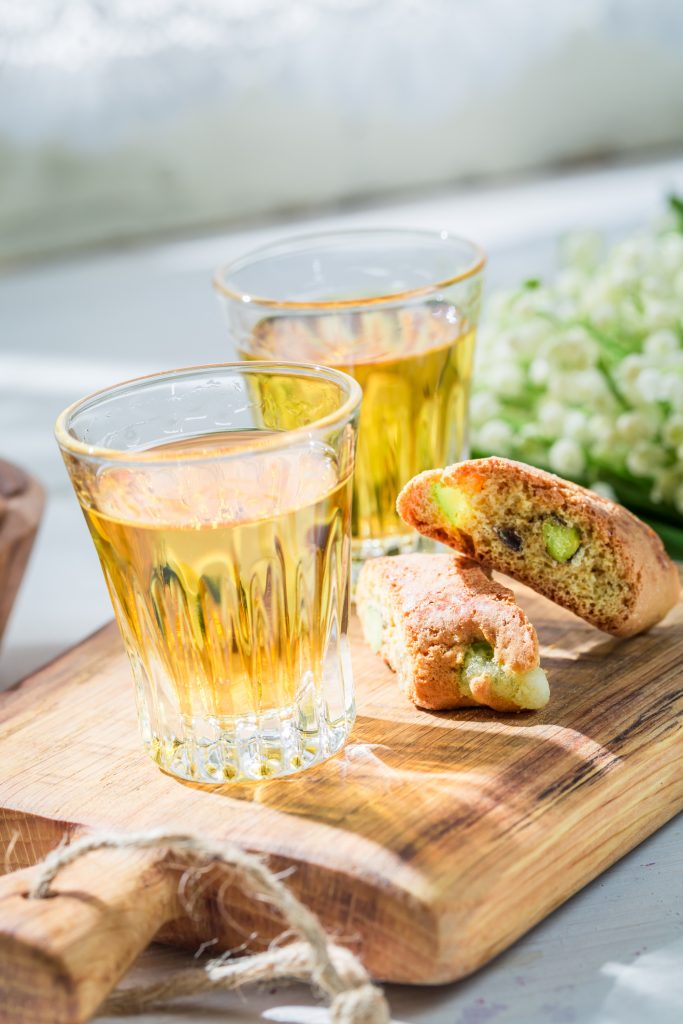 Some, however, believe that the name vin santo has little to do with its taste, and more with when it is produced, that is, always around important religious festivities. Grapes are pressed around All Saints Day in some parts of Italy, while in others, it happens around Christmas or even Easter, with bottling taking place either in November, December or April.
Truth is, the most probable, although less fascinating, reason for the name comes from the well established habit to use it as mass wine. Yes, to the association with the spiritual, but without any miracle nor famous cardinal in sight.
How do we make it?
To be fair, not much changed in the way we produce vin santo today from that used by our ancestors. In the past, only the best grapes were selected and let dry either placing them flat on mats or hanging from hooks. Once the grapes were dry, they were pressed. The must obtained was then moved into wooden kegs, usually between 15 and 50 liters in capacity. One thing was essential: removing the previous year's vin santo from kegs only a short time before filling them with the "new" wine, as the previous vintage's dregs were believed to improve its quality.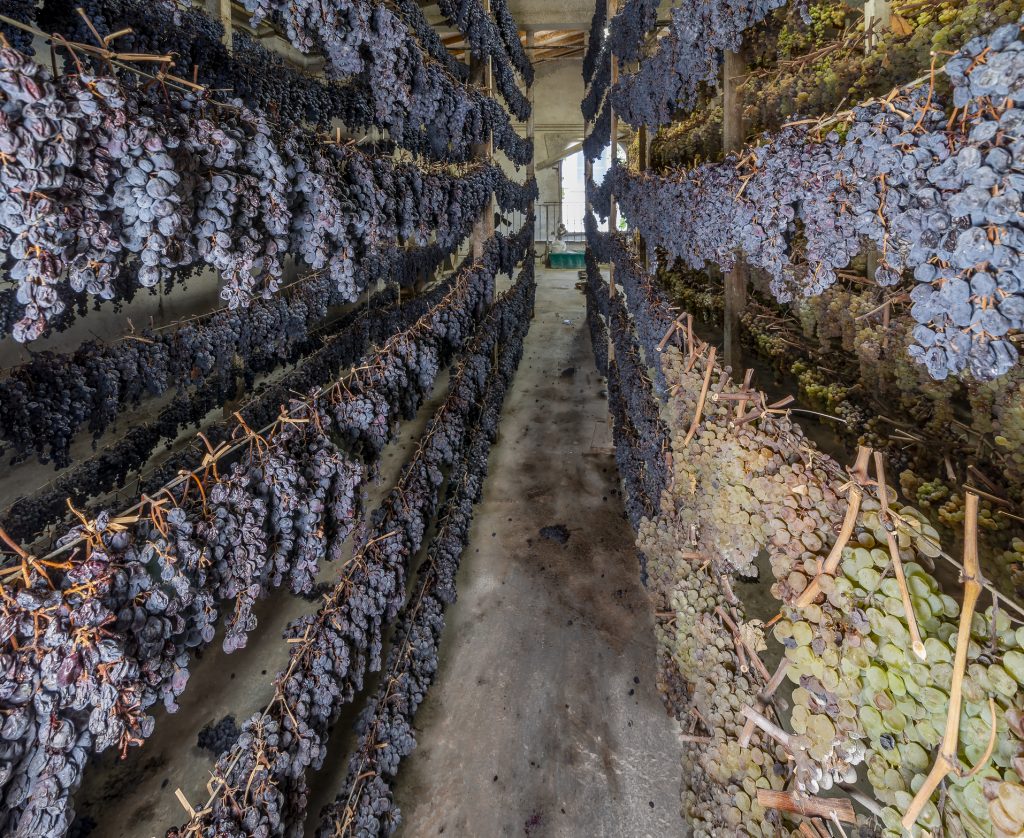 Once filled, the kegs were sealed and left aging somewhere quiet, like an attic, where thermal excursion between the seasons wasn't mitigated by fires and human life: indeed, the alternating of cold and warmth was considered an important ingredient in the maturing of the wine itself. Traditionally, vin santo was left aging for about three years, although some would extend the period up to ten! In any case, it was — and is —a precious wine, if you consider that one hundred chilos of fresh grapes give only about twenty-five liters of vin santo.
But the old fashioned way to produce vin santo wasn't free from issues. To begin with, the fermenting process is more complex when there is a high percentage of sugar in the grapes, as it is in the case of our vin santo, made as it is from dried — and very sweet — grapes. And then, there was the whole habit of keeping those dregs from the previous vintage inside the kegs, which often caused problems and gave the wine aromas not always enjoyed by drinkers.
A modern take on an ancient production
To avoid these issues and to obtain a vin santo with a more delicate, purer taste, modern producers prefer to use brand new wooden kegs and kick start the fermentation process using selected yeasts, that adapt well to the high sugar content of the must. However, some producers do add a very small amount of those old dregs (which we should call, more aptly, the "mother" of the wine), when they want to obtain a fuller-bodied, more traditional vintage.
Beside its use as mass wine, which is still quite common, for all the vast majority of us vin santo is a dessert wine. And it couldn't be otherwise for a wine with such a sweet, honey-like flavor. Usually, our Tuscan and Umbrian wine makers use Trebbiano and Malvasia grapes; when Sangiovese is preferred, then we obtain the vin santo occhio di pernice. Vin santo can be sweeter or drier and it's delicious with pasticceria secca, that is, all sort of cookies, shortcrust pastry and, of course, with cantucci. Some types of vin santo are very good with cheese, too. In Umbria, vin santo is a beloved side kick to fave dei morti, almond cookies baked for All Souls Day, to ciaramicola, a popular Easter cake, and to torcolo, the region's own version of ciambellone della nonna.