The origin of lasagna, a very appreciated dish not only in Italy but all over the world, is rather controversial; there are in fact several regions that contend with each other for the invention of this layered pasta sheets, that can come with different variations of filling.
Taking a step back, the pasta of the fourteenth-century lasagna was made only of water and soft wheat flour, so its consistency, once cooked, was particularly soft. It was only during the Renaissance that eggs, in whole or in part, took over the water in the dough, giving the pasta a greater tenacity.
The Renaissance recipe will last with minimal variations until the second half of the eighteenth century, when timbales — or baked lasagna pies — were definitively established. And even if the first lasagna, with an explicit territorial denomination, are the "Milanese" ones, which at the end of the eighteenth century were cooked with truffles, butter, béchamel, cinnamon and Parmesan, it is the version of lasagna Bolognese that anticipated of about half a century the use of ragù. The layers of egg pasta were in fact alternated with boiled spinach, previously chopped and sautéed in a pan with the meat sauce for the "fat" version, or with butter, onions and herbs in the lean version.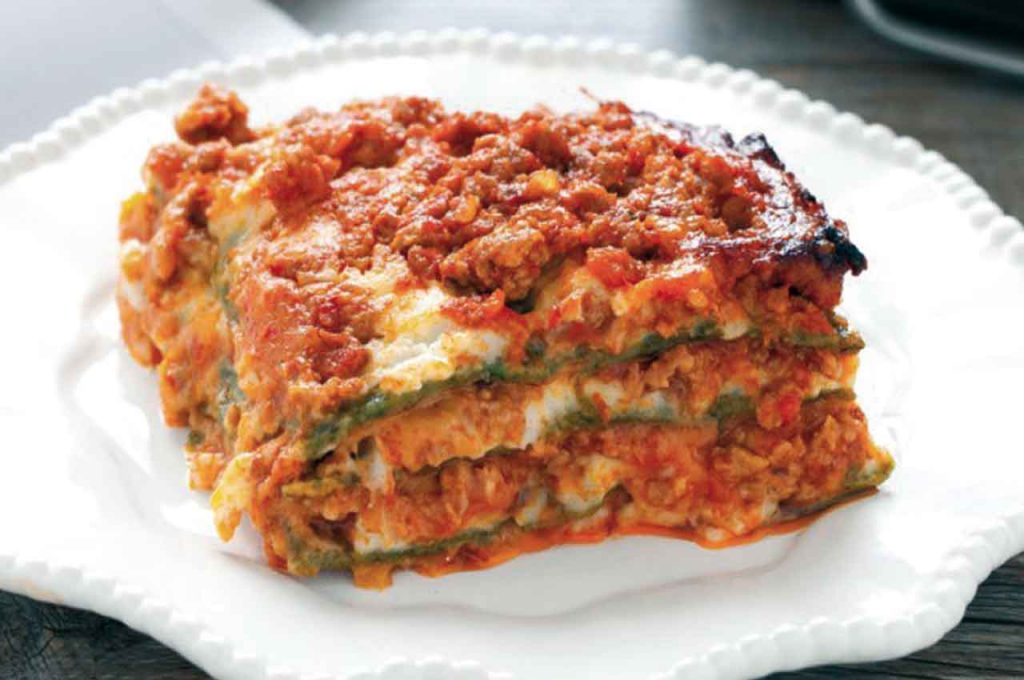 It therefore seems that the invention of the recipe we know nowadays is to be attributed to 20th century Bolognese restaurateurs, who have introduced some notable changes compared to the variants of other areas of Italy. First of all, the pasta layers: if spinach was first alternated with puff pastry, from then on they become part of the dough itself. Later, the classic Bolognese sauce, béchamel and grated Parmesan were added, transforming the dish not only into a real "symbol" of Emilian cuisine, but into the lasagna recipe par excellence.
And even if the gastronomic tradition of each region created a personal variant according to local tastes and ingredients, in 2003 the Bolognese delegation of the Italian Academy of Cuisine intervened to definitively sanction the greatness of this dish, depositing the original recipe at the Chamber of Commerce of Bologna.

To keep this tradition alive, Chef  Michelangelo, a true Bolognese who has been living in California for years, has opened the first and only food-truck lasagna in the world in Los Angeles. "I have been in the food  and beverages industry for a long time, but the idea of ​​a restaurant was not for me, while ​​being able to move to different areas of the city and being a sort of mobile host attracted me," says Michelangelo who,  with his Bolognese mother and Neapolitan father, collects the best traditional Italian recipes in his family history. "When you cook, be it professionally or as an amateur for friends, you always go fishing in family traditions. In my case, I went to fish out my grandmother's lasagna. She made them with green pastry — lasagna like this are difficult to find even in Bologna nowadays, because the tradition has  been a bit lost. Someone also makes it with nettles, but I chose the spinach  because my goal was to pay homage to my grandmother's tradition. It is no coincidence that in my menu this lasagna is called The Original."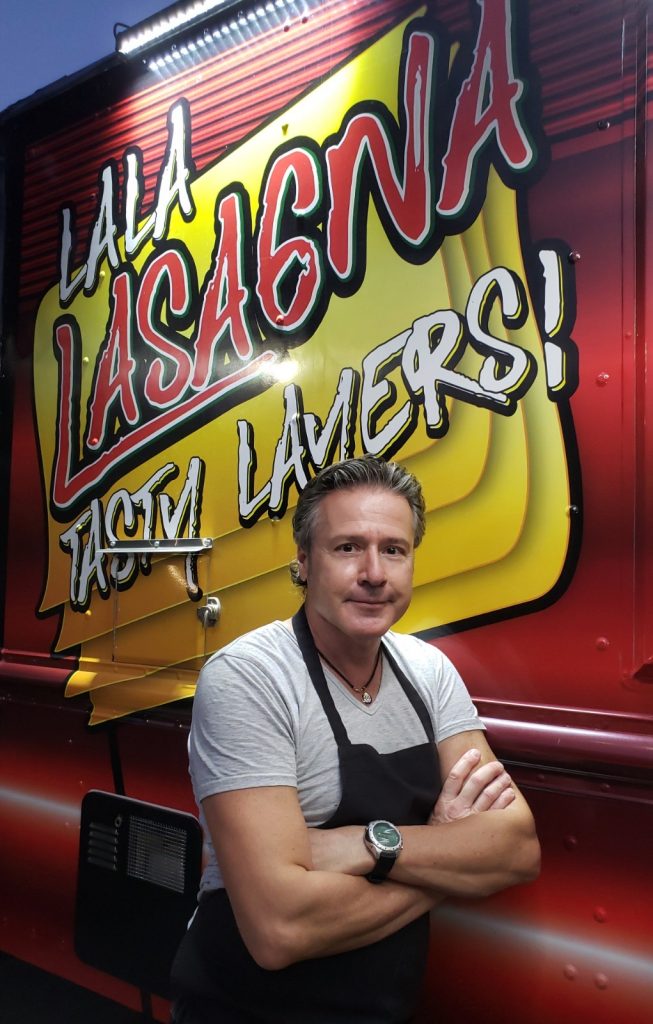 Arrived in Los Angeles in 2012, Michelangelo began his career as a personal chef, with a clientele that was immediately very varied and scattered almost everywhere. "I had clients from San Diego to Utah and I liked that. What came close to this concept was the food-truck, which I prefer to call a mobile kitchen."
"I am quite an extravagant person and I never want to copy anyone, when I do something I have to follow my instinct and do something exclusive," Michelangelo continues, specifying how the choice of having lasagna as a main course was not immediate. "It's easy to talk about Italian food and make pasta and pizza and I didn't want to do something trivial. Pasta is too basic so thinking about my origins, that is to say in Bologna, I reflected on the fact that it was the Italian capital of flavors and… lasagna. Then I added not only different types of lasagna to the menu but also stuffed pasta, which is also a symbol of Bologna. "
Michelangelo what is your first memory related to lasagna?
I cooked my first lasagna with my grandmother one summer in her country house, I was twelve. She would wake me up at five in the morning, she would send me take very fresh eggs, and then she would make the pasta, the béchamel and the meat sauce; I participated only by mixing. A process that lasted two days: the ragù cooked slowly for almost a whole day, the next day the pasta was prepared.
How long does it take to make lasagna?
It's a very, very long process. In eight hours of work, between when we start by making the ragù, it takes us ten hours to make 50 trays. This is another thing that people often don't understand.
That is?
Our food and wine tradition is based on the concept of time: time is needed to do things well. To cook the ragù, to let the pasta rest… Here the world is very fast and they want everything immediately. But that's not how it works, there are processes that the everything-now culture doesn't understand.
Was it difficult to prepare and offer a strictly traditional lasagna here in America?
We often pay for the mistakes of those who came first and modified Italian recipes, adapting them to the final consumer. But the customer is not always right, what matters is having personality and explaining things not in an arrogant way, but trying to educate and make people understand that the secret is to find the balance between what they ask and what you offer. The moment they try the dish the way you do it, respecting the tradition, they understand.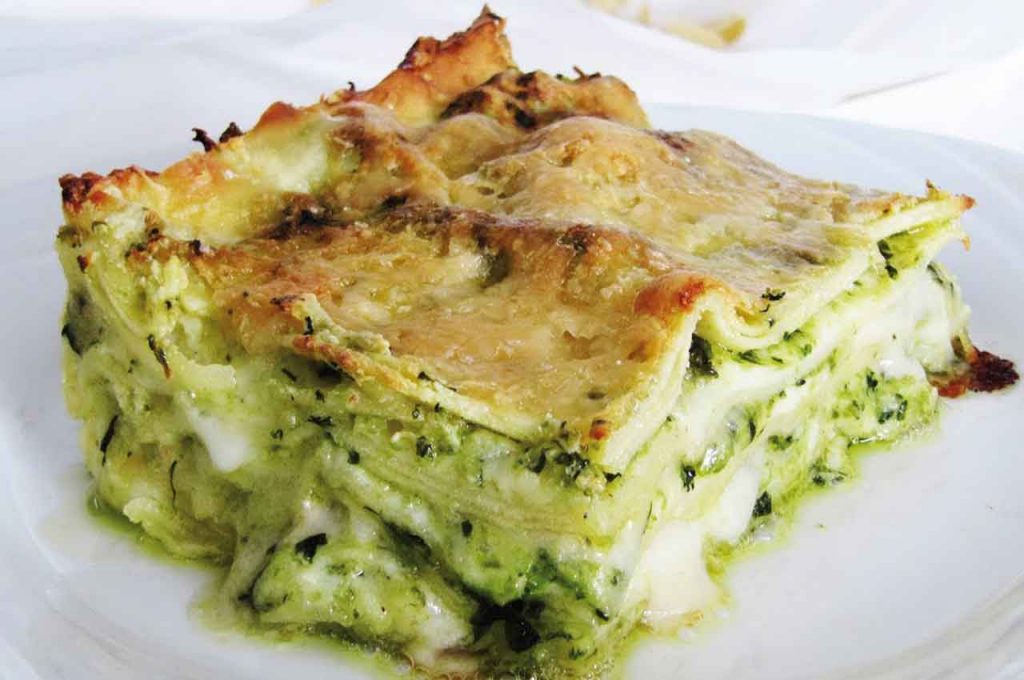 How do you behave in these cases?
When I have to deal with a doubtful customer, because he is used to lasagna with ricotta for example, I invite him to try mine and in this way I overcome his skepticism. Here the lasagna is made with ricotta and garlic and is therefore considered very heavy, it is an intertwining of infinite flavors that in the end you may not like. When they try mine they go crazy and they only want that one after.
Do you ever try to experiment?
Today chefs experiment much more and are more creative, but I belong to a generation of chefs where experimentation was not so widespread. I had a creative moment in my career, and then I closed that chapter when I realized that what I wanted was to study the tradition of Italian cuisine. From my point of view, the path that leads you to discover what lies behind each of our dishes is more fascinating.
What did you discover about lasagna for example?
The ragù today is considered very noble, but going back into its history, I discovered that it was created as a dish for the poor because it was made with pig waste, after the best pieces of meat were given to the farmer. In the original recipe, milk was also added to sweeten the offal.
What's an ingredient that you think should never be missing from a good lasagna?
I would say there is more than one. Certainly extra virgin olive oil, which is the basis of good cuisine. Then I could not give up tomatoes, an ingredient that brings together the North and the South of Italy.
Can you tell us a secret about your cuisine?
My lasagna is made without boiling the cooking the sauce too much, because it becomes heavier to digest. For the same reason I don't put butter in the meat sauce, I use olive oil instead. The beef is top quality and I cut it with Angus so the result is a good meat sauce without being fat. My secret therefore is to try and make a dish appetizing and tasty, but not heavy. This is the key to interpreting modern cuisine in my opinion.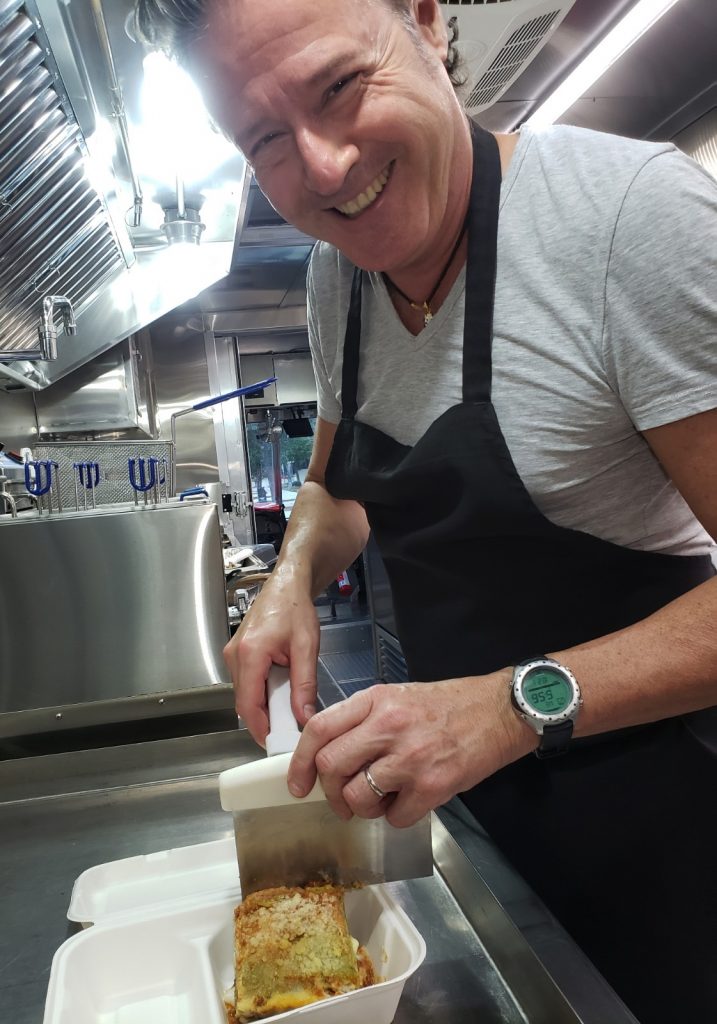 What does making lasagna mean to you?
It means cooking in an absolute sense. For me it is a form of expression, of communication.