In one of his masterpieces, Oceano Mare (Ocean Sea), Italian novelist Alessandro Baricco describes an artist who painted the sea with sea water. I remember thinking, after reading the book for the first time, that there couldn't be anything more poetic.
Little did I know that, by looking into my own country's long-lasting traditions, I was to encounter something as magical, that didn't come, however, from the inspired pen of a contemporary artist, but from the ancient ingenuity of our ancestors. The art of "painting" images with flower petals has been popular in Italy for almost four centuries. We call it infiorate, and the name itself has beauty to it, because "infiorare" means "to cover with flowers," something that speaks of colors and silk, of scents, velvets and abundance. Infiorate are traditional events, common especially in the South and the Center of Italy, with some notable examples also along the coast of Liguria, in the North-West part of the country: talented infioratori, artists filled with inspiration and skills, create delicate panels reproducing holy images, geometric patterns and, sometimes, even famous paintings. Often associated with religious festivals, infiorate were born as a sign of devotion and Faith, their soft, colorful appearance a breathtaking frame to processions and acts of worship.
Indeed, the first reference to the art of "painting with flowers" comes from a place known for its connection with the Divine, the Vatican. In his De Florum Cultura  ("about the cultivation of flowers," published in 1633 and in 1638), Jesuit Giovan Battista Ferrari gives a detailed account of the first infiorata, organized in occasion of the Feast of Peter and Paul: it was 1625 and flowers, "thinned and shredded (…)," were used to "imitate the colors and appearance of the most beautiful paintings."The event was so successful it was repeated, year after year, until Ferrari wrote his book.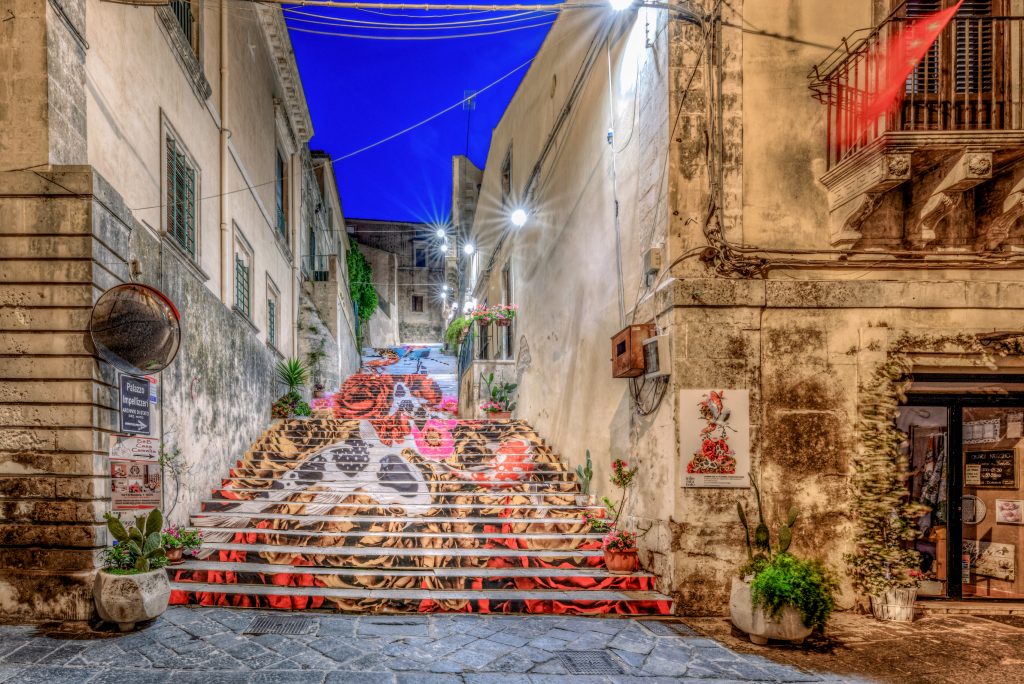 Carnations were used to render the delicate hues of human skin, while hyacinths, in all their shades "from turquoise to black," were chosen for the eyes, for dark hair and to create chiaro-scuros. Broom flowers made blonde hair, while poppies, more hyacinths and roses made clothes colorful and precious. The mind behind these first infiorate in the Vatican was Benedetto Drei; in those years, he came into contact with many other artists working at the Pope's court who, perhaps, are responsible for the diffusion of infiorate in other parts of Italy. Indeed, some believe that known figures such as Gian Lorenzo Bernini and baroque painter Carlo Maratta may be responsible for the appearance of infiorate in Genzano, one of the 13 beautiful towns in the Alban Hills commonly known as Castelli Romani. Just a romantic story to give "official art" cred to the craft? Maybe, but anyone who saw an infiorata can testify its beauty could have well risen the interest of the greatest creative minds of those times.
We said Genzano. Why do we mention it, you may ask? Simple: the oldest and largest infiorata still running to this day takes place there. Every year, some half a million beautiful flowers — that makes about 50 tons of petals! — are used to create 15 panels covering the streets around the Church of Santa Maria. The first record of an infiorata in Genzano dates back to 1778, but that doesn't mean there weren't any before, as local historians do believe the tradition came from that famous Vatican City infiorata of 100 years earlier: perhaps, the theory about great Roman artists making it popular around the country is not that out line, then. Every year, more than 100,000 people visit Genzano during the infiorata, attracted by its theme, which changes annually, and, of course, by the colors and beauty of the event. A few years back, famous Italian designers like Fendi and Versace created the panels, while the last edition, which took place in 2019 (of course, the pandemic put a halt to it, too), was dedicated to the Via della Bellezza, that is, the way Beauty shows itself in the world.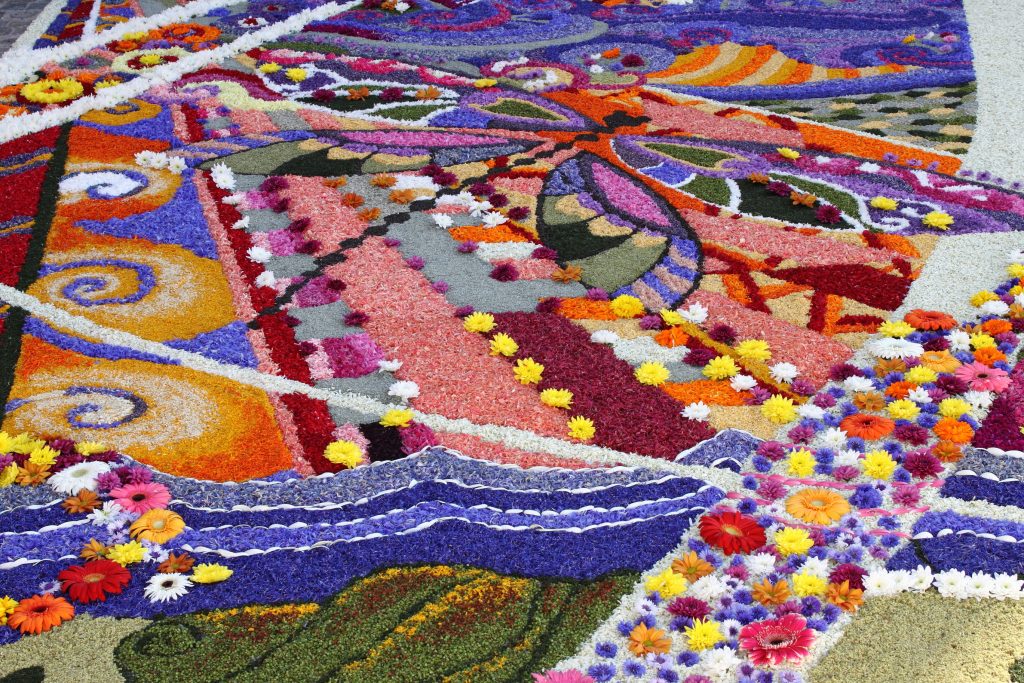 Genzano isn't the only place in Italy where you can see an infiorata. Other famous ones are organized every year in Noto, Sicily, and Spello, Umbria. Noto, known for its baroque architecture, is part of the UNESCO World Heritage Patrimony and has had an infiorata since 1980. While relatively recent, especially when compared to that in Genzano, it's probably one of the most famous: 16 different panels are laid one after another to carpet Via Corrado Nicolaci entirely. We're talking about 7,000 square feet of flower art, made with some 400,000 blossoms — daisies, in particular. Just like in Genzano, every year there is a different theme: we had myths and legends of the world in 2016, China in 2018 and the victory of beauty over fear last year, in an edition that took place entirely online.
Spello, a quaint medieval village in Umbria, is home to yet another famous infiorata that develops along a mile of its streets and alleys. Here, flowers, herbs and leaves are used to reproduce famous paintings, including works by Botticelli and Giotto, religious images and local landscapes. Spello' infiorata is almost 100 years old, as it was first celebrated in the 1930s; in town, you can also visit a museum fully dedicated to the art of "painting with flowers."
Infiorate are quite popular across the country: other famous ones are held yearly in Bolsena (Lazio), Castelbuono (Liguria) and Diano Marina (Liguria).