"The American Savoy Foundation's purpose is 'chivalry for children's causes.' Supporting Caterina's Club – an association founded by Savoy Knight Bruno Serato, that feeds over 5,000 homeless children here in Southern California every day – has been the goal of the Notte di Savoia Los Angeles for the past three years." Prince Emanuele Filiberto flew all the way from Italy to attend one of the most important events of the American Foundation of Savoy Orders.
On Saturday evening, April 9, 2022, the Fourth Annual Notte di Savoia Los Angeles Spring charity gala was hosted and held at The Jonathan Club, in downtown Los Angeles. More than 170 patrons gathered at the black-tie gala in support of the Foundation's philanthropic mission benefiting Caterina's Club, a Southern California-based nonprofit.
Guest of honor of the American Foundation of Savoy Orders was His Royal Highness the Hereditary Crown Prince of Italy, Emanuele Filiberto of Savoy, Prince of Venice and Prince of Piedmont, who took the stage to praise the achievements of the Foundation in carrying on its mission. "I am thrilled to see the American Foundation of Savoy Orders continue my family's centuries-old tradition of supporting families in need, especially during these challenging and unprecedented times," said Prince Emanuele Filiberto.
"The Savoy charitable and humanitarian purposes like Caterina's Club today, are very much in keeping with the centuries-old hospitaller traditions of the Order of Saints Maurice and Lazarus, one of the oldest institutions of Western and Christian civilization, founded in 1572 and stemming from the eleventh-century hospitaller Order of Saint Lazarus of Jerusalem," Daniel J. McClory, Director of the American Foundation of Savoy Orders and Co-Chair of the Fourth Annual Notte di Savoia Los Angeles points out.
"The Fourth Annual Notte di Savoia Los Angeles gala was a tremendous success, providing Caterina's Club with ongoing funding and support. The association has donated more than 7 million meals to homeless and low-income children since its founding in 2003," Prince Emanuele Filiberto said.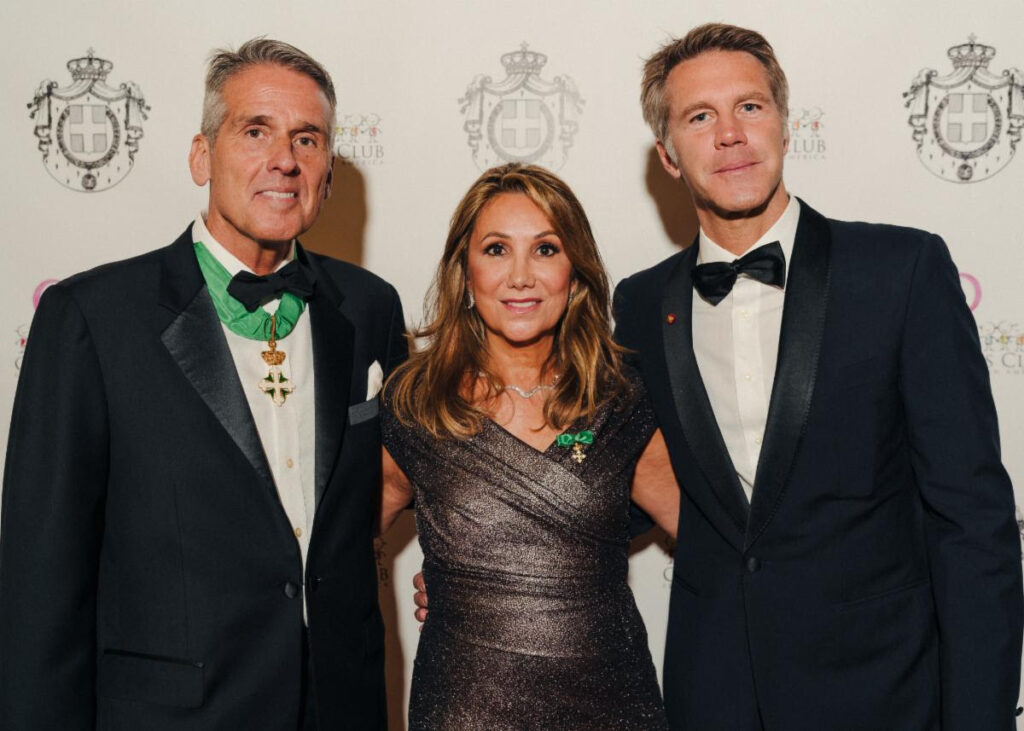 The American Foundation of Savoy Orders is a non-profit charity, headquartered in New York City and established in 1993. It provides grants in support of humanitarian, medical, educational, and social assistance, including children's causes, veterans' programs, disaster relief for earthquake and flood victims, and scholarships for college students in the arts, science, and international studies. The Savoy Foundation also sponsors an annual lecture series given by distinguished scholars and masters in their respective fields, on topics related to the House of Savoy and the history of Italy, Italian literature, art, music, and science.
The mission of the Foundation doesn't stop at the Notte dei Savoia event. Each December in New York, the Foundation hosts the Ballo di Savoia at the Metropolitan Club, attended by His Royal Highness Prince Emanuele Filiberto, a white-tie gala benefiting children's charities.
The Festa della Primavera, at the Columbus Club in New York in June, honors prominent Italian-Americans such as Mathilda Cuomo, Anthony Fauci, and Maria Bartiromo.
"Our American Foundation of Savoy Orders has truly been blessed with the incredible members of its American Delegation, and the efforts of the Savoy Foundation with the Notte di Savoia, reflect the very charitable work upon which our Savoy Orders are based. From East to West, from North to South, our members join forces to respond to societal needs, and Caterina's Club is a great example of it. We applaud all, especially Chef Bruno Serato and Host Committee Co-Chairs Daniel and Florentina McClory for their good-will and spirited work in making the Notte a success" Carl Morelli, Esq., and Joseph Sciame – respectively the Chairman of the Board and President of the American Foundation of Savoy Orders – concluded.
Caterina's Club started thanks to Chef Bruno Serato's mother Caterina. He and his mother visited the Boys and Girls Club of Anaheim, down the street from his restaurant (Anaheim White House), where his mother noticed that there was a 6-year-old boy eating potato chips for dinner because his family couldn't afford a proper meal. Caterina insisted that Bruno make some pasta for the child. They soon realized that there were many more of these hungry "motel children" so Bruno began making pasta for 72 children, 5 nights a week, creating the program "Feeding the Kids in America." Today, the association feeds over 25,025 children a week. Frustrated that feeding the children was not enough, Bruno began a second program called "Welcome Home," where he and the association provide families without a fixed abode the necessary resources to move into the safety and stability of an apartment or condo.
Chef Serato, when was Caterina's Club founded and why?
Caterina's Club began on April 18, 2005, when I started to feed homeless children living in the motels dotting the entertainment region of Anaheim. As a chef and the Anaheim White House restaurant owner, the food was prepared in the kitchen and delivered to the children–as it still is today. "Feeding the Kids in America," as the program is called, began after I brought my mother to the Anaheim Boys and Girls Club (a local program I supported) and learned of parents living in local motels and not being able to afford or prepare nightly meals for their families. Soon we began to feed the children a hot pasta dinner every night.
Has its purpose changed over the years?
Caterina's Club's mission expanded from providing warm meals to also offering affordable housing assistance, and job training to homeless and low-income families throughout Orange County. As a result, we are pleased to share that, to date, we have served over 7.2 million meals, housed 245 families, and provided job training to 675 at-risk teens.
What is the greatest satisfaction you had from Caterina's club?
Reaching 1 million meals served was a feeling like no other. It took 10 years to serve that many meals. We've served over 7 million meals now, but reaching 1 million was incredible to me at the time. I couldn't believe it – the thought of serving that many meals never crossed my mind when we first started.
What is Caterina's Club's next goal?
To serve 100 million meals, continue to expand to alleviate child hunger and homelessness, and break the circle of poverty.