Our favorite time of year to travel is the "off-season", and we do so frequently, but even we were surprised to find a castle hotel of this caliber for a mere $66.
Off-season travel offers many benefits: lower lodging prices, smaller crowds, and nicer temperatures for walking and hiking – no mosquitoes! We normally avoid big tourist spots as a rule but even at the small sites we visit, we always prefer to go when the crowds are at a minimum. It's also a good time of year to enjoy some of the seasonal colder-weather Tuscan foods – hearty bean soups, rich meat stews, and earthy mushrooms.
So it was easy to build a nice overnight trip around the town of Sorano in southern Tuscany. Looming large over the town is the 12th-century Fortezza Orsini, now a hotel and museum.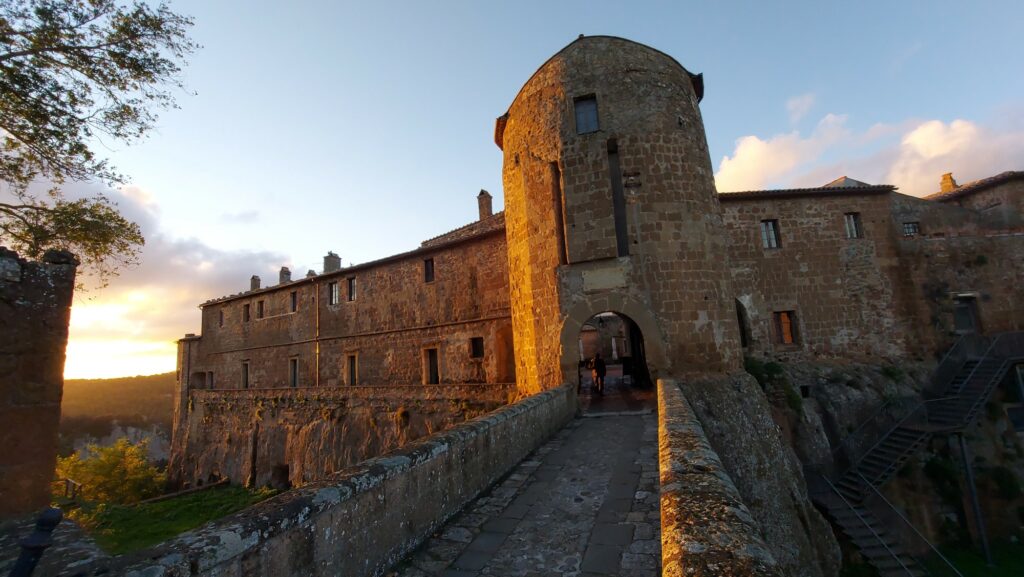 From a free parking lot outside the walls, we walked through a gate in a huge castle bastion, down through a dark tunnel, and up into the castle's piazza. Check-in included a complimentary tasting of local wine, cheese, and prosciutto. Then we walked through a courtyard to our room entrance. We actually had booked a suite: a large sitting room and the main bedroom, and two full bathrooms – a rarity, and unheard of at this price! Views out the windows were stunning, looking down at the rooftops and the aqueduct of the town below, and the rolling forested hillsides in the distance. A homey little enoteca-ristorante with tables in the courtyard made for a perfectly self-contained visit – aperitivo, dinner, and breakfast all within the medieval walls. Given all of this, especially at $66, it's easy to see why we love to travel to small towns, especially in the off-season.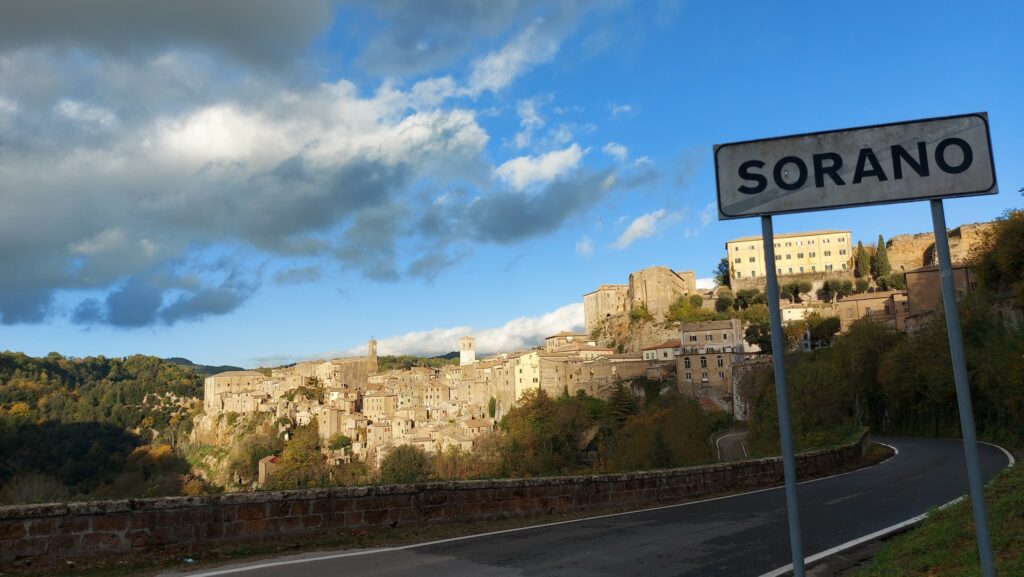 Since it was built, this impregnable fortress was never conquered, as it had its own water source and extensive underground floors for storage and lodging of the entire town. A walk down through stone arches and covered, cobbled corridors leads visitors to the town of Sorano itself: narrow winding streets, jewelry and ceramic artisans' shops, several ancient churches and a little synagogue, an arched aqueduct wall overlooking the valley, and the town's main feature: a huge clock tower with a panoramic piazza above it. In most towns, this would be the biggest structure, and it is impressive on its own: but here it's dwarfed by the fortress above.
For sightseeing, we're spoiled for choice: Sorano sits in the midst of a region filled with fascinating and ancient Etruscan sites. A few are gated and ticketed; most of them are free and, at this time of year, they're practically empty. For example, five minutes away from Sorano is the "Lost City" of Vitozza, a row of cave dwellings and tombs from the Etruscan (pre-Roman) era; the caves were still inhabited as recently as 240 years ago. A medieval outpost fortification sits in ghostly ruins atop a steep rock outcropping in the middle of the woods. The region is also famous for its many Etruscan vie cave – "cave roads." Made some 2,500 years ago, these narrow pathways were cut into the stone cliff to form extremely deep rock corridors through the woods above. In some cases these were homes; in others, they were "streets" of tombs called Necropoli – cities of the dead.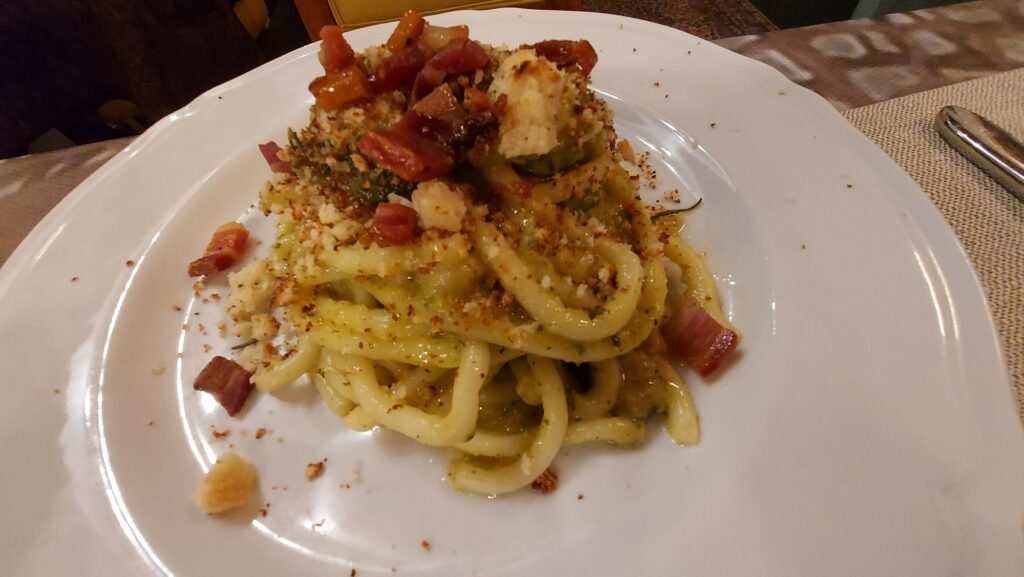 Walking among these narrow stone passages, we could hear the bells of the cathedral ringing out from the nearby village of Sovana. In contrast to Sorano's huge fortress and many slopes and stairs, Sovana's brick streets run almost perfectly flat for the length of this impossibly charming village, making it easy to visit its medieval churches, restaurants, and artists' studios. The 11th-century cathedral at one end of town is massive, with high vaulted ceilings of tufa rock; it houses a crypt from three centuries earlier, now displaying the bones of local saints. A smaller church in the center has preserved frescoes from the 14th century, contributing to the feeling that we've stepped back into time. At the other end of town stand the picturesque ruins of another fortress – evidently less successful at defense compared to that in Sorano! We imagine it would get crowded here in the summer, but in November the streets have a quiet and magical quality.
These towns, and the sights in and around them, are so much fun to visit in the off-season – we can imagine spending the better part of a week here, exploring all the area has to offer. And at 66 bucks a night to stay in a suite in a castle, you can explore in style!
————-
About the authors: Zeneba & Matt moved from the US to Italy in 2019, where they live and work as performing musicians. They are also authors of four award-winning travel guidebooks, and as Little Roads Europe they craft itineraries for travelers who want to visit small towns and enjoy authentic experiences in Italy and Ireland. www.littleroadseurope.com