Connections between sister cities can be expressed in different ways – student exchange programs, touring art exhibits, or in the case of Spokane and its sister city of Cagli, public sculptures on permanent display.
Last fall, Spokane celebrated its newest sister city relationship with Cagli, a town located in the Province of Pesaro and Urbino in the Marche district, with a public unveiling of two sculptures installed in the Sister Cities Connections Garden. The garden is part of Spokane's Riverfront Park, named in 2020 by National Geographic as one of America's most beautiful downtown parks.
One of the new sculptures, called Teatro and Torrione, is fashioned from Carrara marble by Cagli artist Ettore Gambioli. The other, forged from steel, features the Kokanee salmon, vital to the livelihood and history of Spokane and the Indigenous peoples of the region.
The 3,000-pound Teatro and Torrione sculpture depicts two historic structures from Cagli: a medallion reminiscent of the ceiling of Cagli's Teatro Communale (community theater) built in 1878, and an adjoining flat marble slab representing Torrione Martiniano, a 15th-century tower, now a visitor site, all that remains of an ancient fortress.
Cagli sculptor Ettore Gambioli was not present at the Spokane unveiling but sent electronic greetings to those who attended the dedication ceremony. His message of friendship was read by Elisabetta Valentini, honorary consul of Italy. "This sculpture represents the city of Cagli with two of the most important symbols," Gambioli wrote. "Making this sculpture gave me the opportunity to pay homage to the city of Cagli and Spokane."
Gambioli and his father Paolo work side-by-side in a studio in Cagli attached to the family home. Over the years, the two have carved many works together, including custom stone fireplaces, family crests and medallions. Their art can be seen in the churches and public spaces in and around Cagli.
The Spokane sculpture, created by local artists Melissa Cole and Brad McDonald, depicts a vibrantly colored Kokanee salmon appearing to leap into the sky. At the sculpture's base, bright blue and green curved pieces of metal suggest the waters of the nearby Spokane River, an appropriate image since the 100-acre Riverfront Park sits along its shores.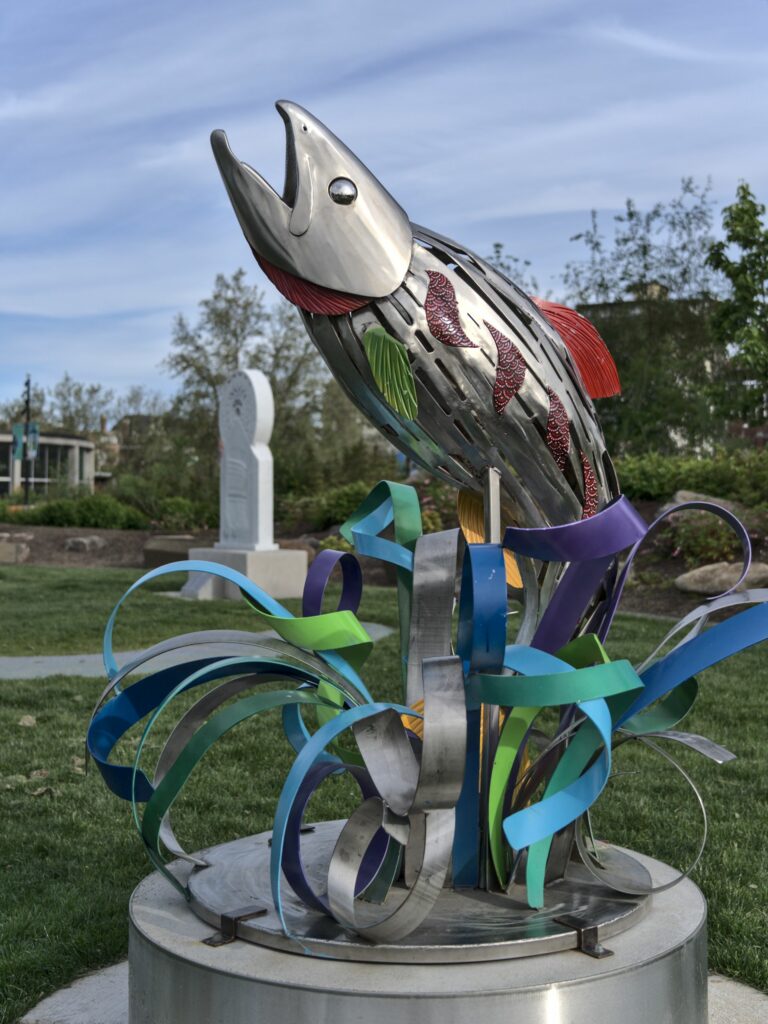 Although the sister city relationship between Spokane and Cagli was made official in 2016, the connection between the two cities goes back about 20 years. In 2002, Gonzaga College established a summer study abroad program in Cagli led by Dr. John Caputo, a Gonzaga communications professor, now retired. The city-to-city friendship grew over the years.
Eventually, a delegation from Cagli visited Spokane to sign a Pact of Friendship between Spokane Mayor David Condon and Cagli Mayor Alberto Alessandri. The official launch of the sister city relationship coincided with the 50th anniversary of Spokane's American-Italian Club.
Cagli is the fourth Italian sister city in Washington state, following in the footsteps of Seattle-Perugia, Walla Walla-Canara, and Auburn-Mola di Bari. It joins Spokane's four other sister cities: Nishinomiya, Japan; Jilin City, China; Limerick, Ireland; and Jecheon, Korea.
Sister cities get paired because they often have industries in common or similar natural settings. That's the case with Cagli and Spokane. Although Cagli is quite a bit smaller than Spokane — 9,000 people versus Spokane's population of 220,000 — the Italian town is surrounded by beautiful rivers, lakes and mountains and offers many of the same outdoor attractions that make Spokane so popular: hiking, fishing, camping and biking.
As the third largest city in its region, Cagli boasts a beautiful medieval city center. Not often visited by tourists, it is all about the people, cuisine, culture and beautiful countryside.
"The sister-city idea came from the people of Cagli," Caputo said. "Over time they had developed this relationship with us, and they were interested in making it a more formal process. It's a charming city that is historically relevant, providing a more authentic experience for Americans interested in getting off the beaten path. "
Two Gonzaga students built their Master's thesis around helping to create a Sister City Agreement, supported by the American-Italian Club and the Order of the Sons and Daughters of Italy. The agreement was signed in Spokane in October 2015 at a ceremony with more than 200 supporters and members of the Italian-American and Italian communities in attendance.
Since Spokane and Cagli became sister cities, each town has sponsored a high school exchange program where 10 students from each region participate in a 17-day visit, staying with host families. The program focuses on cultural immersion, encouraging students to learn the language and culture of the opposite country. Students attend classes two hours every morning and take part in planned activities with the group and their homestay parents in the afternoons and on weekends. The highly competitive program accepts students from Spokane's regional high schools who are16 years or older and have only one year of high school remaining.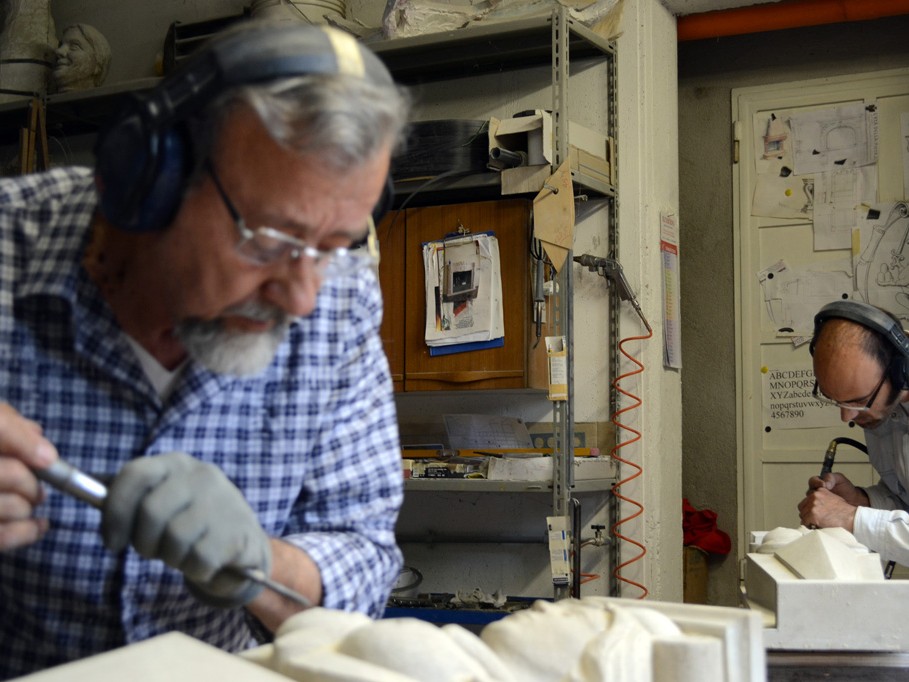 In remarks made at the unveiling of the Riverfront Park installation last year, former Spokane Mayor Condon summed up the ongoing value of the sister city program: "In a time where we're focusing on diversity, equity and inclusion, I think it's paramount that we continue the vision of building relationships truly based on friendship," he said.
It appears that Spokane and Cagli are already well on their way.