We don't often think about it, but meats also have seasons. Just as lamb is a talisman of the spring, autumn and early winter is pork season. In the days before freezers, it was the time of the year when pigs were traditionally slaughtered. The colder weather acted as a natural preservative for the huge quantities of meat that the animal would yield.
Many dishes traditionally served at this time of year were originally devised to use up the whole hog—especially the more perishable bits—before spoilage set in. Today we're taking a look at a dish that fits well this tradition, Soffritto Napoletano, or o'suffritt' in dialect. It uses a variety of different pork innards, soaked at length to remove any gaminess, then sautéed in lard and finally braised in a robust and spicy tomato sauce scented with chili peppers and herbs. This hearty dish is a fixture in Neapolitan cuisine still today, available ready-made in pork stores all over town.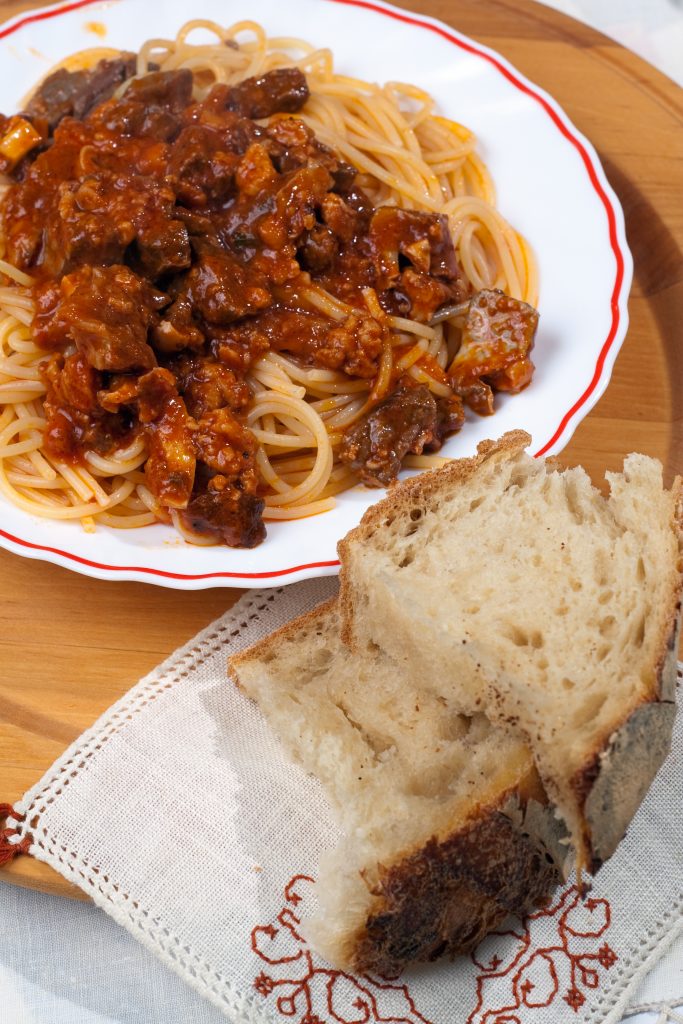 Elsewhere you'll need to make it yourself, but fortunately Soffritto Napoletano is extremely simple to make if a bit time-consuming. And the taste is out of this world, reminiscent in a way of the classic Neapolitan ragù, albeit with a stronger flavor, as befits its nickname zuppa forte, or "strong soup." You can enjoy it as a stew, with some crusty bread, or as a chunky sauce for pasta. Either way, I think it's delicious. If you're an adventurous eater, do give it a try. And even if you're not, do think about it. This tasty stew might even win over some skeptics of organ meats.
Ingredients
Serves 4-6
1.5-2 kilos(3 to 4 lbs) pork innards
1-2 red chili peppers, preferably fresh
1-2 bay leaves
1 sprig of fresh rosemary
Red wine, about 125ml/1/2 cup
250g (8 oz) tomato paste, more or less
100g (3-1/2 oz lard)
Salt and pepper
Directions
Cut the innards into bite-sized chunks, trimming any gristle as you go.
Place the cut-up innards in a large bowl and cover with water. Let soak for about two hours, changing the water from time to time until it runs clear. Drain well and let air dry for a few minutes, then finish off with paper towels.
Heat the lard in a large pot. When it's hot, add the innards. The innards will turn color and then exude their liquid. Keep on simmering, stirring from time to time, until the liquid has evaporated and you begin to hear sizzling. Continue to sauté until the pieces begin to brown.
Add the chili pepper, bay leaf, and rosemary and give the pot a stir. Sauté for a minute or so more, until you can smell the aromatics. Add a good pour of red wine and let it evaporate. Then add the tomato paste, which you will have loosened with a glassful of water, giving everything a stir. More water can go in if need be, so the liquid just covers the pork pieces.
Lower the heat and cover the pot. Let everything simmer very gently for two to three hours, until the pork pieces are fork-tender and the sauce dark, unctuous and flavorful.
Serve hot, with crusty bread. Or as a sauce for pasta.
Frank is a lawyer with a true passion for cooking and sharing food with the people he loves. He inherited his love for Italian cuisine and culinary tradition from his grandmother, nonna Angelina, to whom he dedicated his culinary blog, Memorie di Angelina: www.memoriediangelina.com