Sfincione is Sicily's own version of pizza al taglio, the South's answer to Liguria's sardenaira and, let me tell you, a delicacy that should be way more popular across the country than it is. Yes, because while it enjoys cult-status back home, in beautiful Sicilia, not many of us up North are familiar with it. And what a shame that is!
Sfincione is traditionally tied to Palermo and, while it kind of looks a tad like both, it's neither a type of pizza nor a more decadent version of focaccia. It's a leavened dough, not much different from the one we use to make bread, topped with a sauce made with tomatoes, onions, anchovies, caciocavallo and bread crumbs. The latter are, in my opinion, the secret of sfincione's decadent texture and taste, although officially it's all in the double leavening time: the first just after the dough is made, the second just before baking, when it's already in the baking sheet, topped with its sauce and cheese.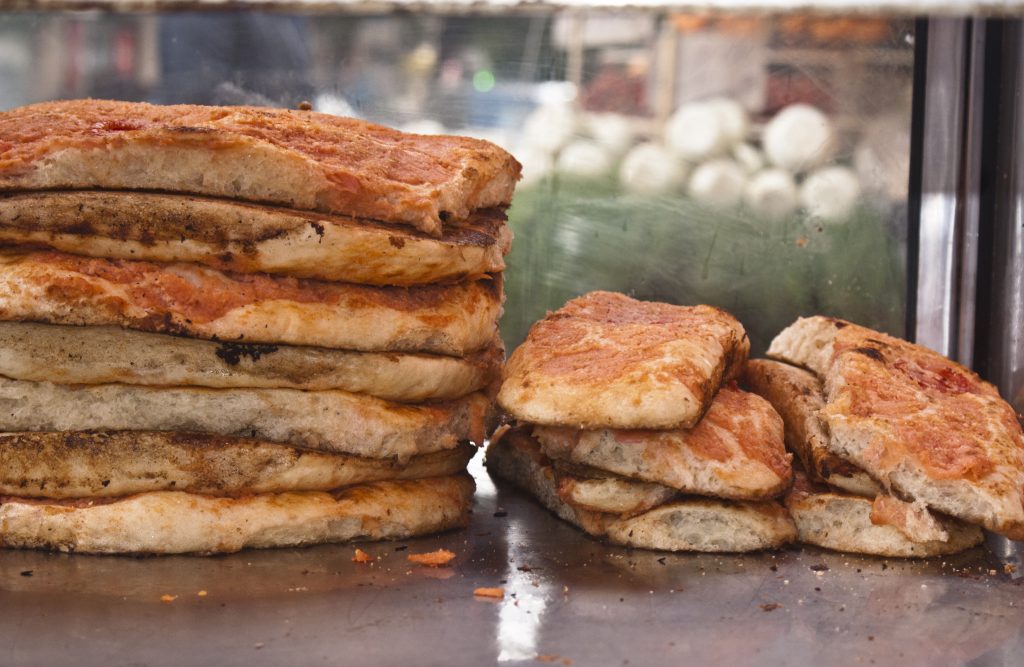 In Sicily, and in Palermo especially, sfincione is an icon: they sell it at the bakery, but also along the streets and at the many colorful markets so typical of the city. Here, ambulanti entice us with their singalong chatter and the marvelous scent of their fresh sfincione.
As many of our dishes, sfincione has an interesting history. According to some, it was baked for the first time in Palermo, sometimes in the 17th century and, just like it happened for cannoli, pasta martorana and cassata, it seems its creation is to be attributed to a religious community, more precisely to the nuns of the di San Vito monastery, located between the Mercato del Capo, Via Cappuccini and Piazza Indipendenza. The idea was to create a richer bread to use during important festivities, but made only with simple ingredients and leavened dough. However, this first sfincione had one considerable difference from the sfincione palermitano of today: it had no tomatoes, perhaps because their use was yet to become thoroughly common in Italy. A brief note on this: a tomato-free sfincione still exists today and is typical of the town of Bagheria, not far from Palermo. It is believed it was, just like Caprese in Campania and sardenaira in Liguria, the food of manual workers and farmers, because it was cheap, filling and easy to carry around.
Its name, just like that of another traditional Sicilian dish, a fried dessert called sfincia, probably comes from the ancient Greek spòngos, mediated through the Latin spongia, "sponge:" this isn't surprising at all, because at the heart of both sfincione and sfincia is a very spongy dough!
I've had Sicilian neighbors for years and it's thanks to them I got to know this amazing dish, which isn't quick nor easy to make, but is worth every inch and gram of effort you put into preparing it. So, let's give it a go!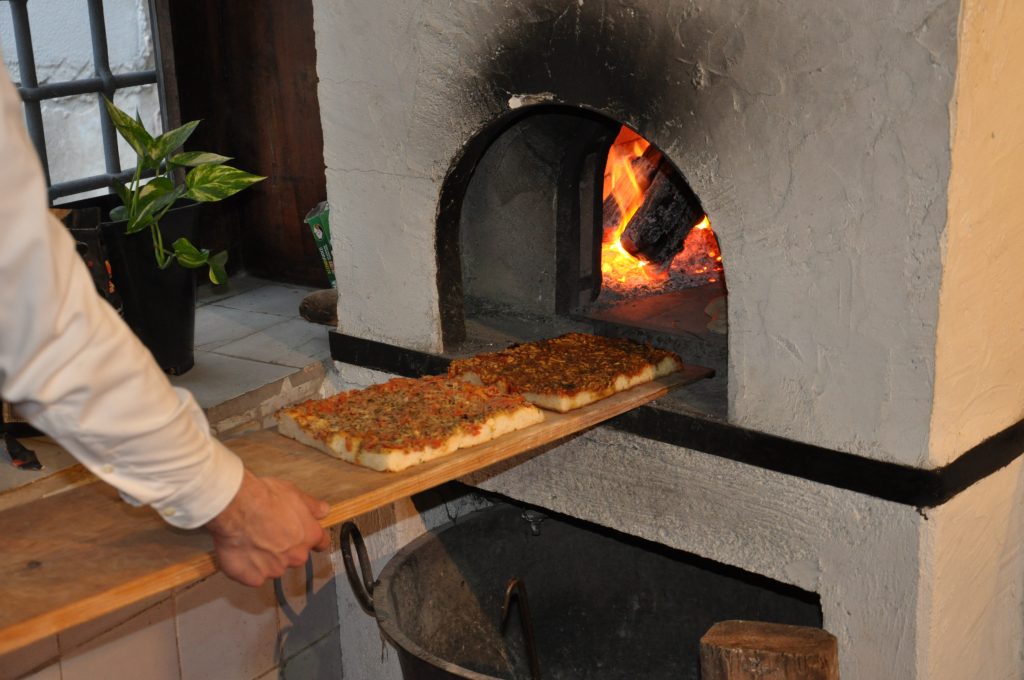 Ingredients (6 to 8 servings)
For the dough:
2 lbs of All Purpose flour
50 grams (about 4 1/2 tsp) of active dry yeast, to be dissolved in 4 tbsp of warm water
2 tsp of sea salt
approximately 2 cups of water
2 1/2 tbsp extra virgin olive oil
For the topping:
4 cups (approximately 1 liter) of canned tomatoes
1/2 lbs of coarsely grated caciocavallo, or pecorino romano
10 salted anchovies (the ones you use for pizza)
2 lbs of onions
1/3 cup of breadcrumbs
oregano to taste
Place the flour on a clean surface and create a well in the middle. (Note you can use your stand mixer with the appropriate kneading attachment, too). Add in the yeast, already dissolved in lukewarm water, a tablespoon of olive oil, add some more lukewarm water and start mixing.
Work the dough for a couple of minutes, add the salt, then the rest of the water and the oil little by little. For the water, do as you would normally when you make bread: add it until you see your dough is not dry and crumbly anymore. Knead the dough until it is soft and firm, make a ball and let it rest for couple of hours in a bowl greased with some olive oil and covered with cling film, possibly in the oven.
While the dough rests, you can take care of the topping: Slice the onions thinly and place them in boiling water for a couple of minutes. This will help sweeten them and make them easier to digest. Drain them well, then sautée them with some olive oil and a couple of the anchovies on medium heat.
Add about half a glass of water and let the onions simmer for about 10 minutes. Once they are ready, add the tomato, some salt to taste and half of the grated caciocavallo. Let the sauce cook on low heat until it reduces (about 15/20 minutes), stirring every now and then. Once it's ready, turn off the heat and let the sauce rest.
Take a sheet pan and grease it with some olive oil. A note about the pans: a 12x12in pan works for about half of the dough you make with this recipe, so you can either make two sfincioni or select a bigger pan. Put some olive oil on your hands and flatten the dough in the pan, making sure it reaches all corners and edges.
Add the remaining anchovies and caciocavallo on top of the dough. Then, add all the sauce, making sure it covers the dough entirely ( sfincione doesn't have a sauce-free crust like pizza!). Top it all off with oregano and with the breadcrumbs, then let it rest again for another 2 hours.
Heat the oven at 460 F (240 C) and bake for 20 to 25 minutes.