If you visited Italy in person, you are probably familiar with the fact your caffè al bar is often accompanied by a curious shot glass of water. In Piemonte and Liguria, basically every café will give it to you, while it's not as common in Rome or Milan. But if you are in Naples, the true capital of coffee culture in the country, that tiny glass of water with your tazzina of coffee is a must, a clear sign it isn't a choice at all, but a real necessity of Italian coffee etiquette.
The tradition of serving a glass of water with a cup of brew has a pretty serious history behind: in fact, it had become customary in times when almost every café would toast and grind its own beans and produce its very own blend. To make sure customers didn't have the taste of their coffee spoiled by something they had eaten earlier, water was given to cleanse the palate. As it is often the case, history thus answers the crucial question of whether that water should be had before or after coffee (and the answer is rigorously before).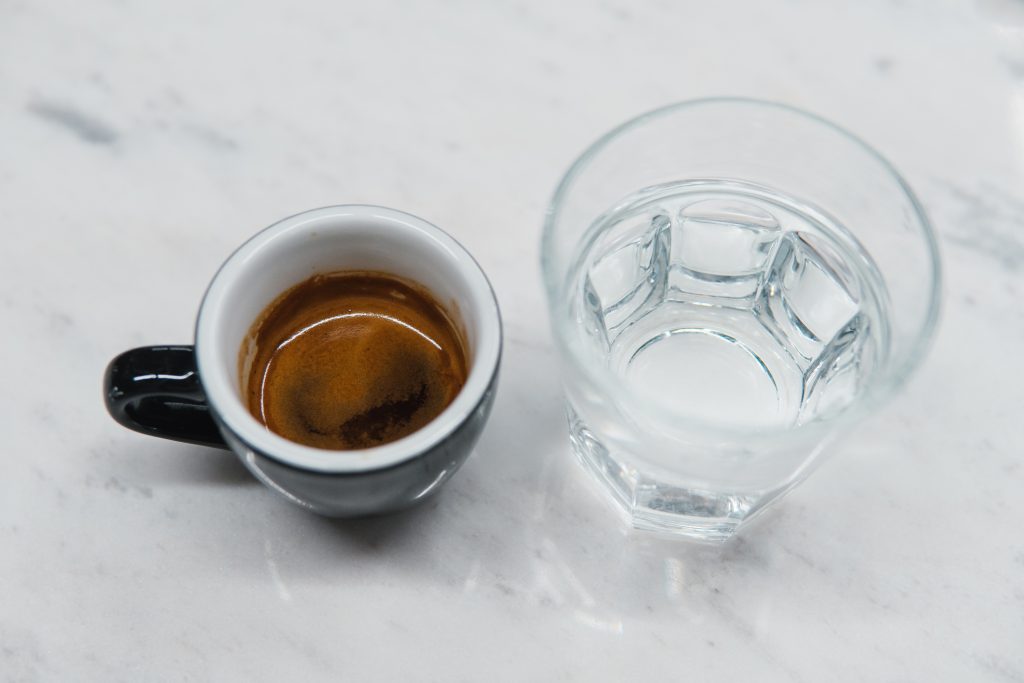 But if you look around while enjoying a caffè, you may notice many people having that shot of water after their kava: why? Well, science tells us water is the greatest tastebuds cleanser available in nature, so it's not only perfect to enjoy more the taste of your delicious espresso — as noted just above — but also a sure method to erase and forget its taste, in case you didn't quite enjoy it. Truth is, however, that many people drink their water after the coffee more as a habit than anything else, so it may not necessarily mean they didn't appreciate the barista's skills.

A recent study conducted by the University of Trieste also found out another reason people drink water after their coffee: apparently, if your coffee is made with unripe beans, it will make your mouth dry almost immediately, hence the necessity to chug that water down: so, if you get thirsty after kava, then the quality of the blend may be poor.

Now that we finally know why we're given water with our coffee, it's time for extra questions. For instance, should we go for still or sparkling water and is it better chilled or at room temperature? While it remains largely a matter of personal taste, it seems that still water is probably a better choice: if it's true that, with all its bubbles, sparkling water does clean tastebuds better, it also has a mild anesthetic effect on them, which is not ideal if you want to enjoy your coffee to the full. Still water is more delicate on our tongues and, at least scientifically, is the best choice.
Last but not least: temperature. Well, in this case, even researchers say it's really a personal matter: iced or lukewarm, from the fridge or from the counter, it won't make any difference to the taste and quality of your coffee.
And so, we finally revealed the secret behind those ubiquitous, tiny glasses of water dotting our cafés' counters everyday. One last thing, before I forget: they are always free, so avoid all places where they charge you for them!