While many of us stayed close to home during the pandemic, forsaking travel and evenings out, others chose a different route. Take Kate Wheeler, a freelance cartoonist from Seattle. Wheeler's parents retired to Italy six years ago. After dreaming for months about following in their footsteps, Wheeler, her partner, and their two dogs pulled up stakes and relocated to Rome in January.
A regular contributor to The Washington Post and other outlets, and the author of several graphic novels, Wheeler chose to document her move to Rome in a candid, charming, and very visual way: a four-part cartoon series currently running in The Washington Post. The series kicked off on February 12 in the paper's By The Way feature. Two installments will appear in March and the last one in April.
Reactions to the series have been positive for the most part, said Wheeler. "A lot of folks who have been dreaming about the same move are excited to read about someone actually doing it," she said. "Of course, there were a few negative comments. It's the internet, after all. But I hope what comes through is my respect and appreciation for Italian culture and for this life-changing experience that has been both joyful and difficult."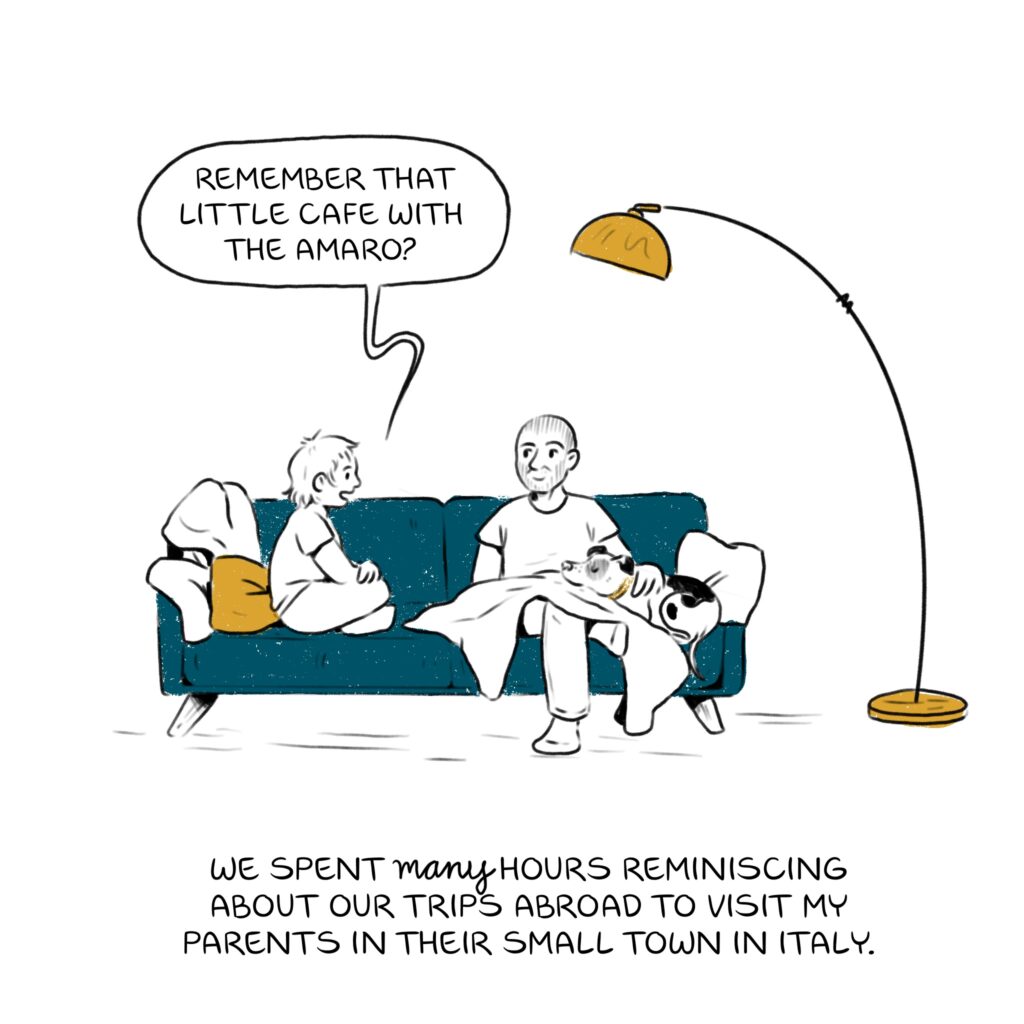 Wheeler has a BFA in visual communications from Cornish College of the Arts and has been working as a full-time freelance cartoonist for five years. Although her work gravitates primarily to autobiographical themes, such as the Rome series, she has two graphic novels for children underway. One is a book targeted at middle-school kids that explores the history of waste and recycling. Team Trash: a time traveler's guide through sustainability will be published in summer 2023.
Wheeler had been in Rome only two weeks when we caught up with her by email. Here is some of our conversation.
You thought about moving to Italy for months but unlike many others actually pulled it off. Why Italy and why now?
It's really more my parent's story. Six years ago they retired to Ascoli Piceno in the Marche region. We visited for two weeks every year. When the pandemic was really bad in Italy but hadn't hit Seattle yet, I was plagued with fears about what would happen if my parents got Covid. Seeing my mom and dad through a phone screen just wasn't cutting it. After two years of lockdowns and isolation in our little house, the idea of moving to a new country sounded pretty great.
Any general observations so far?
In Italy, everyone seems interested in knowing and caring about each other. It's a very community-driven culture and very friendly. You spend your Friday nights at the nearest piazza with the same people every week and get to know their dogs. It's a nice change!
Exploring Rome through your drawings is a wonderful idea. How did cartooning become your passion?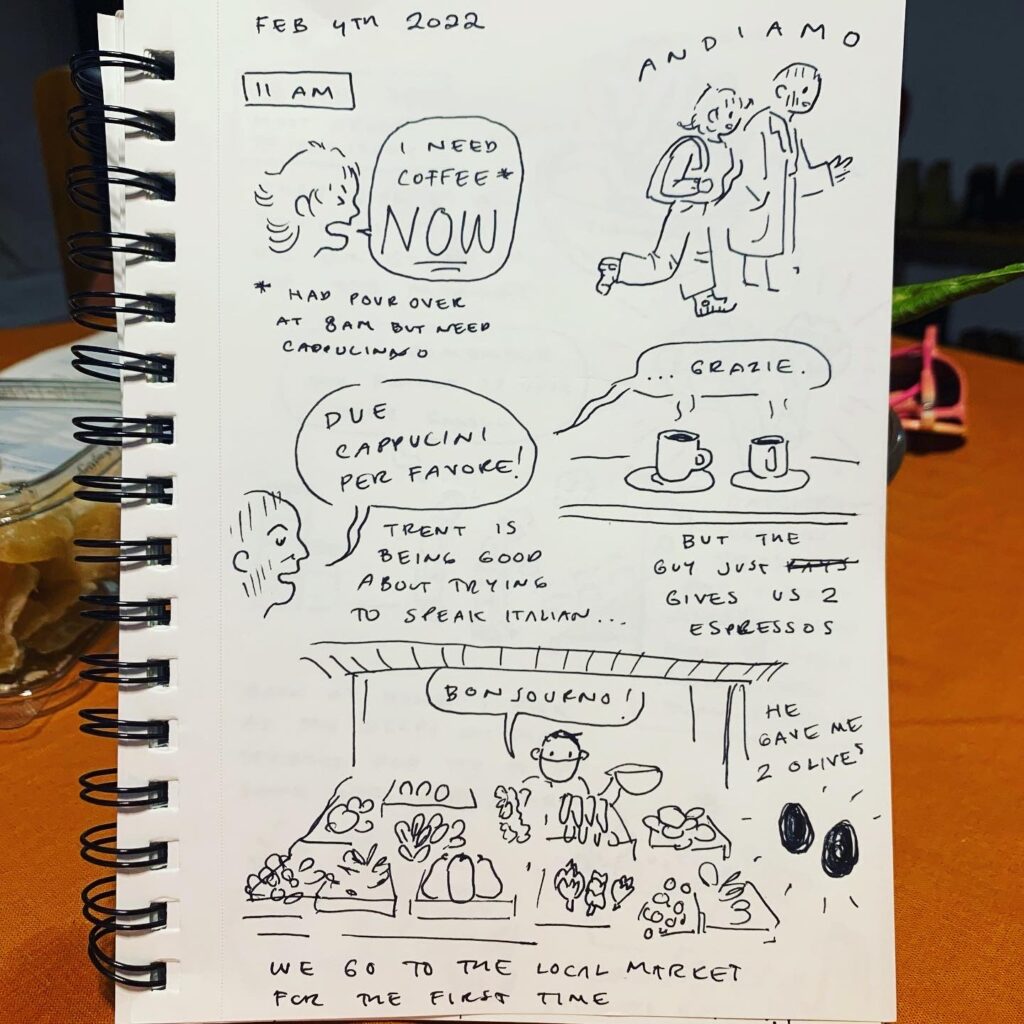 I was always drawing, always making paintings. More importantly, I am drawn to storytelling. I have a degree in children's theatre as well. I just love telling stories to an audience. Cartoonists are both writers and artists. Once I realized I could do both at once, I never looked back! I think comics are having a real moment where folks are realizing that they are not only a legitimate form of literature but can be a perfect pairing of art and writing. They are not just for kids!
How are your language skills?
We are doing about two hours of class each day. We try to speak Italian when we are out and about on errands. I'm sure half of what we say is nonsense, but folks are very patient with us. Even though I'm constantly frustrated by the gendering of objects, it's a beautiful language (Wheeler was able to secure a student visa after agreeing to attend a year-long language course).
What else are you enjoying?
Every day I fall in love with the produce, which feels very silly but it's true! The fruit and vegetables here taste so good. The carciofi ("artichokes") are in season right now and we have them every day in a different form.
Did you have a method for finding an apartment?
Every neighborhood in Rome has its own perks and personalities. We made a list of essential things we wanted — air conditioning, balcony or terrace, allows pets. And things that would be nice to have — elevator, two bedrooms. We had to compromise a lot in the interest of time. Now that we're here, we are visiting the antique market in Porta Portese every Sunday to find beautiful items to make our apartment feel more like home.
What advice can you share?
Italy is really about enjoying the good life, sometimes at the expense of ease and expediency. It's a bit of a shock to our American expectations of immediate satisfaction. You have to slow down and accept the fact you can get one big thing done each day. Then go treat yourself to gelato!