With more Unesco world heritage sites than any other country in the world and a history that spans millennia from the ancient Roman empire via Michelangelo's art Renaissance to the world of operatic theatre preserving Italy's historic culture is an expensive business. The trouble is, despite the millions of tourists who visit every year, Italy's Culture Ministry is too broke to stop its archeology, architecture and artistic treasures crumbling to dust. Step forward Italy's famous fashion houses, the country's new philanthropists with deep pockets. So which designers are funding these vital repairs and restoration works and why?
If you happened to take the vaporetto water-bus down Venice's Grand Canal early last year you would have seen the glorious four hundred year old Rialto Bridge enveloped in scaffolding. It was undergoing a much needed clean and restoration to repair the damage that millions of trampling tourists had done over the years. A trio of construction companies and 24 conservators worked on the bridge for 18 months repairing, re-laying and reinforcing the antique structure to last another 400 years. That kind of work doesn't come cheap however. The final bill came to a whopping €3.4 million ($3.8 million) but Venice Comune doesn't have that kind of money lying around. Fortunately, Veneto-based fashion company OTB, Only The Brave, was on hand with a donation of €5 million ($5.6 million) to handsomely cover the bill.
OTB is run by Renzo Rosso, the original founder of designer label Diesel, and is also the parent company of Maison Martin Margiela and Viktor&Rolf amongst others. They explained that the gift was made to help save the historic bridge for future generations because the company is based in the Veneto and also because Rosso has a personal connection to the city, having studied there as a university student. It's certainly an honorable thing to do and easily fits into a company's social responsibility policy. But the gift wasn't without controversy.
In an apparent quid pro quo exchange for its generosity Diesel was allowed to drape huge advertising hoardings over the Rialto Bridge for the duration of the 18 months restoration. Some locals and visitors were horrified at what they saw as the defilement of the historic marble archway accusing the company of staging a huge publicity stunt, albeit an expensive one. But many more joined the Venetian Council to pragmatically welcome the contribution seeing it as a win-win solution for both parties and an essential step in preserving the city's celebrated arcade.
A second city turning to the fashion world and commerce to plug the civic cash gaps is Rome where the bill for the restoration of its heritage monuments runs to many, many millions.
One of the first companies to answer the call for help was Tod's, a designer shoe label that stumped up a massive €25 million ( $28 million) for a multi-phase project to clean and restore the ancient Roman colosseum before adding a visitor's centre and rebuilding the stage. The first phase was completed last summer when the newly cleaned exterior was revealed with a VIP concert. Decades of exhaust fumes, grime and droppings were removed by a team of conservators using mini-chisels to reveal the pale pink Travertine marble stonework. And the city is being careful to maintain the facelift, banning traffic from driving around the arena in an effort not to undo all the good work.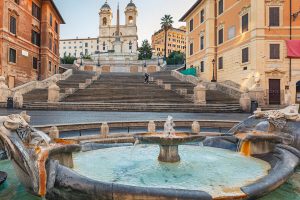 And then there's Fendi, designer of high-end handbags and couture fashion, who produced €2.6 million ($3.2 million) to pay for critical maintenance of the Trevi Fountain after a large piece of stone fell off the front. The family business was giving back to the city where they and their company were born and their restoration was a phenomenal success bringing the fountain back gleaming and glinting in the Italian sun. And Rome repaid their generosity by allowing a once-in-a-lifetime fashion show at the fountain for the company's 90th birthday that saw Kendall Jenner and Bella Hadid glide across the water in fairytale Karl Lagerfeld creations. Once again another win-win arrangement.
Like OTB in Venice, Fendi is investing in the city it has called home since 1925 and that is a theme that runs through much of the fashionable funding. So in addition to these behemoth style leaders, many others have answered Culture Minister Dario Franceschini's call to action to help out their hometowns. In Milan Prada and Versace have pledged €3 million for the careful cleaning of the Galleria Vittorio Emanuele II, home to Prada's founding boutique since 1913. Gucci have promised €2 million for work on Florence's world famous Boboli Gardens behind the Palazzo Pitti. And just across the river work to renovate Florence's world-class Uffizi Gallery has been boosted by a €600,000 bonus from local lad Salvatore Ferragamo.
But the company that has arguably done the most for its hometown is luxury cashmere brand Brunello Cucinelli that is not just restoring a single building, but the entire town where its based. Seizing a chance to create an inspiring, aspirational location and lifestyle for his employees Cucinelli bought the medieval hamlet of Solomeo in Umbria in the late 1980s and set about restoration work to build an artisan centre of excellence. For the designer it's not just about civic pride, it's about nurturing talent and creating a more humane way of living and working together as a community where everyone contributes.
Back in the world of commerce there's no getting away from the fact that the PR value of funding a major heritage site is enormous and it's likely that brands will gain marketing advantages too. It doesn't hurt to leave a plaque behind either to remind people of your generosity. But if the locals don't object and the government is actively encouraging it with generous tax-breaks for the profitable philanthropists why should we object? You could even argue that there is little difference between the Guccis or Versaces of today and the Medicis or Popes of the Renaissance who sponsored, subsidized and supported art and architect to the tune of millions in their lifetime. Maybe if you've got it you really should flaunt it and put it to good use.
Ultimately whether it's corporate social responsibility, civic duty, altruism, brand reputation or a bare-faced marketing ploy that drives fashion to foot the heritage restoration bill, there's no getting away from the fact that Italy desperately needs their deep, silk-lined, haute-couture pockets as the government coffers are bare. And even though companies have so far pledged an estimated €100 million ($112 million) to the heritage cause, it's just a tiny drop in a very large ocean of funding that is required to stop the decay. Fortunately where Italian fashion goes, the rest of the world follows with the most recent donors coming from a Japanese textile company and an international telecoms company. Let's hope this really is one fashion trend that lasts forever.