Sarteano is a village of almost 5,000, located in the province of Siena, 525 meters along the slopes of Mount Cetona.
Narrow alleys and beautifully preserved medieval squares made this small but lively settlement in the Senese hills a fantastic destination for all history lovers, who want to enjoy timeless atmosphere and breathtaking scenery. Sarteano is known especially for two things: its imposing 14th-century fortress and the famous Giostra del Saracino, a medieval-style tournament where each contrada fights against the "Saracino." The re-enactment, which is known across Italy, takes place every year on the 15th of August and attracts many tourists.
Here, there is plenty to see all year round and plenty to do, especially at Christmastime. In the village center, we can admire the elegance of three Renaissance palaces, Palazzo Berdini, Palazzo Cennini and the Palazzo del Podestà: the first dates back to the 14th century, just like Sarteano's fortress; the second was built in the 15th, while the Palazzo del Podestà evolved architecturally over two centuries, the 14th and the 15th, and today is divided into private homes and stores.
Palazzo Gabrielli, another interesting building constructed between the late Middle Ages and the early Renaissance, is today home to the local Museo Civico Archeologico, known especially for its wealth of Etruscan artifacts. Indeed, it is very likely that the Etruscans were the first to settle in the area, centuries and centuries ago, so it isn't certainly by chance that one of the most significant Etruscan archeological discoveries of recent years was made here, in the Necropoli delle Pianacce: we are talking about the Tomba della Quadriga Infernale, with its beautifully preserved wall paintings.
The fortezza, however, remains the true queen of Sarteano's architectural heritage. It majestically looks over the village from above and, with its double walls and towers, it truly looks like a picture-perfect Tuscan medieval castle. The fortress is mentioned for the first time in historical sources from 1038, making it one of the oldest buildings in town. From its roof, one can enjoy a breathtaking view of Sarteano's surroundings, all the way to the Val di Chiana and the Trasimeno Lake.
This time of the year, Sarteano also becomes a great Christmas-centric destination. Its community organizes a plethora of initiatives, especially to honor the quintessentially Italian tradition of the presepe. Every year, for instance, sarteanesi organize the Presepi delle Cinque Contrade event, where the people of each of Sarteano's five boroughs create presepi to be exhibited along the streets and squares of the historical center. Sarteano is also home to a museum dedicated to the presepe,  the Museo dei Presepi dal Mondo, where more than 600 nativities crafted in every corner of the world are collected.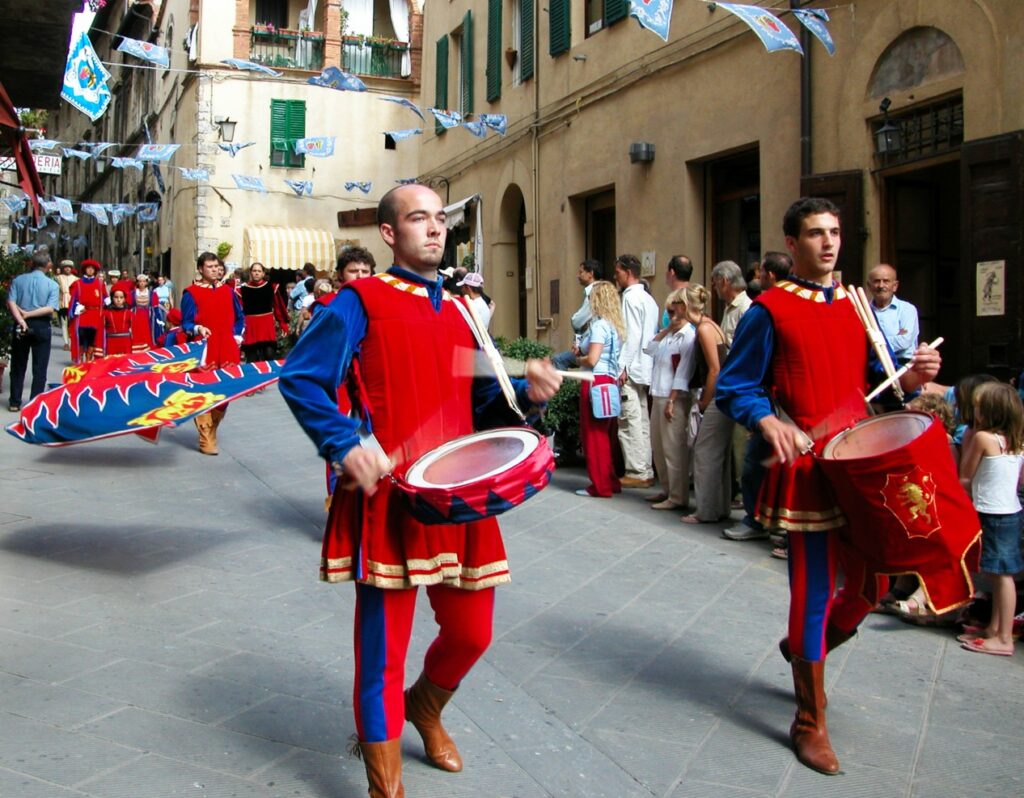 In town, you can also enjoy a stroll among the stall of a traditional Christmas market, if this is what you fancy! And if you are tired of walking, you can always stop for a bite to eat: as you would expect in any corner of Tuscany – and Italy, for that matter! – food is a serious thing in Sarteano. Think hearty dishes, with an accent on game and cucina contadina. Here, you can enjoy cinghiale alla cacciatora, a stew made with wild boar, tomatoes, onions, rosemary and red wine. When the season is right, wild boar is also served with mushrooms on a bed of creamy polenta. Another popular dish is lepre ai tre vini, "three wines hare," where this tasty meat is made more delicate thanks to a marinade of red and white wines, as well as juniper, carrots, onions and lard. After a night, the hare is cooked, adding Vin Santo and vinegar. Of course, you can also find Tuscan culinary icons like ribollita and panzanella. And if you fancy a slice of cake, ask for torta co'bischeri, a tart made with shortcrust pastry and a filling of rice, eggs, chocolate, candied fruit, sultanas, pinenuts and nutmeg.