In the sometimes snobbish, often ostentatious world of gourmet food, there are seared foie gras with rhubarb tart, hamachi with sea urchin vinaigrette, and kumamoto oysters with mango sorbet.
And then there's Italian salami.
Italian salami? How does this processed meat with a gnarly chub, fermented tang, and winelike aroma belong in the élite company of connoisseur cuisine?
Because one bite unleashes a cascade of pungent flavor and palatable pleasure that break down any social or status barriers. And because its gusto is universally relished by princes, as well as paupers. It ain't elegant but it sure is delectable.
Genuine salami tastes like it comes from the old country, where it is made the old-fashioned way. In the US it is still made that way in San Francisco, where some of the best Italian salami is produced this side of the Atlantic.
San Francisco emerged as the salami capital of America following a curious "war" from 1967 to 1970 when the US Department of Agriculture ordered a consortium of six Bay Area sausagemakers to cease referring to their product as "Italian salami" because it didn't conform to USDA standards. The sausagemakers responded that, as descendants of salami producers in Italy, they had an inherent right not only to use Italian methods to make sausage but also to brand their product "Italian salami." After presenting a convincing case to the USDA, the San Francisco group won their argument and earned the right to make salami in the Italian manner and market it as "Italian salami."
These were descendants of salami makers from Parma, Lucca, Modena, and Milan who immigrated here around the turn of the century. They settled in an area where the climate was considered to be the only one in the US perfectly suited for dry-curing salami. They even used the right strain of penicillin mold to give the meat a classic white bloom.
Italian-Americans wanted to keep part of the meat processing to themselves, to prevent other producers of cooked meat and fast-cured imitations from using the term. Central to the issue was respect. San Franciscans were intent on saving a revered delicacy from a fate worse than chopped liver. Italian salami, they insisted, is every bit as noble as cheese and wine.
In a sense, the Bay Area salami-makers were the Slow Food advocates of their time. They maintained that true salami could not be made quickly by cooking the sausages like hot dogs, with a short hanging period, or by spiking the meat with special flavoring. In correspondence with USDA officials, they emphasized that Italians have been making salami this way since the 5th century.
They pointed out that bona fide salami consists mainly of pork from the shoulder and fat that doesn't melt. The meat is chopped, never puréed like a hot dog wiener, and combined with garlic, pepper, curing salt, mace, and wine. Lactic acid is added to start a slow fermentation that dry-cooks the product.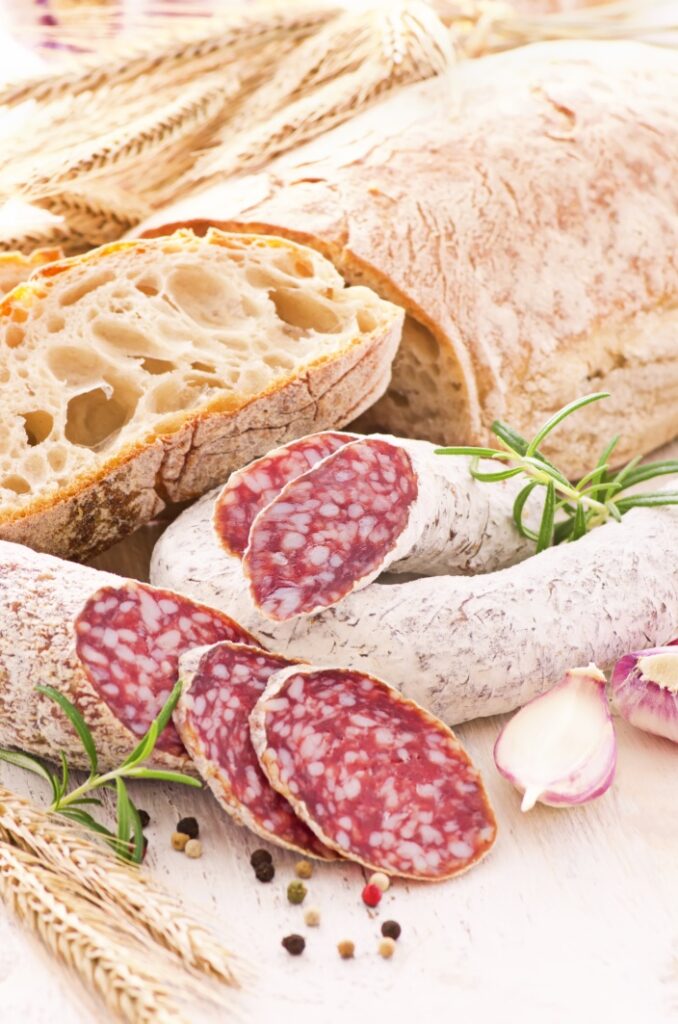 Dried milk serves as a binding agent between meat and fat. The meat is then packed into either cellulose or pork gut casing and hung first in dip rooms and finally in aging rooms for weeks or months, depending on the size of the chub.
The optimum range of curing temperature is exactly the same as San Francisco's. As the salami dried, the links fermented and a change in acidity effectively cooks the meat, producing a complex spectrum of flavors. A penicillin mold forms on the coating, checking exposure of air to the meat and thus preventing oxidation and rancid tastes.
To bolster their case, the San Franciscans retained an attorney and organized the Dry Salami Institute. They prepared family histories, displayed prizes earned at salami competitions in Rome, and blitzed bureaucrats with information about the authority of their salami-making process.
They won their case but lost some ground. The stamp "Italian Salami" on a California-made chub guarantees that the product is comparable to that made in Italy. But they couldn't prevent supermarkets from selling generic salami made from processed meats that were pre-sliced and shrink-wrapped, odorless, bland as baloney, and packaged in plastic.
"Instead of a staple, our salami became a gourmet item," recalls Frank Giorgi of the P.G. Molinari Salami Company in San Francisco, founded by his great-grandfather Pasquale Molinari in 1896. The company, whose products are sold in delicatessens, puts out a calendar illustrated with an Italian-American child presenting a Molinari salami to the Pope.
According to the Chicago Tribune, the grocery chain Trader Joe's, with 569 stores throughout the US, allocated space in many of its outlets to Columbus salami, a San Francisco producer owned by Hormel Foods.
"Although the appearance and scent might be more pleasing, salami left exposed to air gradually keeps losing moisture," said Columbus co-owner John Paccetti. "Vacuum packing after air drying protects it from losing too much water and becoming hard and greasy."
So much for the making of salami. The real treat is in the tasting. An important step is the slicing: preferably large chubs thinly, and thin ones thickly. Cuts from large chubs should be thin enough to roll up easily, while the smaller cuts should be about the thickness of a silver dollar. The procedure assures the right amount of meat to titillate the tongue and exposes less fat to the air, which it can create a putrid flavor.
Salami, however, isn't limited to sandwiches, salads, and snacks. It also makes a tasty impression when teamed with pasta in such simple but satisfying dishes as "spaghetti al salame." Here's the recipe:
Spaghetti al salame
Ingredients (Serves 2)
9 oz dry spaghetti
3 ½ oz dry salami
1 oz pecorino cheese
2 oz pine nuts
Olive oil
Salt and pepper
Bring a large pan of water to a boil, add salt, then spaghetti, and cook until tender
Put pine nuts in a dry pan and roast on medium heat for 3-4 minutes; when they start to turn brown, remove them from the pan and let them cool down
In the same pan, add salami slices, a tablespoon of olive oil and stir until the meat is crisp; season with a pinch of salt and pepper
Drain the pasta and add it to the hot pan, along with the roasted pine nuts
Toss the spaghetti and sprinkle with pecorino cheese
Serve hot.