In the past couple of years, L'Italo-Americano has been reporting regularly on the Case a 1 Euro initiatives happening all around Italy. One of the first villages to join the scheme, in an attempt to revive its economy and social life, was Sambuca di Sicilia, also known for being one of FAI's (Fondo Ambiente Italiano) Borghi più Belli d'Italia, and having won the Borgo dei Borghi title back in 2016.
A recent article by Silvia Marchetti for CNN took stock of the trend, discovering something interesting: thanks to its 1 euro homes, Sambuca has turned into a Little America, because many of the bargain dwellings put on sale in 2019 first and, then again, in the Summer of 2021, have been snatched by US citizens.
The first round of homes went like, quite literally, hotcakes, and also the second batch, offered for the symbolic price of 2 euro in 2021, sold out quickly. In fact, there were so many requests that, in the end, each home was eventually auctioned, with final prices going anywhere from 500 to 7,000 euro (roughly, from 520 to 7,300 USD).
According to Giuseppe Cacioppo, Sambuca's deputy mayor interviewed by CNN, most buyers in 2021 were Americans: "Almost 80% of people who wrote, applied and took part in this second auction either come from the States or are Americans," he said to Marchetti. Some people applied "a scatola chiusa," that is, they weren't even interested in seeing the property before buying it. Which was quite fortunate, considering that the 2021 sales went on during the pandemic.
The question, of course, comes naturally: why were so many Americans interested in getting old properties in severe need of some TLC, in a small, countryside village in Sicily? Well, of course, many were attracted by the opportunity of getting a home for near nothing, then investing some money in it and end up with a delightful Italian holiday retreat. But what Marchetti discovered when she interviewed some of Sambuca's 1 euro home buyers, is that there was, among many of them, also an interest in helping the community and supporting the village's renaissance. One of her interviewees bought two adjacent homes for a total of 1000 euro (around 1100 USD): he now plans to crowdfund his way through renovations and then give them away. His wish is that of helping the community return to what it used to be, offering renewed homes to potential investors.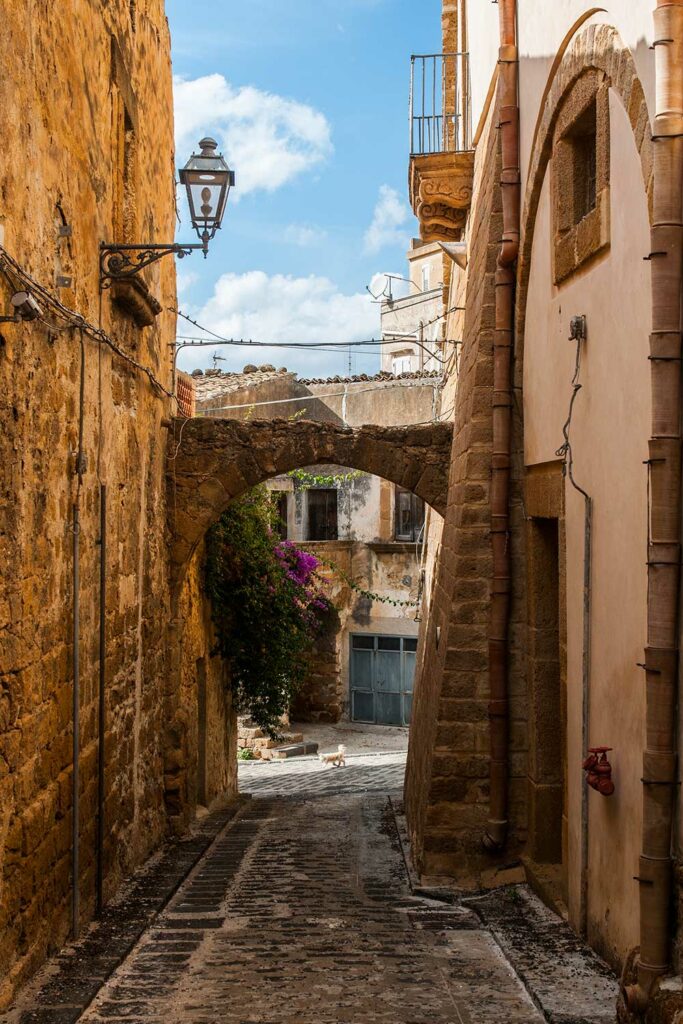 Daniel Patino, a chef from Arizona and co-founder of a US fresh food company, managed to win at auction the only three-story building available for less than 3,000 USD. Patino's story is quite typical of the whole Case a 1 Euro extravaganza: he told to Marchetti that, for him, it's all a bit of a gamble and that he "placed a bid sight unseen after looking at all properties online, but this one in particular just spoke to me. It had this outside little rustic patio …". Nevermind he couldn't see the inside of the house because it was too dangerous to go in: there'll be time for renovations to take place. And while he still doesn't know exactly what he'll do with his new Italian home once it's ready, one can imagine that, Patino being a chef, there'll be a lot of great dinner parties going on there.
In truth, he says he may even decide to use it as an Italian branch of his food chain, therefore giving even more support to the local community.
Another bidder, French-Canadian Brigitte Dufour, placed blind bids on two homes, winning both for a total expenditure of just over 7,000 USD. Her aim is that of helping locals and convert the two abodes, located in the charming historical Saracen district of Sambuca, into artists' residences, where artists "can stay for two weeks or a whole month and be inspired by the beauty of Sicily and Sambuca to create artworks that talk about gender issues, dignity, human rights. They can benefit from using a nice, safe place," Dufour explained to CNN.
Americans – and Canadians! – fell in love with Sambuca and their investments in its old homes seem to go well beyond a mere desire to get a cheap – albeit in need of much renovation – holiday home for themselves, family, and friends. Many buyers were moved primarily by the will of helping the local community thrive again, offering refreshed properties to potential investors, a safe creative haven to artists, or even a potential location for business. Always creative and fearless, the Americans came to save Sambuca.
You can read the original article by Silvia Marchetti with all the complete interviews on the CNN Travel website, at www.edition.cnn.com/travel/.