"Ciao to all Italians and Sardinians along the shores of the Atlantic and the Pacific oceans! The third edition of our Sagra del Surf has just ended and we're happy and thrilled with the results!"
There isn't a better way to  start this  article  than  quoting the contagious enthusiasm of Roberto "Bebo" Pulisci, the president of the Comitato della Sagra del Surf, a festival that brings together sport, arts, music, fun and socializing in the  breathtaking Sinis Peninsula, in Sardinia.
Defined "an itinerant party from stall to  stall,  that wants to celebrate sea culture and  the connection  between sports and environment" (Eleonora Caddeo, La Nuova Sardegna), the Sagra del Surf animated the  Putzu Idu-Mandriola promenade, at the  San Vero Milis' marina, the past 5th and 6th of October. The event was created and   developed by  a group of friends who share a love  for surfing  and for the environment: this year, too, they managed to transform Capo Mannu — considered a  real surfing hot spot in the Mediterranean — in a lively open space, filled with initiatives, events, exhibitions and  master classes.
Surfing is, without a doubt, profoundly tied to a specific desire to safeguard our environment, perhaps because surfers become one with the waves they ride, with the sea they touch. And it's also for this reason that the third edition of the Sagra paid particular attention to environmental issues, starting  from its very logo — an image of Poseidon declined in the same colors of the iconic Barack Obama poster by Shepard Fairey, holding a plastic bottle. Created  by Debora Lutzu, a young, local illustrator and graphic designer, the picture underlines how we are  all responsible  of the important duty  of safeguarding the environment.
Last year, the Sagra del Surf had more that 120 exhibitors and 8.000 visitors; this year, things went equally well. L'Italo-Americano had a chat about it with the president of the  Sagra's  organizational committee, Roberto Pulisci.
The Sagra del Surf's third edition took place a  handful of weeks ago: how did it  go?
This year, we had a larger area, especially that dedicated to sports, which doubled. We  had demo surfing, skating, ramps, calisthenics, martial arts, yoga, BMX, loads of entertainment and  adrenaline.
There were also 60 food stands, including street food and traditional cuisine, then breweries,   craft distilleries and an area with a stage  and  a  led-wall screen,  so this year we officially inaugurated  a movie section at the  Sagra. 
We had the pleasure to host many organizations and agencies dedicated to the safeguarding of marine fauna and  flora, like  CNR,  for instance, and  the Area Marina Protetta Penisola del Sinis — Isola Mal di Ventre.  We also had  many special guests: the Australian-Sardinian director Lisa Camillo, who presented a documentary about the relationship between radioactive pollution and NATO presence in Sardinia, ultra-runner Robert Zanda and  director Alessandro Più, with his  road movie about surfing.
Then, there was a whole area where established artists could work and our local schools' kids participated to some events there, too. Some spaces were dedicated to photo exhibitions about the sea and, of course, we had a lot of music! So, we put together a  well organized, true surfing festival,  that took place on the  Sinis Peninsula, a gem of the Mediterranean  home to untouched coasts and crystal-like waters, and  still free from mass tourism.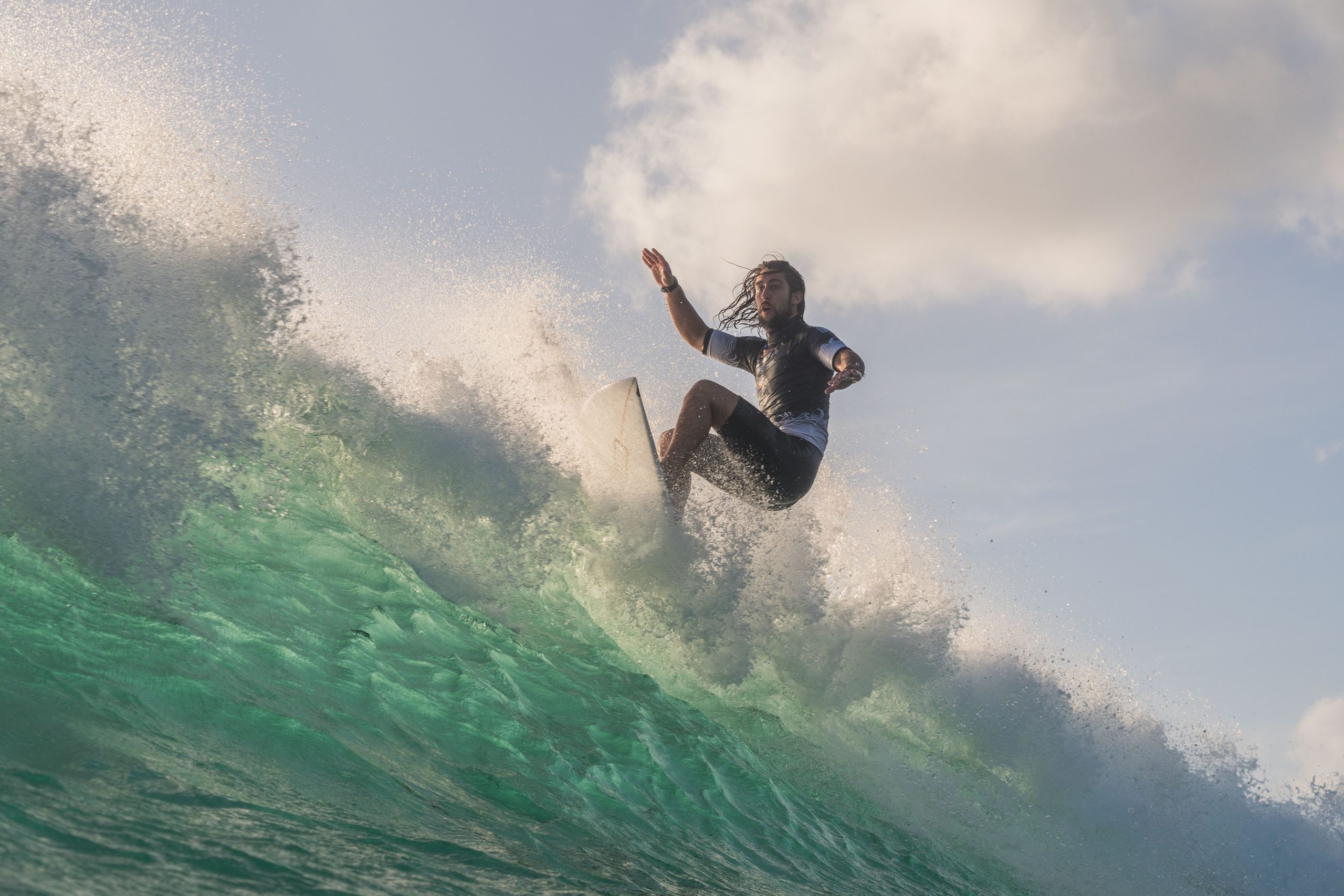 How did you come up with the idea of creating a festival about surfing here, in Sardinia?
The Sagra del Surf was born three years ago,  thanks to a group  of friends — all surfers — and  with the support of the local surfing  club, the IS  BENAS  Surf Club. The  first two editions were organized in connection with the Campionato Assoluto di  Surf (Surfing Championship), during the so called "waiting period," when surfers await the right waves to compete. The Comitato della Sagra del Surf was formed already during this first edition: it was — and  is — a team of professionals from a variety of fields, including engineers, photographers, surf instructors, artists, journalists, IT experts and musicians.
Our second edition, organized again with the support of the IS BENAS Surf Club, became even bigger both from the point of view of its  contents and its mission. We had sports, live music, plenty of traditional food and the first street food stands, all with an eye of attention for environment, eco-sustainability and our territory, but always keeping a strong relationship with CONI (the Italian Olympic committee)  and the Assoluti di  Surf.
The Sagra's second edition was even better than the first, with three times more visitors — about 8.000 — over two  days.
The Sinis Peninsula, where the Sagra takes place, is a true marvel of nature. Tell us something more about its beauty, history and, of course, about its ties with surfing.
Our waves have been immortalized in many  documentaries about surfing, created by film makers we consider friends. We have  Jason Baffa, author of Bellavita — dedicated to  the Italian surfing scene — and One California Day. We have famous surfers  like Chris del Moro, the  protagonist of Bellavita, actually, who  used to surf in Versilia as a kid, when his family holidayed there. Then, there are Dave Rastovich, the Coffin Brothers, Dane Perle, Belinda Bags, Anne le Curren, Tom Carrol, Dave Keulana, John Rose, Beau Young…
The waves of the  Sinis Peninsula are  not the only  protagonists  of the Sagra,  though: the whole territory is, with its wealth of agro-food products and its wines. From fishing, to our delicious cheeses made following the same procedures for millennia,  to  open air, free range cattle and  sheep farming.
The area is also famous for its historical importance: there is a plethora of archeological sites, holy wells  — dedicated to  the cult of water, typical of Sardinia —, nuraghi (buildings created before the Great  Pyramids): places representing and showing how  ancient the history of  the island is.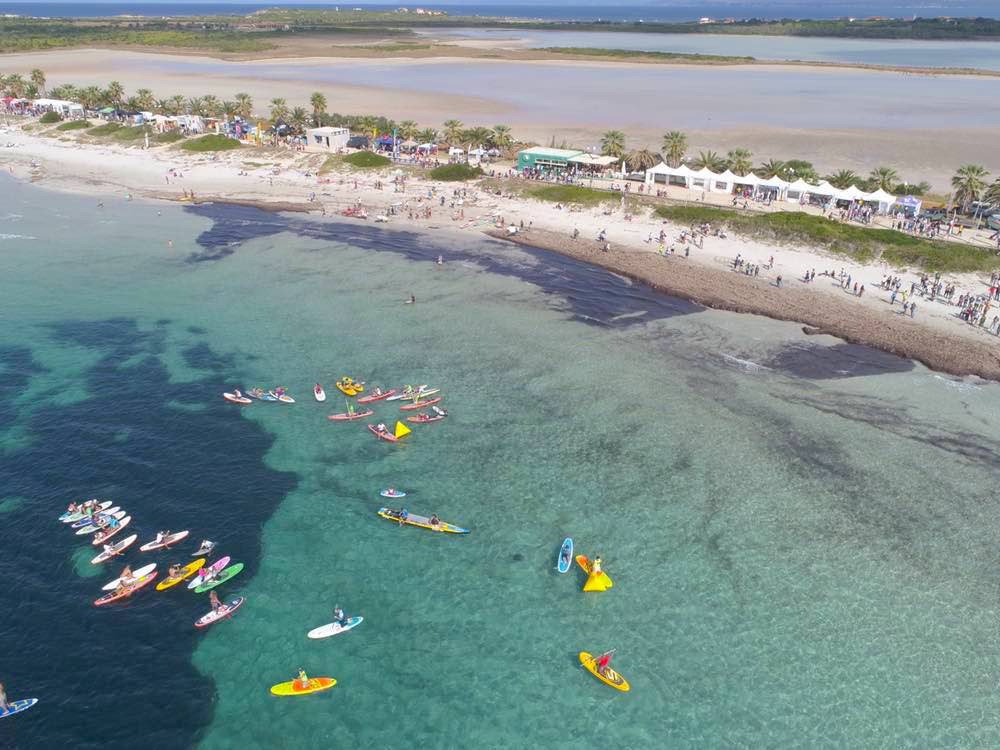 For us Italians, surfing is synonym with the Pacific  and with California: what's the tie between you and  this state?
Our area has a lot in common with California: we have the  same climate, almost the same waves' frequency (less sharks, no tide!), vineyards-filled valleys and, above all,  a profound awareness of how important it is to protect  and value the territory.
And then, of course… we  have the surfers! Surfers have  become synonym of a  certain  way of living, dedicated to ecology, to the environment, to fighting against pollution. It's all about respecting — and making other people respect, but always in a  friendly way — the places where we surf, their beaches, but  also the parking and camping areas we occupy. In this, I think we are very similar to Californians and, probably, we  learned a lot by traveling and meeting surfers and activists around the world, including all those who came to Sardinia throughout the years.
The Sagra del Surf is, quite clearly and  quite proudly, part of a world made of sport, arts and  attention to the territory: how did  you come up with this  idea and  why  do you think it's so important?
The Sagra del Surf became an event where we can confront and discuss our ideas, understand our environment  and  where we can learn how to  respect it. Here, we can also learn how to  eat healthy, how to live in contact with nature more, all year  round, and not only during the Summer. That's why we picked the early Fall for the Sagra, because it's a time of the year usually quiet: we want  people to experience the  Sinis Peninsula in every season, because Sardinia is more than a  Summer destination only. 
One of  the main protagonists of this year's edition was Ericailcane, a world-known street artist: what meant for you having him at the Sagra?
Yes, this year Ericailcane has been part of our festival. He is a writer,  no… an  artist, a painter. Truly a difficult figure to describe. He created  beautiful, meaningful graffiti for us and  also gifted us a drawing to be printed on  our promotional t-shirts. Ericailcane's work allowed the Sagra to reach a  new level.
And finally: one (or more!) reason to come visit Sardinia!
Well, what can I say… there are many reasons  to come see us, from our fantastic waves to  good wine and spaghetti with bottarga. And our beautiful, strong and determined women!
A big thank you to everyone and to all the readers: I'm looking  forward to seeing you all on the Putzu Idu prom, at the San Vero Milis marina next year. A si biri…keep in  touch!