With sampietrini, there are no half-measures: either you love them or you hate them. And if you have been to Rome, you definitely know why. They are beautiful to look at, and so incredibly characteristic of our beloved capital, but god forbid you have to walk on them on a rainy day: the risk of slipping and breaking your neck is real!
Sampietrini, also known as "sanpietrini" or "selcio," are cobblestones made from leucite rock extracted from the Selci quarry, located in the Colli Albani hills near Rome. Strangely enough, we have no historical or archaeological proof that the ancient Romans employed leucite rock in their buildings or roads, however, the material has been known for its compactness and durability for centuries: that's why it's not so bizarre to see them paving so many streets in our capital. They come in different sizes: the larger stones measure 12x12x18 cm, while the smaller ones are only 6×6 cm and are quite rare: one of the only places you can see this smaller version of sampietrini is Piazza Navona, one of Rome's most iconic landmarks.
Our sampietrini owe their favor and spread throughout the city to Pope Sixtus V, who ruled over Rome and Christianity between 1585 and 1590. He played a significant role in Rome's urban planning, and it was under his pontificate that sampietrini became the preferred paving material in the capital, thanks to their durability and their resistance to wear and tear from horse-drawn carriages. Their popularity led to an increase in production, and they were used throughout the city. As you may have guessed, the name originated from the fact our little solid cubes were initially used to repave Piazza San Pietro in its entirety.
Curiously enough, you can spell sampietrino also in a different way, "sanpietrino" with an "n:" while it isn't correct from the point of view of our language's morphology (we always put an "m" before the "p"!), it is just as common, and it is widely accepted by linguists, too.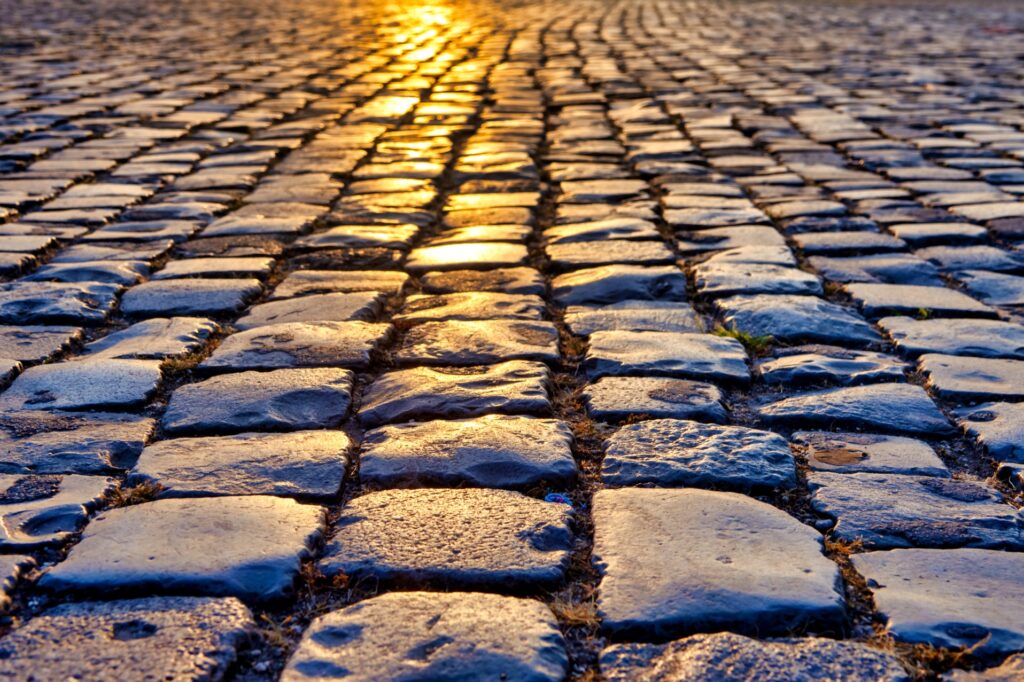 And while there is no doubt that sampietrini are beautiful, they have also sparked controversies. It wasn't unusual, in the centuries past, to use them as weapons during popular uprisings. Even today, not everyone is charmed by their historical and romantic allure, because their uneven surface can be treacherous for pedestrians, especially those wearing high heels, and cyclists and motorcyclists as well. Moreover, maintaining and repairing the sampietrini is costly, and some people advocate for their replacement with more modern, low-maintenance materials.
Despite the debates, the sampietrini's cultural and historical value has persisted, and they remain an essential element of Rome's charm. Sampietrini can still be found in many parts of the city, and they are a clear testament to its rich cultural heritage. However, the percentage of Rome's urban road network paved in sampietrini pavement is relatively low, accounting for only about 2% of the total. Mind though: this still amounts to roughly 100 km of roads that require appropriate and optimized management through a Pavement Management System (PMS).
Love them or hate them, sampietrini continue to be a beloved symbol of La Città Eterna. They are a bit like its hardcore heart and soul, to the point that, even with the rise of modern asphalt technology, their romantic and cultural value persisted, adding to the already endless historical charm of the city. In fact… some even thought to make some money off them, by selling them to tourists along the street — which of course it's illegal. However, a quick look at the FAI (Fondo Ambiente Italiano) page dedicated to sampietrini informs us that, in the end, the joke is on buyers: apparently, most of today's stones are no longer quarried in the Colli Albani but come from China.