Not many know that, since 1946, Rome celebrates the new year in an unusual way: a dive from Ponte Cavour at midday, just when the cannons from the Gianicolo ring the hour.
The first to celebrate the new year in an embrace with the icy waters of the Tiber was Rick de Sonay, a Belgian man of Italian descent, who would rigorously dive wearing a top hat. He was known as "Mister OK," because he had the habit to make that gesture after emerging from the river, to reassure bystanders he was doing just fine. On that 1st of January 1946, de Sonay wanted to celebrate his birthday in a special way and thought that jumping in the freezing waters of a river in Winter was just about right: there was no other hidden meaning, he just wanted to have fun. Likely, he hadn't planned to make of it a yearly habit, but locals absolutely loved it, so he decided to make it a fixture. In a handful of years, de Sonay's jump became a sine qua non staple of the 1st of January in Rome.
Good old Rick kept on diving until the 1980s when he decided it was time to retire: he was no spring chicken anymore and those cold waters may have been alluring but the risk of pneumonia was too high to continue. But Rome and the Romans weren't ready to give up on their yearly rendezvous with the Tiber, so a new Mister OK stepped into de Sonnay's shoes: it was Maurizio Palmulli, a former lifeguard at the famous Ostia beach resort "Kursaal," who still continues the tradition today.
Palmulli, who is in his 70s, declared on more than one occasion that for him "Jumping in the Tiber on New Year's Day means carrying on a beautiful tradition, made of passion, history, and fun. I am very proud of it. I've got five children, five grandchildren… and when they see me on TV, they are happy. This means the world to me."
In 2012, Mister OK announced his wish to retire, but he eventually decided to go on for a few more years; he did, however, already pick his heirs, Marco Fois, who has been diving with him for 14 years now, Walter Schirra, and Simone Carabella. The ultimate aim of the courageous gang is to wish a happy new year to the capital and its people and to bring a smile to their faces, especially this year when their tuffo took place after the first, tragic year of the pandemic. It must have been even more meaningful to Palmulli, who lost a brother to Covid-19 in 2020. "This dive is for all those who are no longer with us," he said almost a year ago when preparing for the 2021 jump.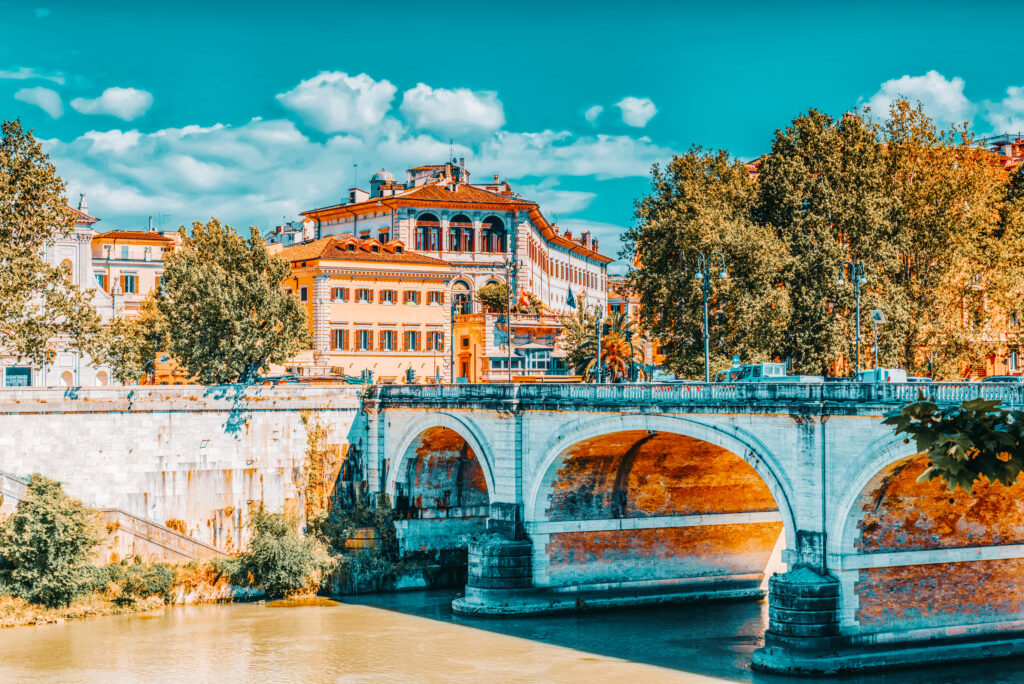 To understand how deeply entrenched in Roman lore and tradition Mister OK's jumps are, we just need to look at where they have made an appearance: in 1968, the original Mister OK was featured in Dino Risi's Straziami ma di Baci Saziami (Torture Me, but Kill Me with Kisses), while Palmulli was featured in Sorrentino's Oscar-winning La Grande Bellezza (The Great Beauty), in 2013.
It's not only the action to be iconic but also the location. Mister OK always dives into the Tiber from Ponte Cavour, the bridge connecting Piazza del Porto di Ripetta to the Lungotevere dei Mellini, across the Campo Marzio and Prati rioni. The bridge was designed by architect Angelo Vescovali, built between 1896 and 1901, and inaugurated on the 25th of May of the same year. Easy to guess to whom it was dedicated and why: Camillo Benso, Count of Cavour, Piedmontese statesman considered, along with Giuseppe Garibaldi and Giuseppe Mazzini, one of the fathers of the Italian unification. It is a simple, yet elegant bridge, with five masonry arches covered in travertine – as you would expect in Rome, of course – with a length of 110 meters and a width of 20.
In January 2022, Palmulli will jump from Ponte Cavour for the 34th time. This year, in 2021, he did not give up on the tradition, even if there was no public to cheer him up. Mister OK, who also dived into the Seine in Paris and the Thames, in London, must have missed the warmth of his fans: "The atmosphere is beautiful every time – he declared to La Repubblica a few years ago – it's like a party for families and children. Throughout the years, the event became quite famous and there are even tours coming here to see us." Of course, he continued, it's not all as simple as it may seem, and fear is part of the game: "fear is there when I walk onto the bridge. The seconds before I hear the cannon of the Gianicolo, my adrenaline goes crazy. Then, once I've jumped and it's all over, when I hear people clapping, the joy I feel is indescribable."