The Romans are known for their ingenuity: aqueducts, road systems, daily newspapers, cement, sanitation, elements of social care, welfare and our modern legal system all come from them. That's without even taking into account their military and tactical know-how.
However, I was surprised to find out they may also have created something that seems more adequate in a classroom at Hogwarts, rather than imperial Rome: unbreakable, flexible glass, or vitrum flexile, to say it as they would. Now, if you ask me, "flexible glass" is an oxymoron: glass is, by definition fragile and highly breakable, so how can it bend? We should ask an anonymous glassmaker of the times of Emperor Tiberius – the one reigning, according to the Gospels, when Jesus Christ was born – who apparently came out with this life-changing, epochal invention but … fell into oblivion with it.
Let's take things in the right order. Glass was already known to the ancient Egyptians, even though we usually associate it with the Phoenicians, who were not only expert makers but also discovered many of its uses. As they were a people of traders, glassware turned into one of their main trading and exchange goods.
The Romans themselves became skillful glassmakers, as attested by the numerous findings – jars, cups, plates, bowls – we've been unearthing since the glorious discipline of archaeology came to exist. Yet, no sign of flexible glass anywhere, at least tangibly, because ancient sources do mention it, in more than one occasion. Great names of Latin literature spent words about it, Pliny the Elder and Petronius above all, with mentions made also by Suetonius and Cassius Dio. These are notable Latin writers, whose talents spanned from science and history – Pliny with his Naturalis Historia – to satire – Petronius and his Satyricon – so it's safe to bet flexible glass was something Romans spoke about quite a lot it was mentioned in their works.
Both have similar tellings of the story, but their attitude toward it is pretty different. According to Petronius, a Roman glassmaker managed to obtain an audience with Emperor Tiberius to show his spectacular invention, unbreakable glass. He presented the Emperor with a cup, which Tiberius examined carefully and then returned to its owner. Once he had it back in his own hands, the glassmaker threw it to the floor, under the surprised gaze of all. But that was nothing compared to the amazement that must have filled the imperial hall when not only the cup didn't break, but it merely showed a small dent which its maker quickly repaired with a hammer.
So, what do you think the Emperor did? He had the poor glassmaker imprisoned and sentenced to death. Why? Because its invention – of which, by the way, he carried the secret to the Otherworld – could potentially reduce the value of precious metals like gold and silver.
Pliny the Elder's own rendition of the story is a tad drier than Petronius' but the gist is the same: a Roman glassmaker invents flexible glass thinking, quite rightly, to have created the next best thing after sliced bread but, instead of obtaining imperial approval, he has his workshop closed down. Pliny gives the same reasons as Petronius for Tiberius' decision: the Emperor was afraid that the new material could devalue precious metals. The great writer and military man, however, gives us more information about the story: he tells us that there was no real proof of it. In other words, it may well have been an ancient-times urban legend.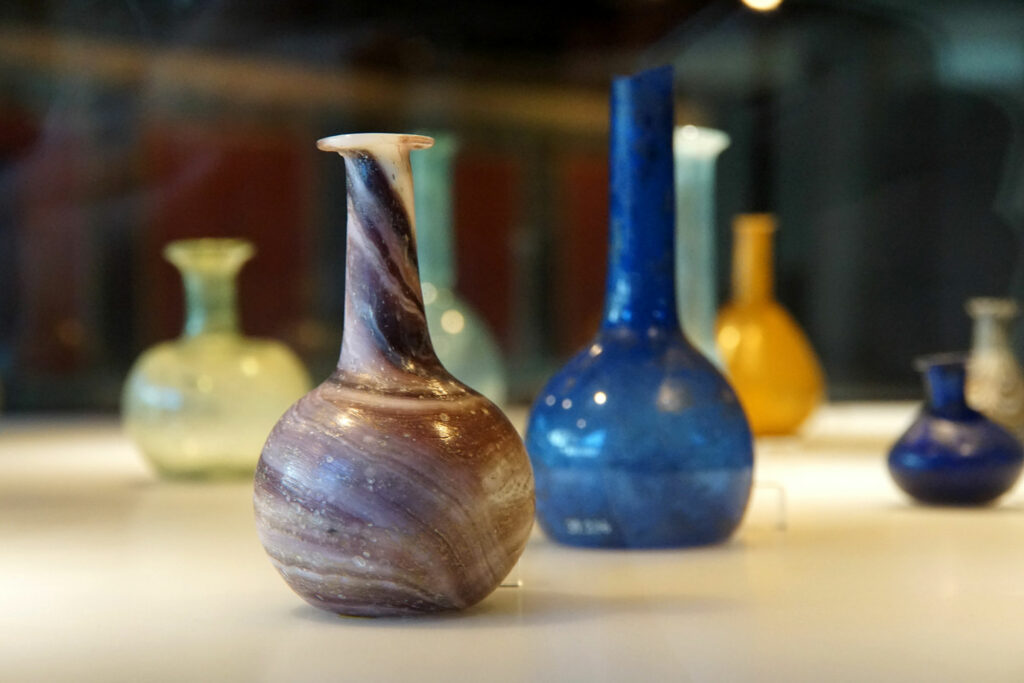 Considering we haven't come across any artifact made of flexible glass in centuries of archaeological excavations up and down the lands of the old empire, Pliny's considerations don't seem too far-fetched. If something as revolutionary as indestructible glass was invented, most glass vessels and utensils would have been made of it. But nothing. It's also difficult to imagine that such a life-changing discovery didn't cross geographical boundaries and historical epochs to become ubiquitous throughout the Empire and, later, also in Medieval Europe.
So, it seems that flexible glass may not be, in the end, one of Rome's many inventions, but the idea was pretty innovative for the times. It's interesting to spend some words about the actual feasibility of it. According to the website The Archeologist, our imperial glassmaker could have well created the material: he only needed to have access to boric acid or borax and add it to the glass mixture, because that would make the material stronger and almost unbreakable. The problem is that, at the time, neither borax nor boric acid were known to the Romans. Historical records show that both were, eventually, imported to Italy from Eastern Europe during the Middle Ages, when they were commonly used especially by goldsmiths. The mineral was also found in Maremma – so not that far from Rome – but only in the 19th century. And while it's not impossible our glassmaker had somehow access to borax in the early decades of the Roman Empire, it remains quite unlikely.
It really looks like flexible glass is something that can only be made at Hogwarts, in the end…