Ricotta is so versatile and so good. A simple dash of lemon juice and a spoonful of sugar, and we have a light, refreshing dessert. Some honey and cinnamon and we already feel closer to the Middle East, while chocolate chips and chopped pistachios lead us straight to Sicily. Fancy something savory? Try it with pasta, for a creamy and simple dinner, or use it to enrich cannelloni and ravioli. Forget about cooking robots: ricotta is the real culinary multitasker.
At the same time, I think most of us know very little about this delightful cheese: for instance, it's not a type of cheese at all, because it doesn't come from whole milk, but from milk whey which is what's left after we make cheese. Whey is heated up (ri-cotta, or "cooked twice") so it turns into soft milky flakes that are then gathered into fuscelle, traditional ricotta molds. Inside them, the cooked whey is allowed to rest, drain off the excess water, and turn into the fresh, delicate latticino we all love.
So far so good, because there is nothing new in what you've just read. But not many know that, besides the classical fresh cow or sheep ricottas we usually find at the supermarket, there are many other varieties that change in texture, aging, and type of milk used. From North to South, fresh and mature ricottas are a traditional product of the territory and an ingredient to discover and appreciate, also in name of its connection to local heritage and farming history.
Fresh ricottas are those we are more used to. We consider "fresh" all ricotta types that are allowed to lose excess water and sold quickly once they reach the right consistency we all love. They are usually divided into two big categories: cow ricottas and sheep ricottas, even though we can also find specialty ones made with buffalo milk (Campania) and goat milk (Sardinia). Fresh ricottas can vary also for the presence or absence of salt, as well as other ingredients, such as milk or cream, which make them even creamier. This is the standard pedigree of all fresh ricottas, never mind if they are artisanal or industrially made. Careful though, because homemade ricotta has a shorter shelf life (2 or 3 days after making) than industrial ricotta, which can last up to three weeks.
On the westernmost corner of the peninsula, in Piemonte, we'll find a tasty sheep ricotta known as seirass. Protected by a PAT denomination, which guarantees it is a traditional agro-food product, it comes in two versions, one made with sheep milk's whey, and another with cow's full milk: this latter version is known as seirass di latte or milk seirass. Seirass rests in large pieces of fabric, through which the water can drain: you'll recognize it at the deli because it's shaped like a bread bun. Milk seirass, on the other hand, is shaped like a cone, because of the type of linen pouches it rests into. In Rome and Lazio, we have ricotta Romana DOP (denomination of protected origin), made with whey from the milk of Sarda and Comisana sheep, to which some full milk is added. It is quite flavorsome and "dry," which makes it perfect to make fillings. You can recognize it easily because it has the shape of a cone without the top. In Campania, of course, ricotta comes from buffalos: this delicacy is typical of all the areas where buffalo mozzarella is produced: Benevento, Caserta, Napoli, Salerno but also parts of other regions, like the Frosinone province of Lazio or Foggia, in Apulia. It is characterized by its luscious texture and, for this reason, it is often used to make pastiera and other desserts.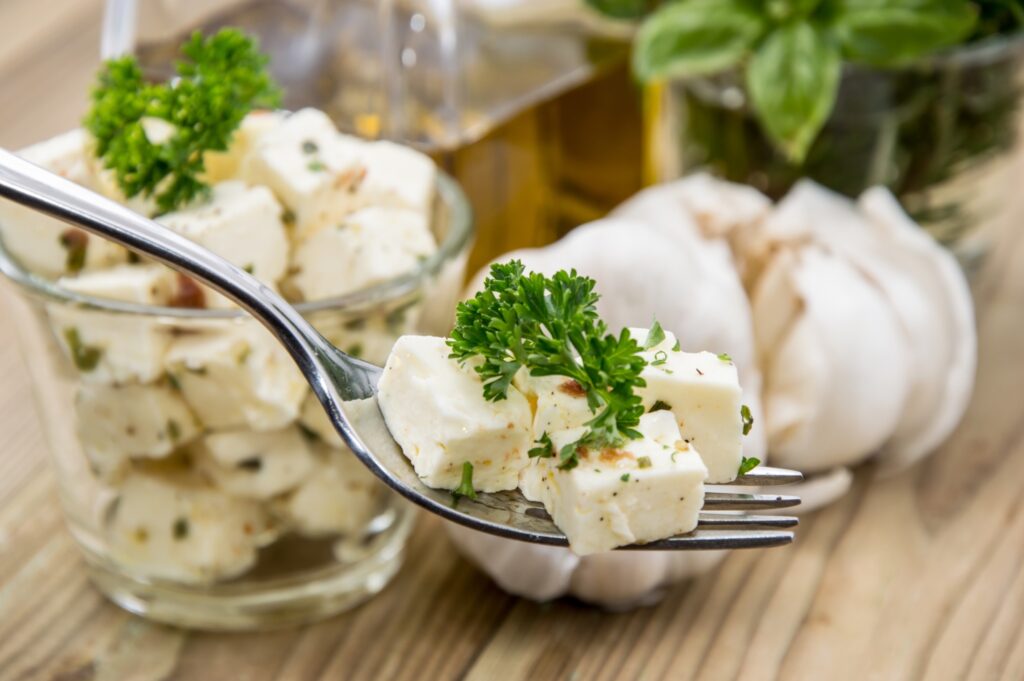 Ricotta can also be enjoyed when it's more mature, and it can also be baked and smoked. Since the times of the ancient Romans, we've been using tricks to make ricotta last longer. Three have survived: using salt as a preservative – along with a shorter or longer maturing time; oven baking and/or smoking. The aim is always the same: reducing ricotta's humidity so that it can last longer.
Starting again from the North West, we have the seirass del fen, or hay seirass, produced starting from sheep, goat, or cow seirass, with the addition of milk. Ricotta wheels are left under hay for a time between 10 to 25 days, which doesn't only allow the ricotta to lose moisture, but also to gain in flavor and aroma. A truly gourmet variety of aged seirass is made by covering it in Alpine aromatic herbs, then letting it age between 50 and 60 days as a minimum.
But matured ricotta is mostly associated with our South, and with Sicily in particular, where grated ricotta salata is a key ingredient of iconic dishes like pasta alla Norma. Known also as ricotta secca or stagionata, it is preserved through the use of salt when it's made, and two to three times during the maturing period, which is usually between 10 and 30 days. Varieties of ricotta salata are made also in Sardinia, Salento (Apulia), and Campania. Baked ricotta, or ricotta infornata, holds a PAT denomination like Piedmontese seirass and it's produced in Sicily. It rests for seven days and then it is baked in a stone oven. The most popular is the Messinese, produced in the province of Messina. Baked ricotta can be used to cook or eaten in cubes and slices. 
Last but not least, we have smoked ricotta, ricotta affumicata. It is commonly made in many parts of Italy, from the North East (Veneto, Trentino Alto-Adige, and Friuli) to Lazio and Calabria. It is smoked using charcoal made with aromatic woods, which gives the outer part of the wheel a stronger, more fragrant flavor while leaving the center softer and more delicate. One of the most famous is the one produced in Sauris, in the Carnia region of Friuli Venezia-Giulia.