We all know ragù, the delicious meat and tomato sauce that goes perfectly with tagliatelle, or gnocchi. In the US, it's largely associated with a dish, spaghetti bolognese, that in Italy doesn't really exist: you'd be hardly pushed to find an Italian picking spaghetti, if they have some homemade ragù cooking on the stove. 
In its immense simplicity and universally accepted deliciousness, ragù is a pretty controversial sauce, and I am not talking about the pasta to have it with, that's a matter for another time. In Italy, North and South face each other every Sunday when they bring it on the table, because two cities claim the title of true home of ragù for themselves, Bologna and Naples, each of them purveyors of their own ragù philosophies. And the country takes sides, of course, with most of the North calling "ragù" the Bolognese version and the South embracing more closely the Neapolitan variant. Then each region — nay, each family!— has its own touch added. Ragù, ladies and gentlemen, is an extraordinary thing, indeed.
Let's start with making some clarity on the name.
Ragù comes from the French ragout, which refers to any dish based on stewed meat, fish or vegetables. While historians can't pinpoint exactly when the word arrived to Italy, we know it was already common in the Renaissance. The dish itself was, back then, a main dish, not a sauce to accompany pasta, which probably means the original Italian ragù was pretty similar to its French cousin, closer to a stew than a sauce. Through time, it turned from a stew into a sauce and, voilà, the French ragout turned into the Italian ragù.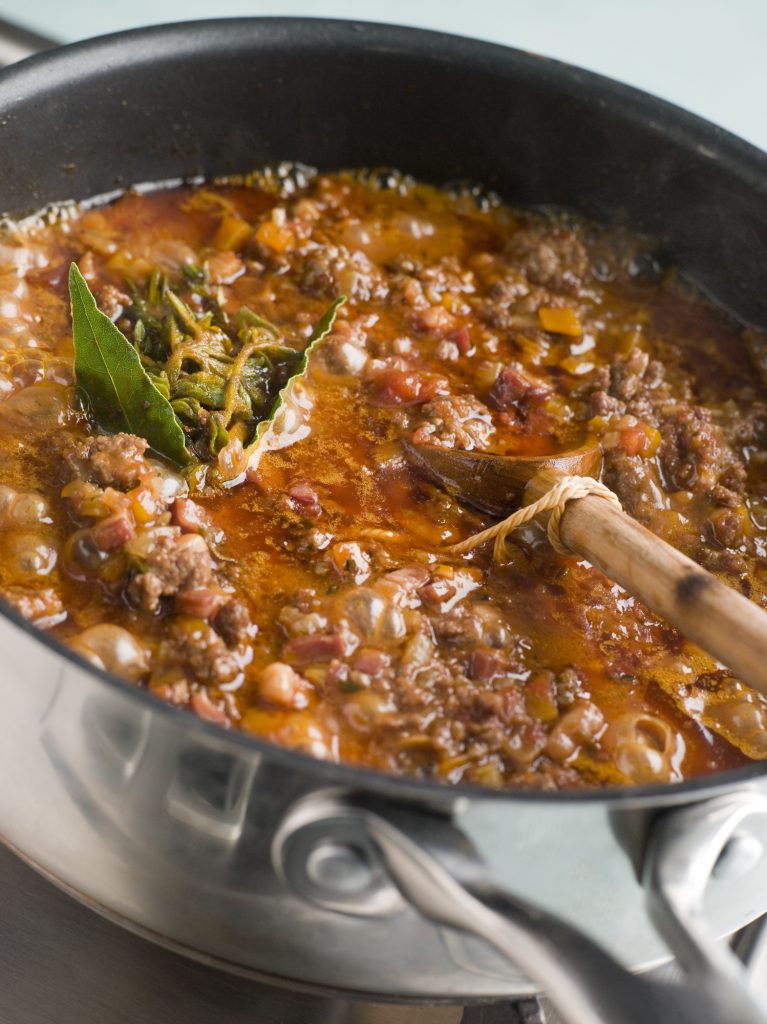 According to La Cucina Italiana, it was iconic Pellegrino Artusi to officially propose ragù as a sauce for pasta, rather than a meat dish: his idea became so popular, Massimo Lanari's article continues, that Il Duce introduced the Italianized version of the name, ragutto, into the autarchic vocabulary of the Ventennio.
Bologna and Naples, as said, have two very different varieties of ragù on their tables: while ragù alla Bolognese is, without a doubt, a sauce, ragù alla Napoletana doubles as a main, meat based dish. Those of you with southern Italian roots are probably more accustomed to the Neapolitan version, while those hailing from Settentrione likely make the Bolognese.
A bit of history — and ingredients! — is necessary at this stage.
Ragù alla Bolognese probably appeared in the city sometimes in the 16th century, but we have to go all the way to 1982 to find an "official" recipe registered at the Bologna Chamber of Commerce by the Bologna chapter of the Accademia Italiana della Cucina La Rossa's cooks make their ragù with a bit of soffritto (onions, celery and carrots), minced beef, tomatoes (either peeled or sauce), white wine (not red!), extra virgin olive oil or butter, some broth, whole milk and, if you like, some full fat cream. The sauce should cook for a minimum of two hours, and you should add broth every now and then, if it gets dry. While not everyone would add milk or cream to it (it's useful to cut tomatoes' acidity), the Bolognese recipe is pretty much the one embraced by all northern regions: some may mix minced beef with sausage meat or minced pork, but the idea and the rest of the ingredients are the same.
Ragù alla Napoletana is an entirely different  pair of hands, because it doubles as a sauce and a main meat dish, a stew. The earliest attestation of its presence on Neapolitan tables dates back to the 18th century. Interestingly, though, Neapolitans didn't use tomato in their ragù, at least non at the beginning, as the first recipe with it is found in Usi e Costumi di Napoli by Carlo Dal Bono, in 1857.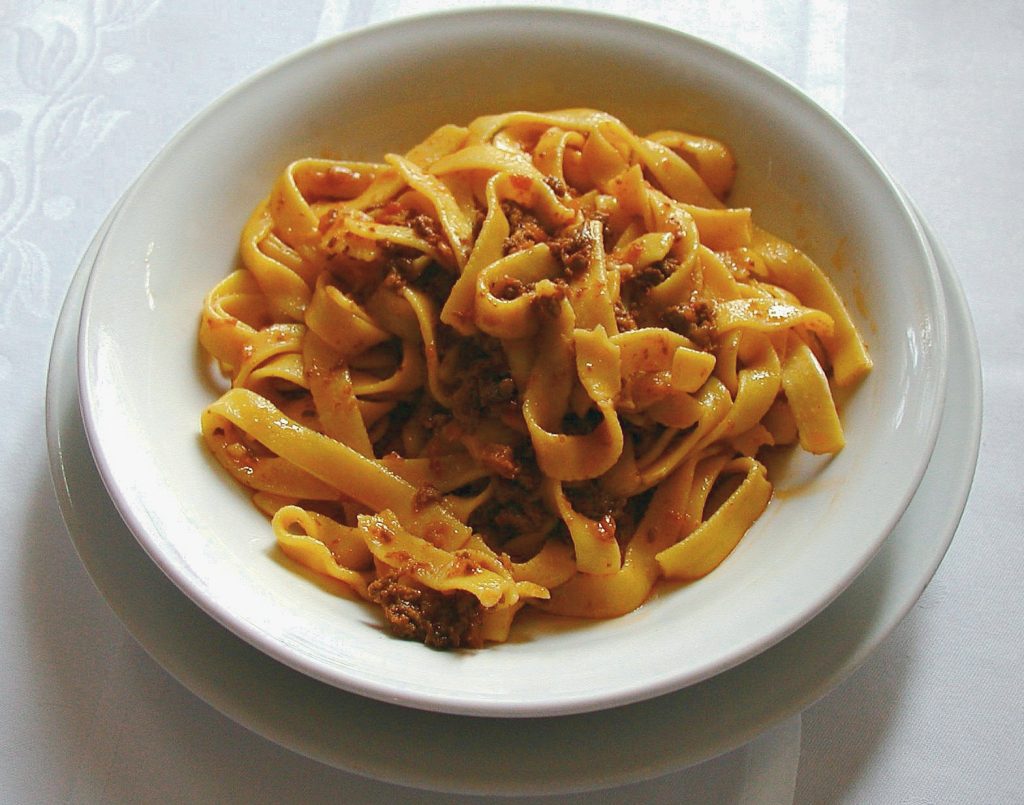 The original ragù was a traditional Sunday dish — and still is in many parts of the South. Yesterday as today, it is made with cuts of beef (not minced), that require a long cooking time. Crucially, Neapolitan ragù also adds other meaty delicacies to its recipe, including sausage, pork ribs, cotica (rind roll), Neapolitan meatballs and stuffed chops. Essentials are extra virgin olive oil, onions, carrots, white wine and, of course, tomato sauce. Neapolitan ragù needs to cook for at least 6 hours and that's why its preparation starts usually in the early morning: waking up on sunday with the enticing scent of ragù filling the house is a delightful memory of many a southerner.
When the meat is cooked, it's removed from the pot and put aside; usually, the pork is ready before the beef, so it should be removed earlier. That'll be your secondo, your sunday meat dish. The tomato sauce, enriched with the flavors and aromas of the meats, is used for pasta.
Neapolitan and Bolognese ragù are real staples of our national cuisine and they are not mutually exclusive. They are just different declension of the same amazing culinary language of our country. That's why, all things said, I think one can really love them both. There is no need to take a side!