This is a healthy, warming, and attractive-looking soup. I often prepare these types of soups when I am in need of a light and but comforting meal full of color and aroma. This soup is also perfect as a healthy appetizer to a hearty main course. The combination of this soup followed by a plate of buttery scaloppini liberally sprinkled with grated truffle is especially divine.
As I make so much fresh pasta, I often keep and use the leftover pasta pieces. I dry them on a towel for a day or two, before roughly crushing them with my hands to give them a rustic look. Store-bought fresh egg- noodles will do just fine; no crushing needed.
What makes this soup so special, is the floral notes imparted by saffron and a drizzle of olive oil at the end. The fruity creaminess of the oil brings out the sweet intensity of the pumpkin. This is a perfect occasion to open that bottle of olive oil you bought on your last holiday in Umbria.
If you are gluten-free, you can substitute the pasta with boiled rice or with cooked cannellini beans. Warm the beans (two tablespoons per person) in a pan with a little minced garlic and olive oil, before gently floating them on top of the soup.
Ingredients (serve 4)
700 g (1 and 1/2 lbs) butternut squash or pumpkin, cleaned and cubed
1 onion, diced
1 lt (1 quart) boiling water or stock
1/4 teaspoon crushed saffron threads soaked in 2 tablespoons of water or saffron powder
250 g (8.5 oz) fresh pasta
2 tablespoon freshly grated Parmesan
1 clove of garlic, lightly crushed
1/2 teaspoon salt and fresh extra-virgin olive oil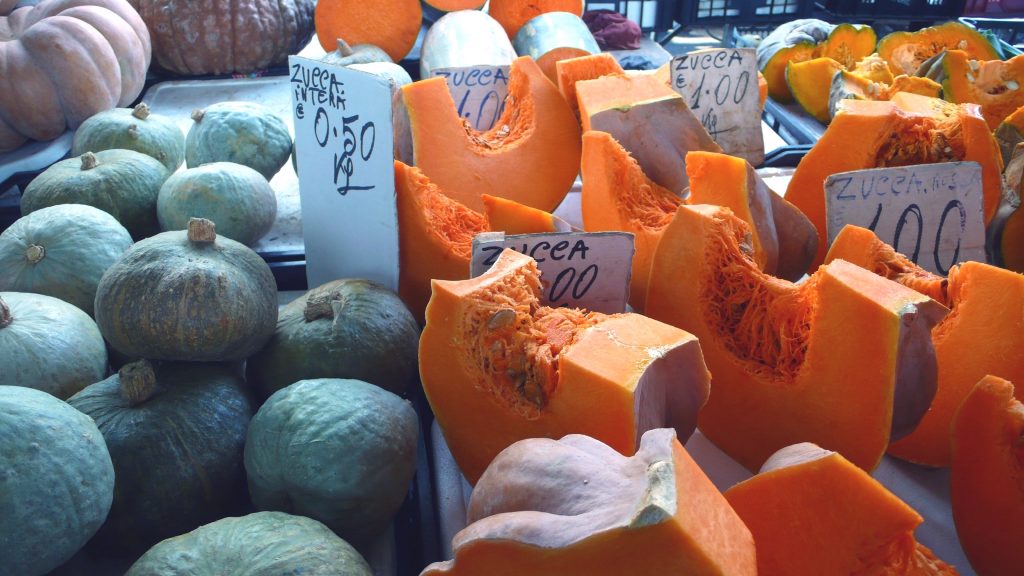 Soften the onion in two tablespoons olive oil. Add the pumpkin, cover, and braise slowly until it begins to fall apart. Add the boiling water or stock and simmer for 10 minutes. Add the saffron, season and puree until smooth. Cover to keep warm.
In a separate pan, cook store-bought fresh, or better still, homemade, egg pasta in plenty of salted boiling water, until al dente. Fresh tagliolini should take no more than one minute to cook.
Don't be tempted to cook the pasta directly in the soup. The resulting pasta will be chewy and starchy, rather than soft and silky. Drain the pasta, return to the hot pan and toss quickly with one tablespoon of olive oil and a lightly-crushed garlic clove. Once fragrant, remove the garlic clove.
To serve the soup, ladle the pumpkin purée into bowls and top with the pasta. Sprinkle with grated Parmesan, add a drizzle of your best extra-virgin olive oil and serve immediately.
Letizia Mattiacci is a cookbook author and owner of Alla Madonna del Piatto Cooking School and Agriturismo in Assisi, Umbria, https://incampagna.com. This recipe has been previously published in Mrs. Mattiacci's cookbook entitled "A Kitchen with a view."