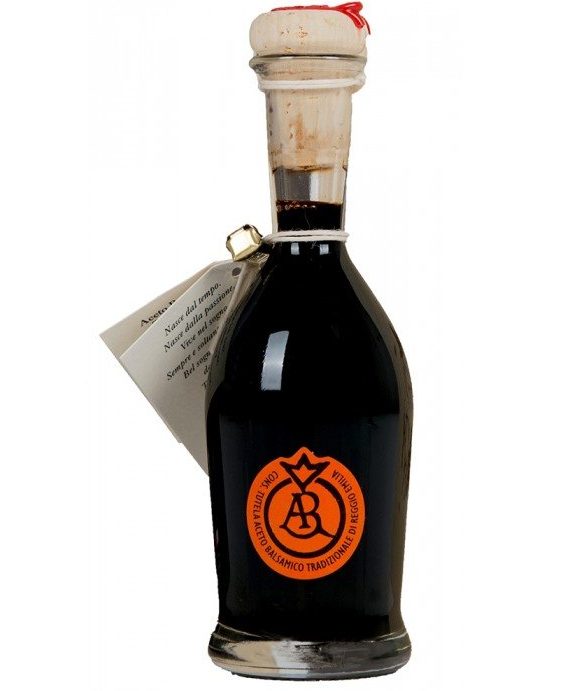 Traditional Balsamic Vinegar ofReggio Emilia Dop Aragosta Label aged at least 12 years
$52.22
100 ml – 3,38 fl.oz 1 bottle of Traditional Balsamic Vinegar of Reggio Emilia Aragosta Label, "Lobster Seal", aged at least 12 years
+ glass measuring cup
Directly from Parma !
We are registrated at FDA (Food & Drug Administration)
100 ml – 3,38 fl.oz 1 bottle of Traditional Balsamic Vinegar of Reggio Emilia Aragosta Label, "Lobster Seal", aged at least 12 years 
+ glass measuring cup
Allergens:
contains sulphites
Traditional Balsamic Vinegar of Reggio Emilia (PDO) label Lobster from light and delicate scent is ideal for enriching carpaccio, salads and dips. to flavor after cooking shellfish, chicken breasts, lamb chops and red meat undercooked.
Recommended for funds to prepare for cooking game and poultry.
Inspected and controlled by the Consorzio that analysed the organoleptic characteristics.
Born centuries ago as a medicinal balsam for the exclusive use of kings and emperors,it has found its place in the kitchen as a product of excellence, it heightens the flavours and enriches every dish, from the most simples ones such as salads and raw vegetables, to the most refined dishes such as filled pastas or meats.
We can ship these products to Europe, United States of America, Japan.