I don't think there is another food in the world that has reached the popularity or stretched the imagination as much as pizza. Let's not get into where the best pizza is made or who made it first because we would be here a long while and things could get nasty! Joking aside, and without going into a history lesson, it's safe to say that most of the world associates pizza with Italy and Italian cooking and most would agree that Naples is the mecca of pizza towns. That may be where the accord stops though, because from dough preparation all the way to proper eating tactics, one can find and argue their point to no end.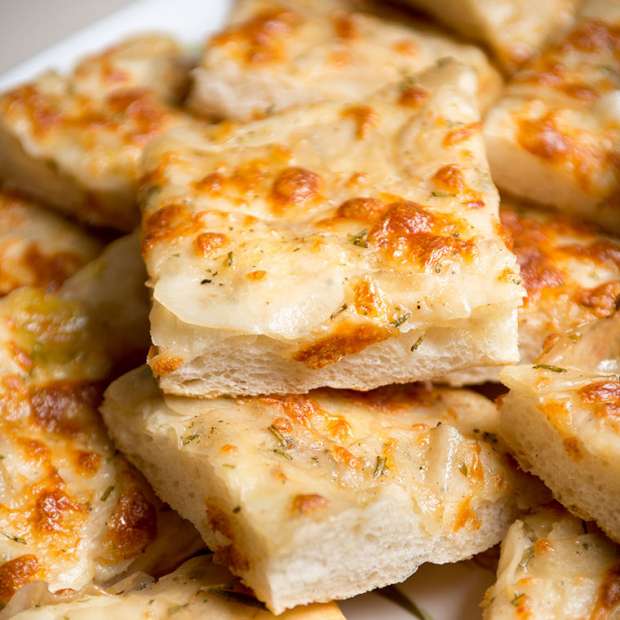 Slow-rise, quick-rise, no knead, 72 hours, hand-kneaded…..so many decisions can be made just to start the process of making pizza. We've met with many a nonna and each has their own recipe with specific tips. All of them however, have been fantastic! In the end, it really comes down to the amount of time you have and your preferences. Do you like thin crust, thick crust, or even stuffed crust? Personally, I like a well browned bottom to my pizza, whereas my husband prefers it much less cooked (Eww!). Of course, a wood-fired oven would be fantastic in every backyard but let's be realistic here.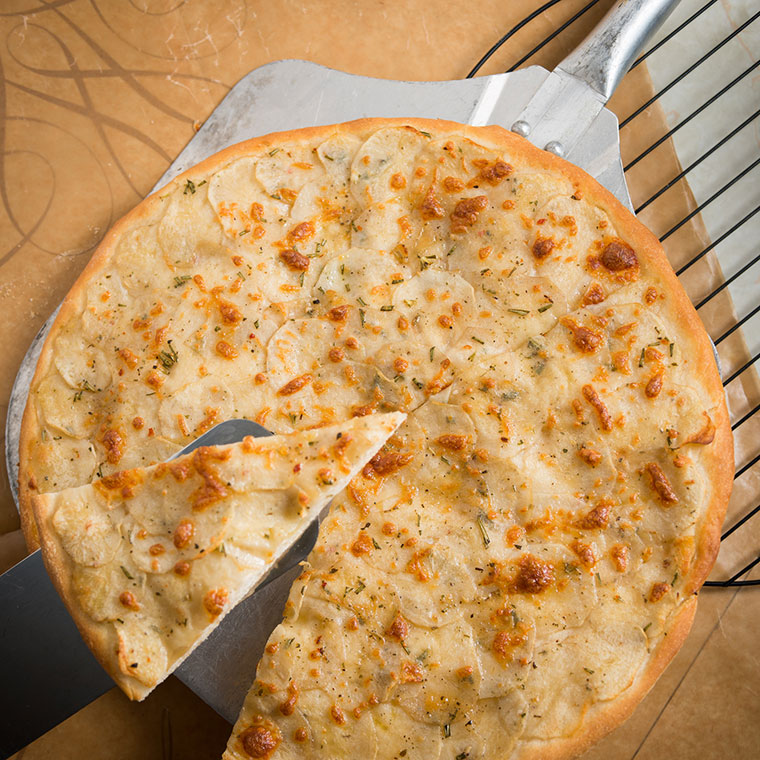 You have a choice of many pizza pan materials, sizes, shapes, some even have holes. Some of you may have a pizza stone and swear by it. Here at Nonna's Way we have recently started using the Baking Steel (
www.bakingsteel.com
) and we are hooked! It holds an extremely hot temperature and is the closest thing to a wood burning oven you can get. A beautifully cooked pizza every 5-6 minutes? Yes please!
You could easily have pizza a thousand times and never eat the same thing twice. When you start to make it at home and realize how easy it is, you will definitely have favorite combinations that you make over and over but don't get caught in a rut. A quick peek through your cupboards and fridge can spark your imagination. Sometimes though, you just want the classics and that's ok too: margherita, pepperoni, or one my favorites from my aunt's pizzeria in Italy – quattro stagioni or "four seasons:" a personal sized pizza with 1 topping on each quarter: Parma ham, artichoke hearts, mushrooms, and olives. Sometimes the simplicity of one topping allows you to enjoy the flavor completely.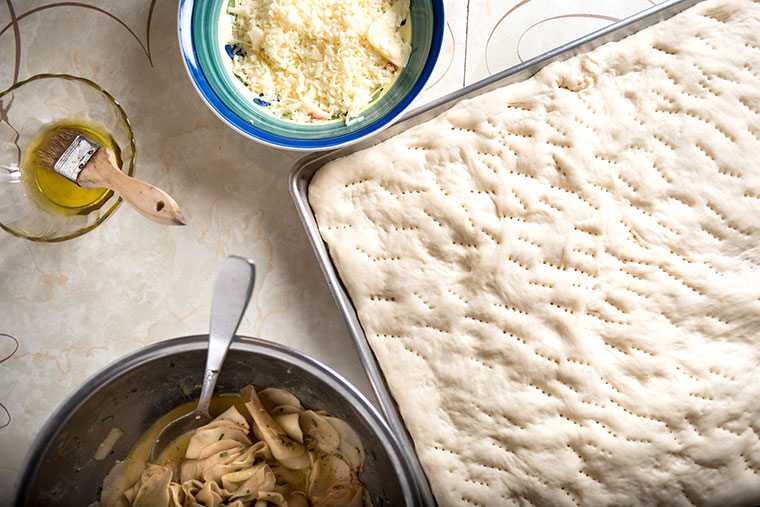 When you think you've tried it all, you meet a nonna who makes you a potato pizza and you're wondering why you never thought of that! This potato pizza is equally suitable as dinner on its own, a side dish, or an awesome addition to a charcuterie board! It's got loads of flavor and with just a sprinkle of cheese it feels light and snackish. So next time you're getting your twenty toppings ready for a pizza night, consider using just one or two!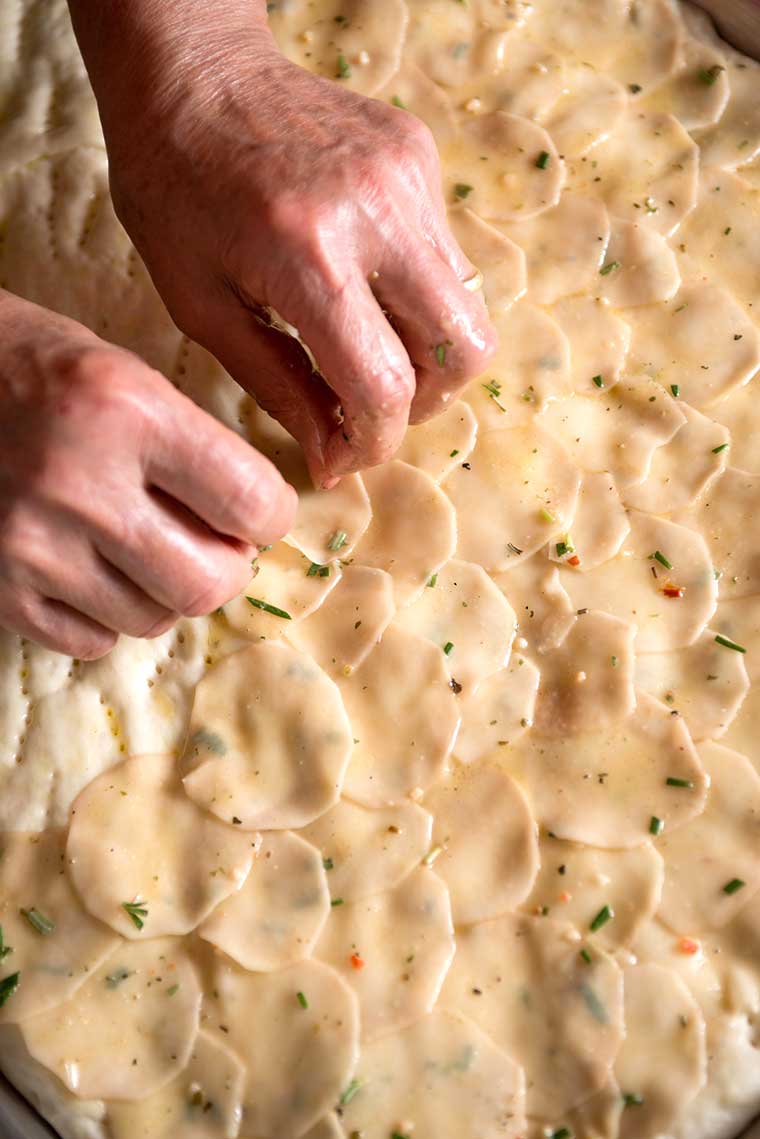 Potato pizza
For the dough
●4 cups all-purpose flour
●1 envelope of active dry yeast (2 ¼ teaspoons)
●2 cups lukewarm water divided
●1 teaspoon sugar
●2 tablespoons canola or vegetable oil
●1 teaspoon salt
For the pizza topping
●5 medium white potatoes, peeled and thinly sliced
●salt and pepper to taste
●3/4 cup olive oil
●Your favorite dry spices/herbs (oregano, granulated garlic, dried onion, chili pepper flakes)
●Fresh rosemary chopped (optional)
●1/2 cup shredded mozzarella
For the dough
1. Measure out the flour and place in a large bowl forming a well in the middle.
2. In a bowl, mix the yeast with 1 cup of the water. Add the sugar and stir to mix well. Set aside to let bubble and become frothy.
3. To the flour well, add the oil, then the frothy yeast mixture. Add the other cup of water to the bowl that contained the yeast, swish it around and then add this to the well contents.
4. Begin mixing the flour into the liquid and at this point, sprinkle the salt in.
5. When all the flour and liquid are combined, dump the dough out onto a floured board and knead well for about 10 minutes.
6. Place the dough into a lightly oiled bowl then set aside and let rise for about 5 minutes. Lightly punch it down then set side again and let rise for about 2 hours covered with a tea-towel or food wrap.
For the pizza topping
1. Season the sliced potatoes with salt and pepper
2. Add herbs/spices to your liking
3. Add the olive oil
4. Let the potatoes sit for 45-60 minutes. The potatoes will release water. Do not drain.
5. After the dough has rested for 2 hours, punch it down again and then spread it out into a pizza pan lightly greased with butter or shortening. Prick the dough all over lightly with a fork.
6. Lightly brush the dough with olive oil.
7. Begin placing the potato slices over the pizza, overlapping the slices as shown in the photo.
8. When all the slices have been placed on the pizza, evenly sprinkle about 3/4 of the potato water over the pizza.
9. Finally, sprinkle the shredded mozzarella over the pizza.
10. In a preheated oven, place the pizza in the middle of the oven and cook for 20 minutes.
11. For a regular oven, set temperature at 375-400F.
12. Nonna Anna cooks her pizza at 440F using convection roast on her gas range.
13. Adjust cooking temperature to your particular oven.
Notes
Depending on the weather i.e. humidity, temperature, you may need less water for the dough.
This pizza dough recipe is enough for one 16" X 22″ pizza pan