If you love Italian sagre and fairs, then you must have tried panino con la porchetta at least once. Indeed, the slowly-roasted, then-sliced delicacy is a staple of Italy's most traditional street gatherings, so much so it has become almost synonymous with them. And if it's true that porchetta found its contemporary fame thanks to its connections with popular feasts, we shouldn't forget its history, or better, the history of roasted piglet, is as long as that of life around the Mediterranean.
In the Odyssey, Homer writes about Eumaeus, a swineherd whose pigs were farmed exclusively for the table of Penelope's suitors, the Proci. Our ancestors the Etruscans loved pork and cooked it in a variety of ways, including roasted, just like porchetta. The Romans used roast piglet as the culinary starting point for many of their most creative recipes; famous, for instance, is Apicius' porcellum farcilem (stuffed piglet), which could be made in two different ways, depending on the type of stuffing chosen.
Fast forward to the 17th century and to a little-known agronomy treatise by Vincenzo Tanara, L'economia del Cittadino in Villa ("the economy of a city dweller") and we find the first reference to a more modern declension of porchetta, much closer to how we know it today. Tanara explains how, back in his times, the regions of Umbria and Marche were known for traditional fairs where roasted piglet was made and sold to all. In particular, he mentioned how people of all social extractions would buy porchetta and eat it with their families.
Tanara's words are important because they define the moment when porchetta became a food for all, to be enjoyed in the street, much like it is today. And culinary historians agree that becoming a popular food, accessible to everyone, made porchetta the icon it is today. Porchetta-makers, known in Italian as porchettari, filled local squares on Sunday mornings and during special local events, serving their product to locals. They were particularly active in central Italy, along with salsicciari, sausage makers. And while we can state with a good level of certainty that porchetta is a thing of our central regions, pinpointing exactly where it was born is more difficult. The people of Ariccia, a known village in the beautiful Castelli Romani area, Lazio, are adamant the original porchetta recipe was created there. To be fair, they worked pretty hard to ensure their delicacy is recognized also officially: indeed, the porchetta di Ariccia is the only variety to hold an IGP (PGI, protected geographical indication) denomination. In 1950, Ariccia's own porchettari created the first edition of the Sagra della Porchetta di Ariccia, a fair dedicated to their product, which is still alive and kicking today and attracts thousands of visitors every year.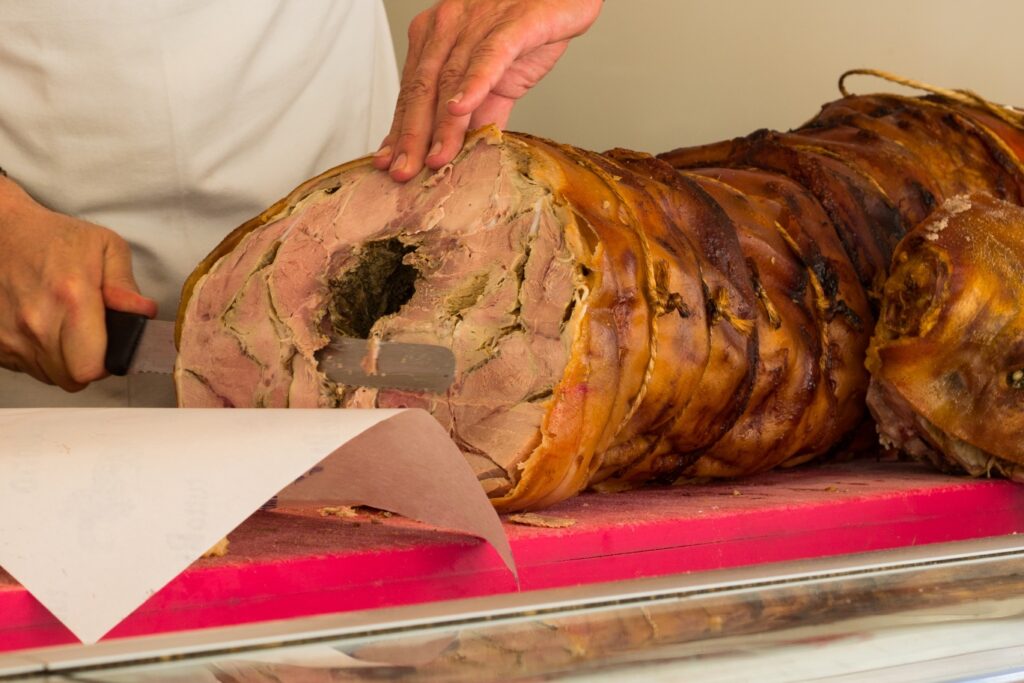 Not everyone agrees on porchetta's birthplace, though. Umbrians believe porchetta was born in their region, more precisely in Norcia, a town known since Roman times for its piggeries. And we shouldn't certainly forget that the porchetta made in Costano, a small hamlet near Bastia Umbra (Perugia), is a known delicacy, made the same way for more than 500 years. Porchetta in general is, in fact, one of Umbria's most traditional products.
The tradition of porchetta is strong also in Abruzzo, especially in Campli (Teramo), where porchetta-making seems to go back to the times of Ancient Rome when there were even special regulations on how it should be made and eaten. In the Teramo province, in fact, porchetta has a special ingredient, which you won't find in any other variety: almonds. Their addition lends to the dish a mellow sweetness which is enjoyed by many. This type of porchetta is commonly known as Teramana.
We can recognize two specific varieties of porchetta, based on what is used to aromatize it. One, produced in southern Tuscany, Abruzzo, and the Castelli Romani area of Lazio, is made with rosemary; the other, more typically made in Umbria, Marche, Romagna, and in some areas of Lazio, is flavored with finocchietto. Regardless of the extra flavors, preparing porchetta isn't an easy task: first of all, porchettari clean and debone the meat, then they add coarse salt, garlic, pepper, some chopped quinto quarto (pig innards), rosemary and, in certain areas, finocchietto and nutmeg. The porchetta must then cook slowly, for three to six hours, depending on its size.
You may be curious to know what's the best way to enjoy porchetta… Well, warm, thickly sliced, served on rustic bread is probably the best, but there are many other options. You can have it as an aperitivo, cut into small chunks, served with some bread, or you can slice it and accompany it with roast vegetables and potatoes. Add a glass of good red and you have a meal fit for a king. It's important, however, to serve it warm, so that it retains all its juiciness.