On the 7th of December, pizza Napoletana made it into the UNESCO Intangible Heritage List. A huge success for Italy, but also a huge success for the two million  people who supported its candidature throughout the world, many of them in the US: it was the most widely supported UNESCO campaign in history.
The candidature was launched in 2009 by the Italian Ministero delle Politiche Agricole, Alimentari e Forestali, the creation of the supporting dossier coordinated by Pier Luigi Petrillo, with the ongoing and essential aid of the Regione Campania and the many pizzaiuoli associations in the region.
The happy announcement was made by the Italian delegation in Jeju, South Korea, where the UN cultural body had gathered to make the decision: "We won! – tweeted Maurizio Martina, Italy's minister for agriculture . Italy's food and wine heritage more and more protected around world." Simple words, but very significant as, indeed, the fight against Italian Sounding and counterfeit products tops the list of our country's international efforts.
Similar is the thought of Amedeo Lepore, councillor for Campania's Attività Produttive, who underlined how "we had to avoid another 'Meucci effect,' to make sure it wasn't someone else to economically benefit from the commercialization of a Neapolitan excellence." And the business around pizza making cannot be overlooked: only in Italy, it employs 100.000 people full time and 50.000 part time, making a profit of around 14 billion USD. In the world, the business is worth almost 73 billion USD. Italians and Americans are not only the biggest pizza makers, but also the biggest pizza eaters: the States, with their 25 lbs of pizza consumed per capita each year, lead the world list. Italy is the queen of European pizza lovers, with 15 lbs consumed by each one of us every 12 months.
UNESCO writes that "the culinary know-how associated with pizza making – which includes gestures, songs, visual forms of expression, local linguistic utterances and the ability to handle pizza dough properly and to transform pizza making into a performance to share – is without a doubt a cultural patrimony. Pizzaiuoli and their guests all participate to a social ritual steeped in conviviality, where counter and stone oven work as a stage. Originated in some of the poorer areas of Naples, this culinary tradition remains still today deeply entrenched in the daily life of its community. To many young apprentices, becoming a pizzaiuolo is also a way to avoid social marginalization." Sergio Miccù, president of the Associazione dei Pizzaiuoli Napoletani also highlights the profound social role of pizza making in his city: " The art of pizzaiuoli did carry out a function of social redemption for many. It is strictly connected not only with Neapolitan identity but, truly, with that of the whole country."
UNESCO, it is clear, decided to honor not only the cultural value of pizza making art in Naples, but also its profound social connotations. As difficult as it may be to understand for many, a craft such as this, so quintessentially tied with the beauty, the history and the very soul of a place, can really become the way for some to turn the cards upon the table of life. Becoming a pizzaiuolo has been a path out of poverty and social neglect for decades and decades: a menial skill only in appearance, pizza making has always been an art in its purest form, an art that can be learned without going to university, without spending money, without living in the swankiest areas of the city. An art, as all art truly is in its essence, that needs no social status to be performed, but only creativity and, well, talent. An art that makes its artists proud, because, at once, shows off  both their own abilities and the marvellous world of their own territory and tradition.
This specific aspect of Neapolitan pizza making, the fact it is an art where social status, money and formal education count little, is also mentioned by UNESCO in its description of the art. If it is true that schools and academies to teach people the arte dei pizzaiuoli do exist, it should always kept in mind that "knowledge and skills are primarily transmitted in the bottega, where young apprentices observe masters at work, learning all the key phases and elements of the craft."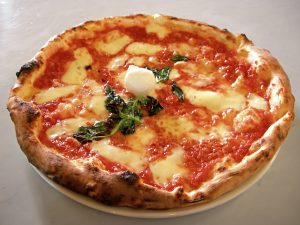 It is, of course, also the practical side of pizza making Neapolitan style which is now UNESCO-protected. The art of pizzaiuoli comprises four phases, the official UNESCO entry reads, each of them essential for the production of an authentic pizza Napoletana. The art, UNESCO underlines, is not only that of the master pizzaiuolo, pizza's own head chef, but also that of those learning how to make pizza and of those baking it. Indeed, a true Neapolitan pizza must be baked in a stone oven and turned continuously during the process: not many people nowadays know how to work with a real stone oven, let alone have the manual skills to rotate a pizza while it cooks. Interestingly, UNESCO highlights how the art of Neapolitan pizza belongs also to common people, to families baking it at home, but still proposing within their own family the same array of skills and performances pizzaiuoli put on display for us in pizzerias.
The world rejoices, then, for UNESCO recognition of Naples' own first culinary love, but how did the city itself react? Even if the decision was officially ratified only on the 9th of December, Naples didn't wait one second to begin celebrations: considering they had been waiting since 2009, no one can really blame them. News of the victory arrived in Italy in the night between the 6th and the 7th of December so, on the morning of the 7th, pizzerias around the city opened up bright and early and started baking. Tables were set in the streets and pizza served for breakfast: heart of the celebrations was Via Chiaia, near Antica Pizzeria Brandi where tradition says Naples' very first pizza la Margherita, was invented. Born to celebrate Italy's royalty and named after a queen, la Margherita, the most Neapolitan of all pizzas, fragrant and colorful, simple and exquisite, is today, along with its history, meanings and the artful skills needed to prepare it, a true patrimony of humanity.
To many of us, however, UNESCO did not discover anything new:  la pizza Napoletana has always been a world treasure.