Ask the average non-Italian to give you a rundown on Italian cuisine and chances are it will sound like this:
"Spaghetti…with meatballs, Fettuccini Alfredo, lasagna for sure…and pepperoni pizza…!" 
We'll spare the culinary critique of how…shall we say… deficient" this list can be. Thankfully, Italy and her glorious regional specialties offer so much more to excite the palate and delight the stomach. 
There is one region, however, that is perchance lacking credit where credit is due…Piedmont/Piemonte. A northernmost province, Piedmont sits mirthfully tucked in the north-west cuff of the boot, sharing the largest portion of its border with France. The capital city of Turin is potentially the best-known in the region, her accolades to include Fiat and The Shroud. However, there are many gastronomic wonders to be found throughout the smorgasbord of culinary richness that is the Piemontese palate.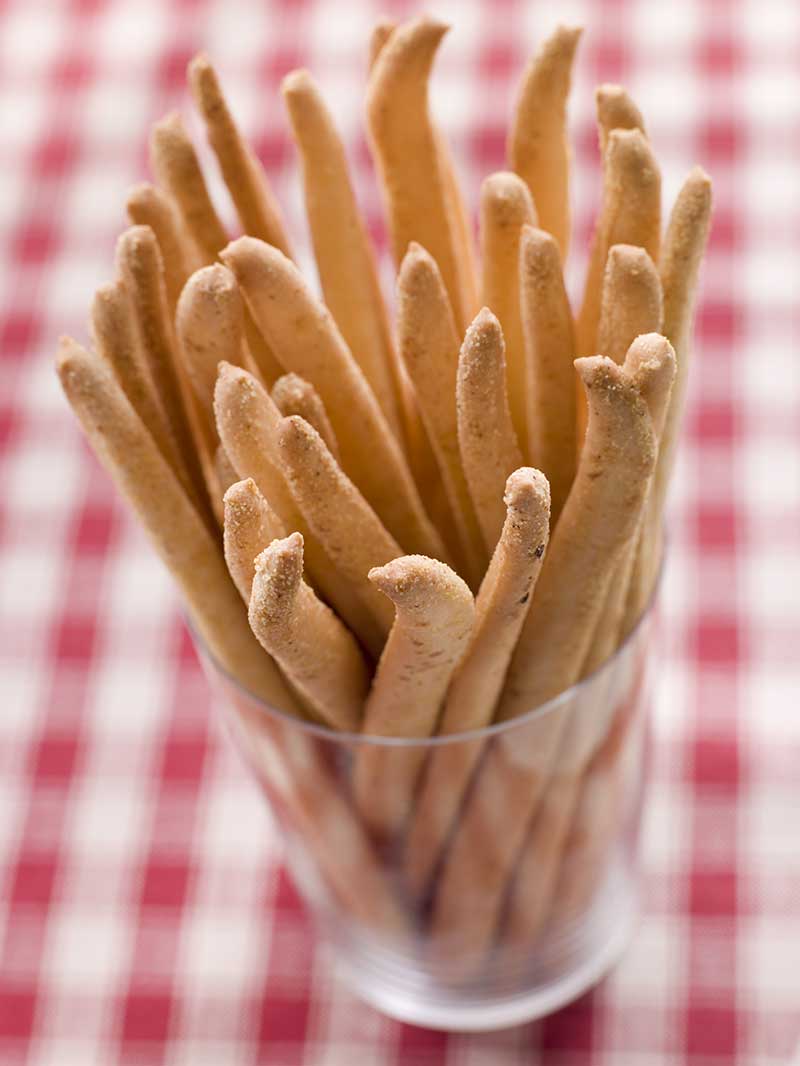 If credentials are needed before we embark on this savory run-down, Piemonte has them. The fact that Nutella, the chocolatey hazelnut wonder-child of the spreadables world, is the creation of a native Piemontese is suffice for many, but it goes much deeper than that! The Slow Food Movement, recognized world-wide now, began in 1986, the brainchild of Carlo Petrini of Bra, Piedmont. A professional gourmet, Petrini had the foresight to recognize the availability of locally grown, clean food and wine was in jeopardy at the hands of corporate chains. At-risk were the quaint, locally owned trattorias and the clean, seasonal food they provided…as well as the heritage that went with them. The rest is history — and a successful one at that. Notable, too, are those yummy-crunchy breadsticks we all love known as grissini – the invention of a bread maker in Torino – and of course, the well-known and highly revered white truffles of Alba. 
Its culinary vetting in place, how best to narrow a vicarious taste test of Piemontese eatables to something meaningful yet doable? Perhaps the best way is to imagine ourselves as guests at a family table invitingly set for a full course meal. The laughter and chat melt into "oooh's and ahhh's" as the antipasti are presented. Sure hope you're hungry! 
ANTIPASTI
One must stir the appetite for all that is to come, and a Piemontese-style stirring is more like a whirling dervish of possibilities. The options are vast. Nevertheless, most menus provide a selection manageable enough to fall one notch below impossible.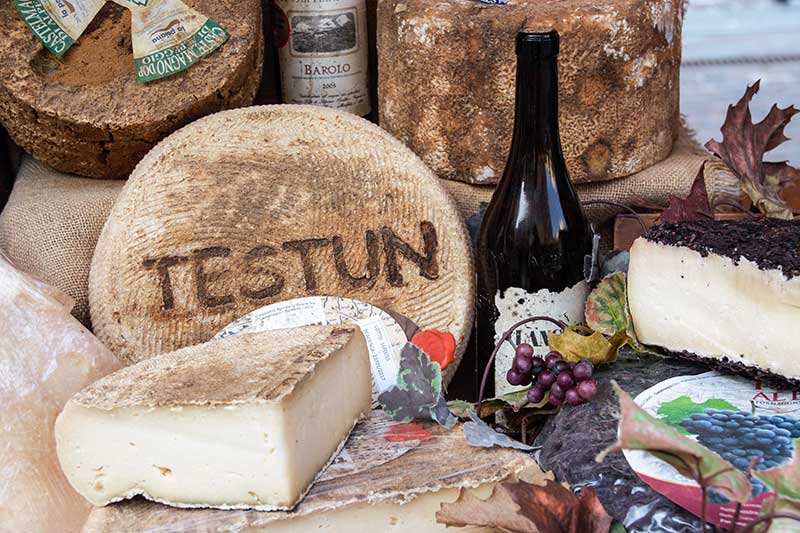 Sharing a border with France is like sharing a dorm room with your foreign best friend — some of the cool stuff is going to rub off on you. "La cuisine française" is definitely an influence when it comes to Piedmont's cheese offerings.  Luxurious, small production cheese rules the day. The foothills of the Alps provide rich pasture, and many a classic originates here. Creamy, French-inspired Robiola provides just the right tang atop a toasty bruschetta…or perhaps reach for the heady, crumbly Castelmagno, its bread-like appearance initially confusing. Don't forget to drizzle Piedmont's bitter chestnut honey over a hunk to create the perfect trifecta of savory, pungent, sweet.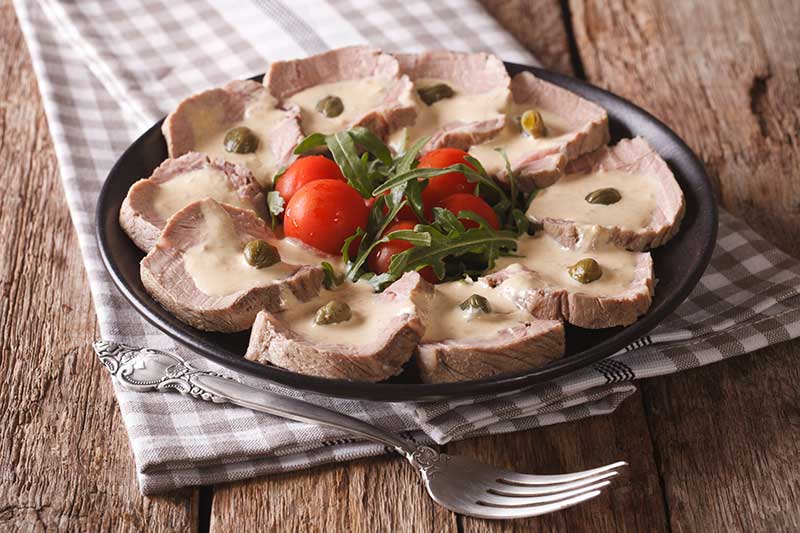 Piedmont's antipasti menus include the regional array of gossamer-thin sliced meats, but when a local thinks "carne" for a starter, the possibilities traverse the boundaries of traditional sliced salume. Perhaps you're in the mood for Vitello tonnato, papery-thin sliced veal paired with tuna and caper infused mayonnaise.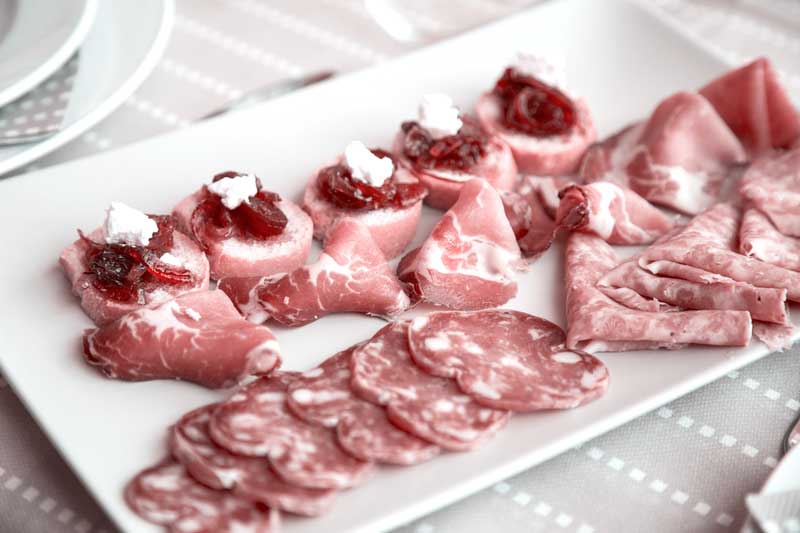 Or possibly the stout combination of organ meats and mushrooms united by marsala, vinegar, and garlic known as Finanaziera chased by a nibble of Piemontese salume created from a mash-up of pork, goose, beef, and even trout. Raw mixture of veal meat served with extra virgin olive oil, and a dash of salt and  pepper – carne cruda — is also a common appetite whetter at the table. 
PRIMI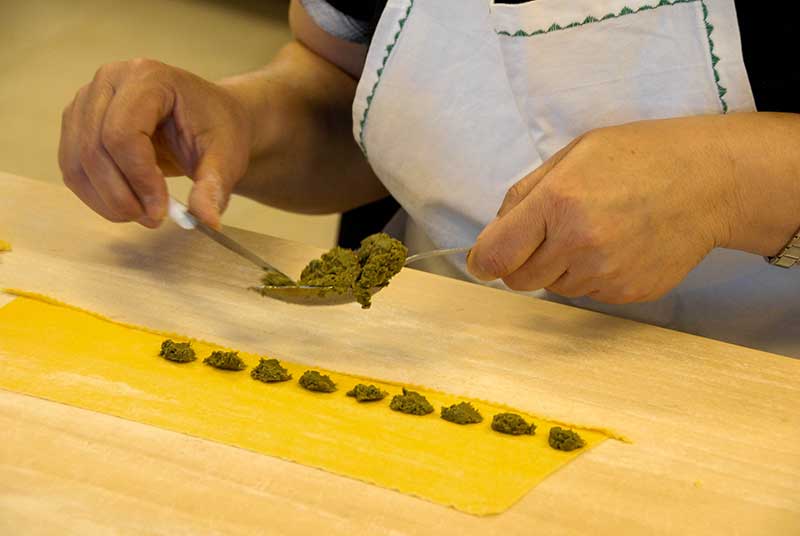 Your fully primed and ready palate awaits an introduction to Piedmont's most famous variety of pasta: tajarin. The northern cousin of tagliatelle, these thin, saffron-colored ribbons stand apart from any other Italian pasta due to their high egg content. In fact, only the yolks are used. I think we can vouch for a Piemontese preference for rich foods! The hearty noodles stand up well to a bath of butter and sage or swimming about in a scrumptious meat sauce.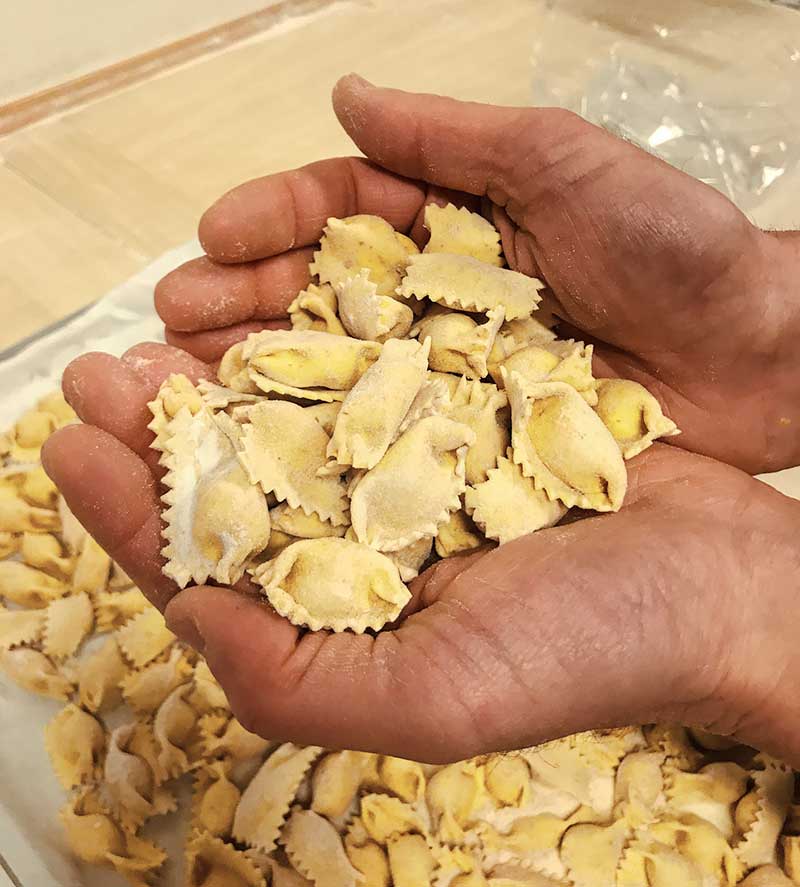 If you'd prefer to be fooled into thinking you're eating lighter, ask for Agnolotti al plin. These delicately petite ravioli filled with meat, vegetables or cheese are handmade by fare il plin — pinching out pockets from two sheets of golden pasta. Douse with a delectable butter sauce…buonissimi! Come October, these and almost any other eatable product can be dusted in white truffle should your heart desire…and your pocketbook be able to handle it. 
SECONDI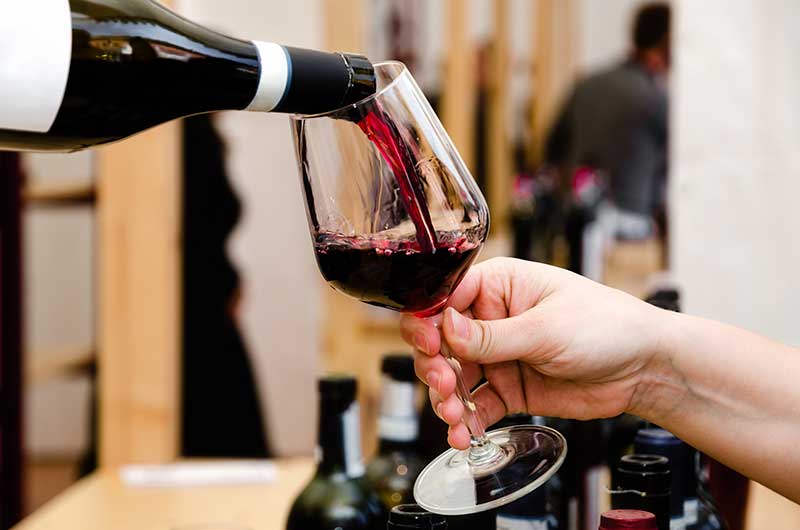 Gastronomic paradise continues into the main course. Perhaps the most memorable of dishes in my mind would be the melt-in-your-mouth, savory rich Brasato al Barolo/Barbaresco – veal simmered for eternity in Piedmont's famous wines and delicately seasoned with juniper berries (a must). Ladle a healthy portion over steamy, creamy polenta and alas…meat-lover's heaven.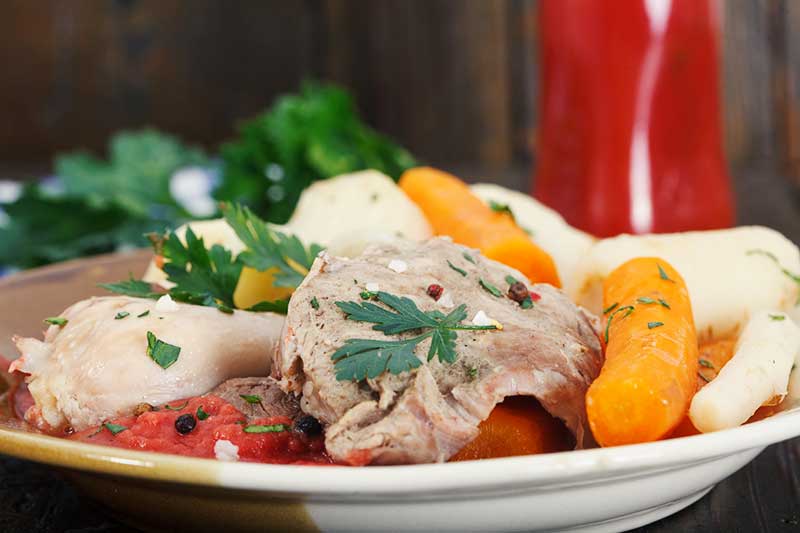 Coniglio, or rabbit, is often served this way, as well. Another celebrated secondo is Bollito misto – a combination of meats and vegetables boiled for hours to reach fork-ready tenderness. As if there's no in-between, other popular meat dishes are served crudi, or raw. Why bother with "medium," I suppose! 
DOLCE 
But what about contorni – the side dishes? Like taking your cousin to the prom, these seem to be enjoyed if you must, but not greatly missed if skipped – not only in Piedmont, but throughout Italy. Nothing to see…move along.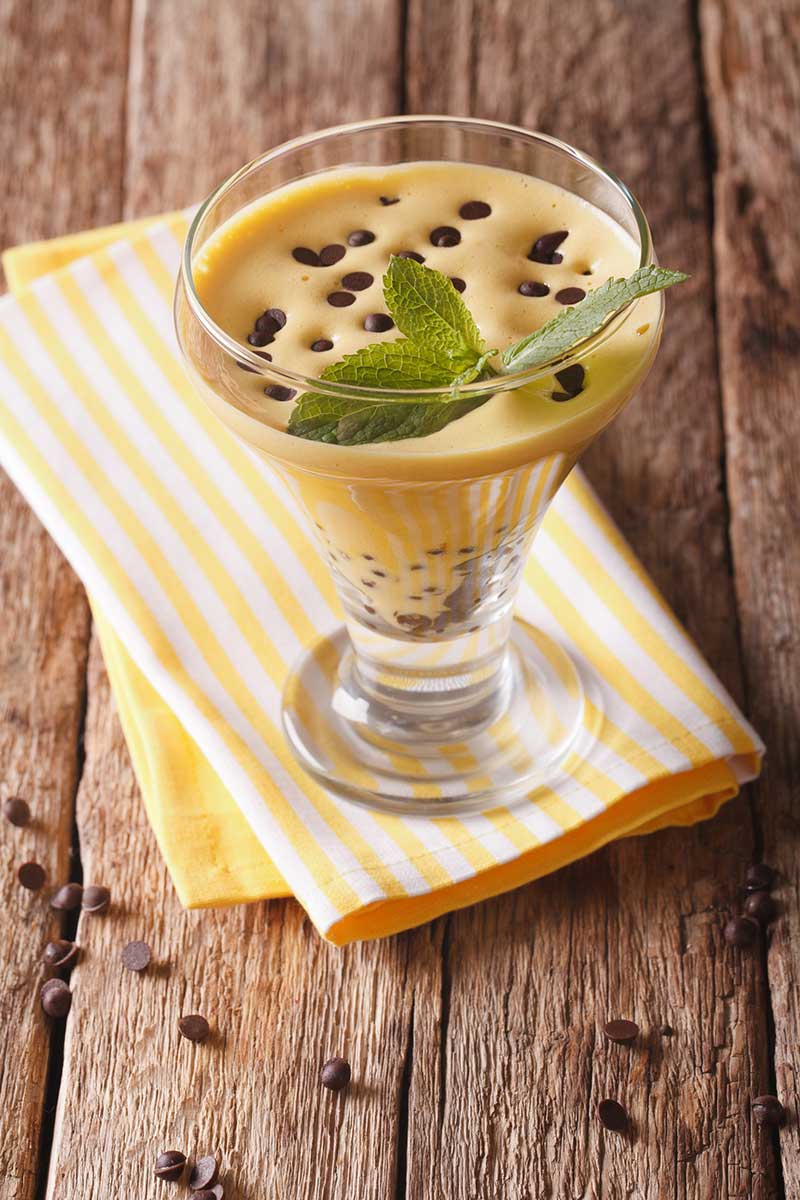 But oh yes…the dolce…the sweet end to a fabulous dinner Piedmont style! Pleasingly so, the Piemontese menu has found its way past the usual torta or gelato or tiramisù. Meet Bonèt. This velvety chocolate and hazelnut custard is baked to perfection atop a caramel foundation, then plated bottom's up with a dollop of fresh whipped cream. It will live on in your dreams.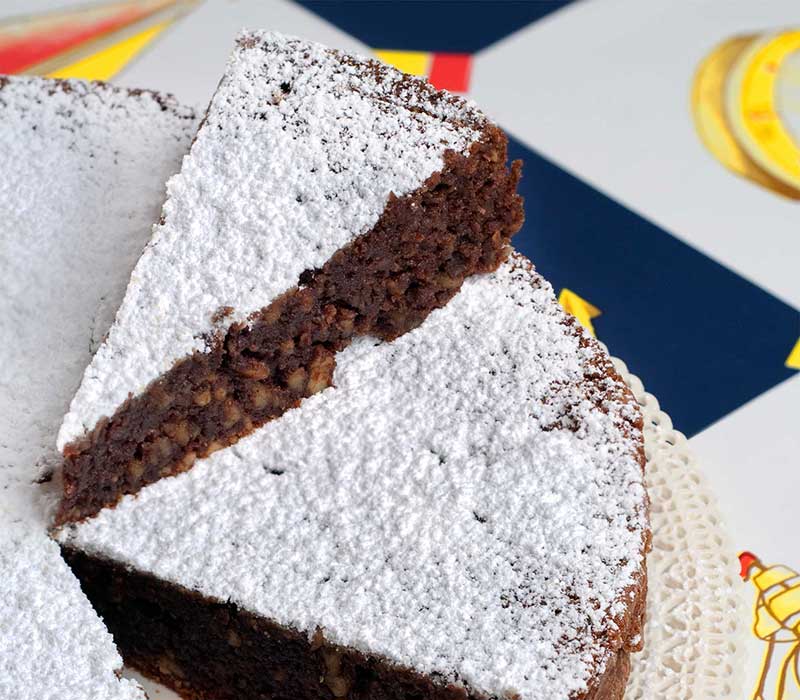 Zabaione is another crowd-pleasing custard concocted with Marsala wine and a decadent number of egg yolks. If those fall short in the richness department, stick your fork into a slice of Torta Gianduia, a cake made from ground nuts (no flour), chocolate, butter, and definitely a few tablespoons of magic. 
Italy is full, over-flowingly so, with what I consider to be the world's grandest food and wine. Push complacency aside if thinking you've discovered the best in any given region. Piedmont awaits.