After a year off due to the pandemic, the Los Angeles, Italia, Film, Fashion and Art Festival returned to Hollywood's TCL Chinese Theater from March 20-26. Founded and organized each year by Italian film festival maestro Pascal Vicedomini, the event aims at highlighting Italy's cinematic, lifestyle, and artistic legacy and also to introduce current Italian productions to the United States.
The opening ceremony was hosted by Italian-American actor Robert Davi, CSI: Miami actress Sofia Milos, and Hollywood acting coach Bernie Hiller. Consul General of Italy Silvia Chiave and Italian Institute of Culture chief Emanuele Amendola introduced honorees.
While this edition of LA-Italia commemorated the centennial of the birth of Italian actor, director, and screenwriter Vittorio Gassman with a mini-retrospective of his work, the most awaited star during the first night was internationally renowned director Paolo Sorrentino whose latest movie, The Hand of God, got nominated in the Academy's Best International Movie category.
Sorrentino came back to the City of Angels after his previous feature film, The Great Beauty, won Best Foreign Language Film at the 86th Academy Awards, as well as the Golden Globe and the BAFTA award in the same category. It was the first Oscar for Sorrentino and the 11th win for an Italian film since foreign language film became a competitive category in 1956, the most of any country. Italian films earned three additional Academy Awards before that time.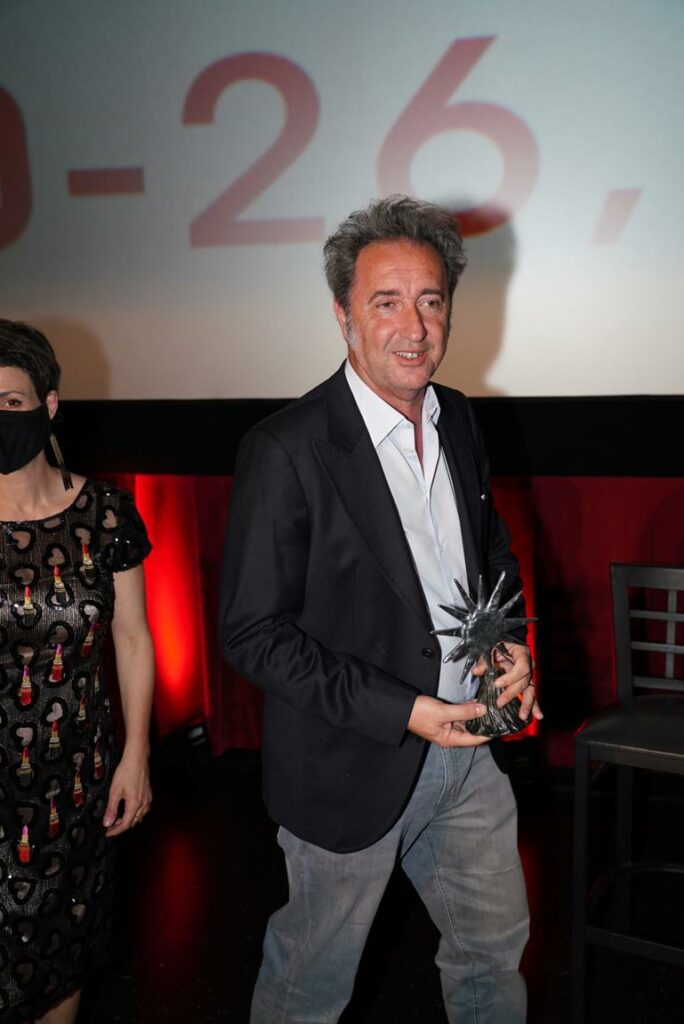 In his acceptance speech, Naples-born Sorrentino gave a nod to Italian director Federico Fellini, former Argentine soccer player Diego Maradona – who once played for Naples soccer club – his wife and the central focus of his film, Rome. "Thank you to my inspiration, Federico Fellini… Martin Scorsese, Diego Armando Maradona," he said from the Dolby Theater stage, "and thank you to Rome, Naples… and this is for my parents."
And it's indeed to his parents that the Neapolitan director dedicated his new movie The Hand of God: the filmmaker's parents were killed by carbon monoxide poisoning on the night the 17-year-old went to the stadium to watch one of his idols, late Argentine footballer Diego Maradona, play for his home team of Naples.
Paolo, how does it feel to be back in Los Angeles for another great achievement in your career?
I am very happy but I have to admit this time I am very relaxed. I am ready to go to the ceremony and see the winners in front of me. I want to enjoy the show this time.
The Hand of God is your most intimate film ever, it's your coming-of-age story. When did you know that it was the right time to tell it?
Two years ago I turned 50 years old and I felt that I wanted to do a movie that was important and personal to me. Fifty is an age when you look back on your life and you take stock of things. Being a director is also a very tiring job so I had to choose what I really wanted to do and this one was the first on my list. So I decided to do it.
Did it change the way you look at your past now?
It was my story and I knew everything about it, so I didn't learn anything and I felt I didn't have to add anything, either.
Let's talk about Filippo Scotti, the actor that plays the younger version of you, Fabio Schisa. He is very talented and brilliant. How did you cast him?
He was the best actor among many young Neapolitan actors. He was shy and that was exactly what I was looking for. After several auditions, I was sure he was the one.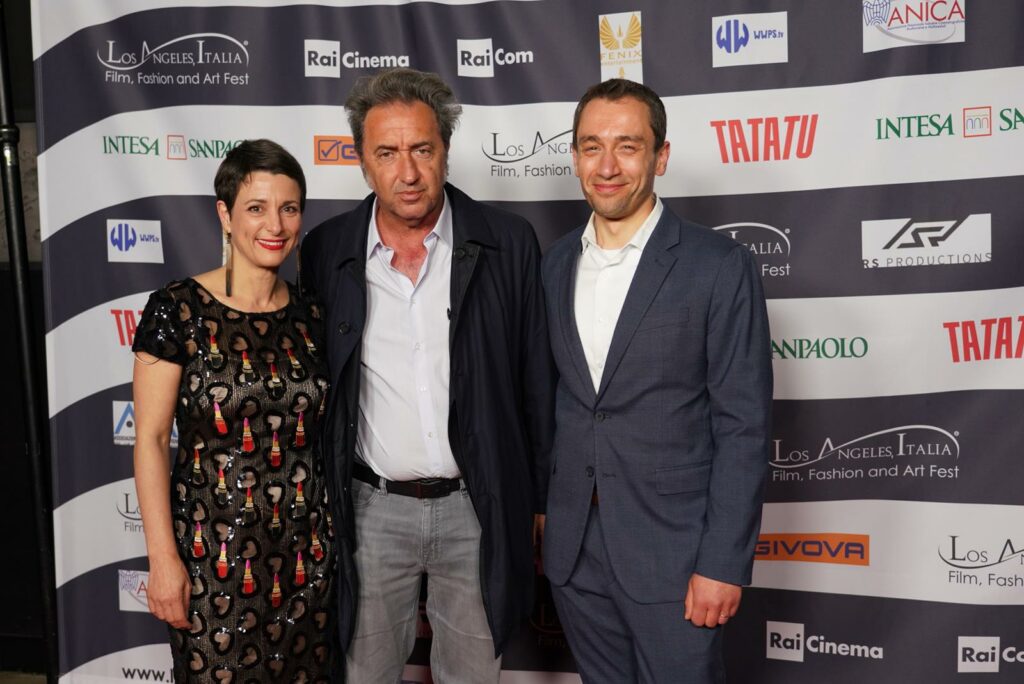 The photography is also amazing. What was your and Daria D'Antonio's (the director of photography) goal?
I have known Daria for many years, she was the camera operator of all my previous movies. We worked together for commercials and photoshoots, where she was always my director of photography. She worked on other great directors' movies as well. She is also from Naples so she knows the city very well and she is from a very similar part of town. So we didn't need to talk too much about the movie, she knew the environment, the mood, and the vibe about the city I wanted to convey.
The Great Beauty was your tribute to Rome and The Hand of God is your tribute to Naples. What did you want to come out about the city, especially for foreigners to see?
Trying to depict Naples can be tricky. All the directors that tried in the past to describe Naples didn't do it correctly. To avoid this, I depicted it in the way I had it in my mind when I was younger, the way I remembered the city when I was growing up in the 80s. So I didn't try to make it about Naples, it is just the city I grew up in.
What's the purpose of cinema? It doesn't serve any purpose, but its point is that it can distract you from reality. This is part of the conversation between the young you and director Antonio Capuano. You met him when you were 28 years old and he became your mentor. What did Capuano teach you that you valued the most?
Capuano influenced me because he is always full of vitality, which is exactly the opposite of me. So I tried to soak up his energy and I have always insisted on trying to have his same vitality even if it's not my personality at all. We also had a wonderful relationship and friendship based on the fact that we disagreed about everything and that was actually very stimulating for me.
Talking about your idol and inspiration, soccer player Diego Maradona: what would you like him to think or say if he'd see this movie?
I don't really know. I met him once very briefly, and after that episode, he called me when I had won my first Oscar but I was on a flight to Rome and the hostess kept telling me to switch off the phone so I couldn't make it to speak with him as long as I wanted to. The second time I met him at a football match but he was arguing with his girlfriend so he was not in a good mood to talk. I know it's impossible but I would love to meet with him and speak with him with no rush, without any distractions.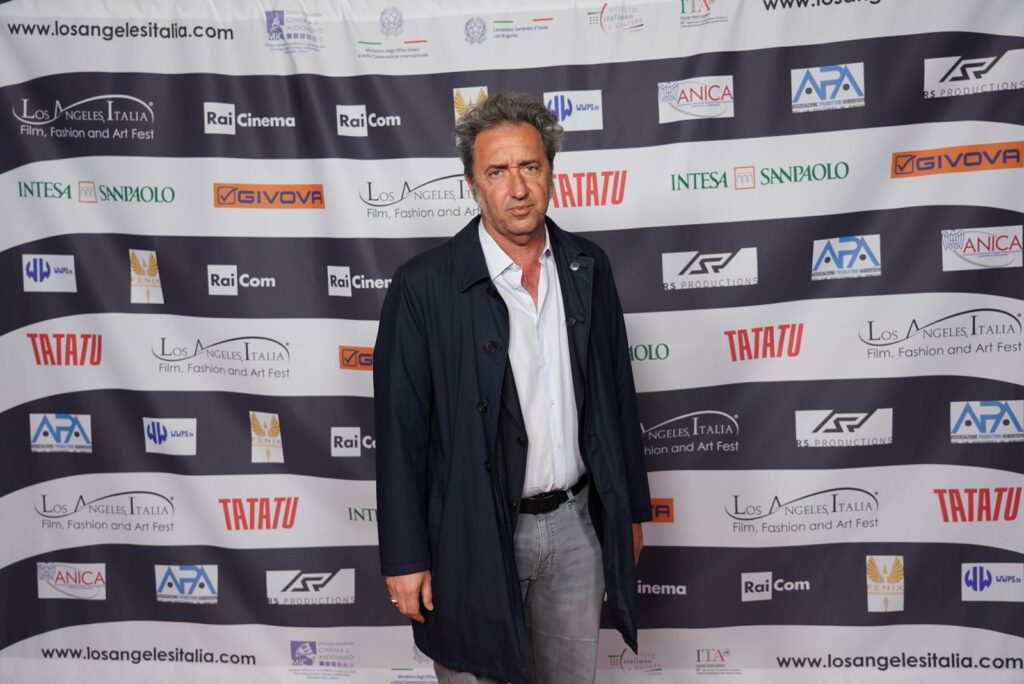 What would you like people to take away from your movie? What is your message?
In my opinion, movies must not have a message. To me, this is the most important condition to do a good movie. What I can say though is that there is a small idea behind my movies and it's for young people: there is a future for everybody even if sometimes in the life of a young person it's difficult to understand that. The future can look dark and hidden, but it's not like that. It can be bright.