"I've always been a shy person, but theater helped me open up because it made me feel like I belonged. It became my home and my life."
Italian actress and comedian Paola Minaccioni took a piece of herself and her life on tour to the United States with the show I'm Much Better Live, which was presented both in New York and Los Angeles. In California, Minaccioni, a Roman born in 1971, took the stage at the Hudson Theater in Hollywood where she brought to life some of the characters she created throughout her career in film, TV, and radio.
"The show is a monologue, a stream of consciousness in the form of stand-up comedy, but it blends genres," Paola tells us. "It's a summary of my theatrical experience, a narrative that speaks about my personal journey starting from my separation. As I talk about it, I search for a way to overcome this trauma and share it with the audience, especially through the portrayal of characters from my artistic life."
Who are these characters?
The first one is Loredana Berté, who advises me to be transgressive, while then Prime Minister Giorgia Meloni suggests adopting other techniques, to be more conventional as a woman. Sabrina Ferilli, on the other hand, tells me to focus on meditation. Then there are other characters, like Baba Nanda, who was born on the radio. And then, my most iconic character, my grandmother, who I also bring on stage and who interacts with the audience 99% of the time, so it's all improvisation. I narrate this transitional experience of mine and use my characters to do so. In essence, it's a mix of stand-up comedy and Italian commedia dell'arte. Theatrical comedy and improvisation.
Did you adapt your comedy thinking about performing in front of an audience from a different country?
I adapted the show only because "here and now," especially for monologues, always applies and there are certain references to the fact that I came to Los Angeles from Rome and that I am Italian, for example. Specifically on the type of comedy: no, I did not change anything precisely because I thought my comedy could be an added value. I brought myself and my own way of doing things. I find American stand-up comedy wonderful: we Italians can try to take inspiration from it but always keeping our own identity alive. I asked myself some questions about content because, sometimes, sensibilities are different.
Your first show was in New York, how did it go?
I barely noticed that I was in New York. For me, this show is a kind of private party where I tell about myself and have fun with the audience. I got confirmation that comedy is international.
Do you like American stand-up comedy?
I obviously like Ricky Gervais because he has made his writing an evolution, even writing series for TV. For me, he is a beacon. Behind him, however, there is also a lot of intelligence, it goes beyond just talent related to comedy. He is an artist, and that is what I like about people who do stand-up.
Is there anything from your experience in the US that could e a future sketch?
As an Italian, I would do a sketch about how we go looking for good food when we are abroad. It makes me laugh because we Italians go looking for olive oil instead of going to Tiffany's. We look for our security in food!
As a tourist what did you do?
It was my first time in Los Angeles and I fell in love with this city. I spent a whole day in Santa Monica and Venice Beach watching people dancing on skates or on bicycles with the music very loud. It seemed to me a place where it is possible to have a different kind of life. In Rome, we are a bit depressed and angry.
What do you miss in your career?
I have many dreams and many goals. I have already been lucky, in the theater, to work with dramatic texts as well. With Anna Foglietta we brought out a text by Remo Binosi, L'attesa, in which I play a Venetian servant, a wonderful character, similar to those you find in great Greek tragedies. I have these experiences, on the theater stage, and I am lucky for that. I would certainly like to play different roles and I think in America there are fewer preconceptions: in Italy, we are a little more complicated. Europe is deep and cultured, but also heavy.
A character you would like to play?
I would like to play a policewoman. A normal woman, like a female pigeon tamer. I am fond of spy series.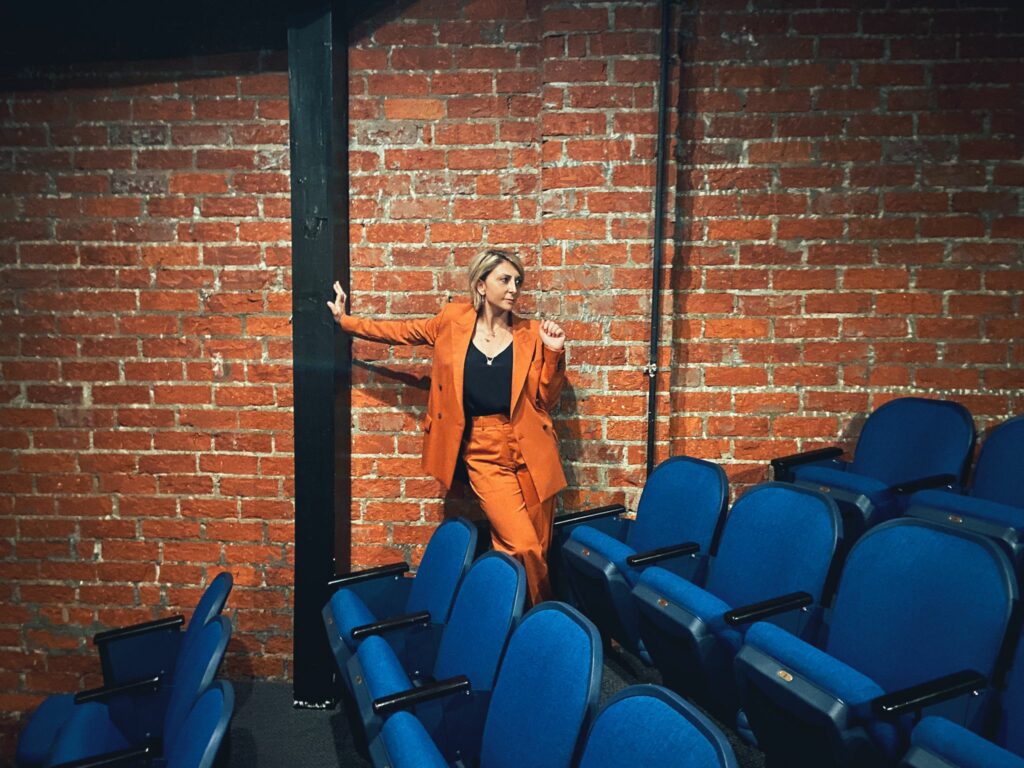 What is your relationship with social media?
I recently joined TikTok. I was quite shocked because everything can be a success there, even something trashy, the most useless thing can have incredible success. What I'm trying to do, catching up with old sketches of mine, is to use the medium but without going after trends, without compromising my quality. I don't want to get stuck doing the things that other people are doing.
Which character do you particularly love?
I love two characters very much: one is the Sicilian mom, Donna Fugata, who talks about daughters-in-law and the fact that guilt is the basis of united and happy families. An archetypal character who has no boundaries and cannot grow old, she speaks to people's belly, despondent, heartbroken, grieving. The other is my grandmother, Mrs. Wanda, who was the first imitation in my life, totally homemade! Think how many years I've been exploring her now: since I was a child, even though I've practically become my grandmother now! In a little while I'll be walking around dressed as this character. I love her because it's a character that allows you to play with the audience and there is a lot of improvisation.
When did you realize that being on stage had to be your future?
First, when I started imitating my grandmother, and then also at school. I think it fully struck when I saw Anna Marchesini and her characters. When I saw the Solenghi-Lopez-Marchesini trio I went crazy for them, I knew all their shows by heart. On vacation at Lake Vico, when I was a kid, they would always call me on stage to play Marchesini, and together with a friend of the group we would do their sketches. I used to go on stage without any theater experience but I loved doing it. Performing always came naturally to me, I always had a certain ease and naturalness to it.