If you had to define Italian cuisine with one, single adjective, what would you chose? Personally, I'd go for "simple." Simplicity is key in many of our most famous recipes, just as attention to using quality ingredients is. But I think I'll stick to simplicity, today.
Panzanella fits well in the "simple Italian recipes" category, because it's nothing more than a bread and tomato salad: it's humble, it's traditional, it's cheap and it's the best of our summer's soul food. Filling, flavorsome and satisfying, every bite has the colors and taste of summer, with fresh, juicy tomatoes and bread, the tang of vinegar, the crunch of onions, the refreshing, zesty aroma of basil.
Panzanella is a quintessential cucina poveradish, too, as it was created not to waste stale bread: initially, it seems, only onions and vinegar were added, with tomatoes becoming part of the recipe only at a later stage. In fact, as we'll have to see below, tomatoes and onions are not the only vegetables that can make it into a good panzanella, a sign that, very likely, it was also a way not to waste a family's garden vegetables. Indeed, this idea could be supported by the existence of another famous cucina povera Tuscan dish, ribollita, typical of the colder months: just like panzanella, ribollita makes use of seasonal vegetables and bread. Don't want to waste stale bread and all those good vegetables? Think panzanella in summer and ribollita in winter, then.
Beside your choice of ingredients (fresh, good quality, seasonal), the secret for a perfect panzanella is simple: softening the bread right by soaking it briefly in water or in a mixture of water and vinegar in equal parts, then breaking and mixing it with tomatoes, red onions, basil, extra virgin olive oil, salt and some more vinegar. As La Cucina Italiana says, it's like a deconstructed bruschetta, or a salad with loads of vinegary croutons!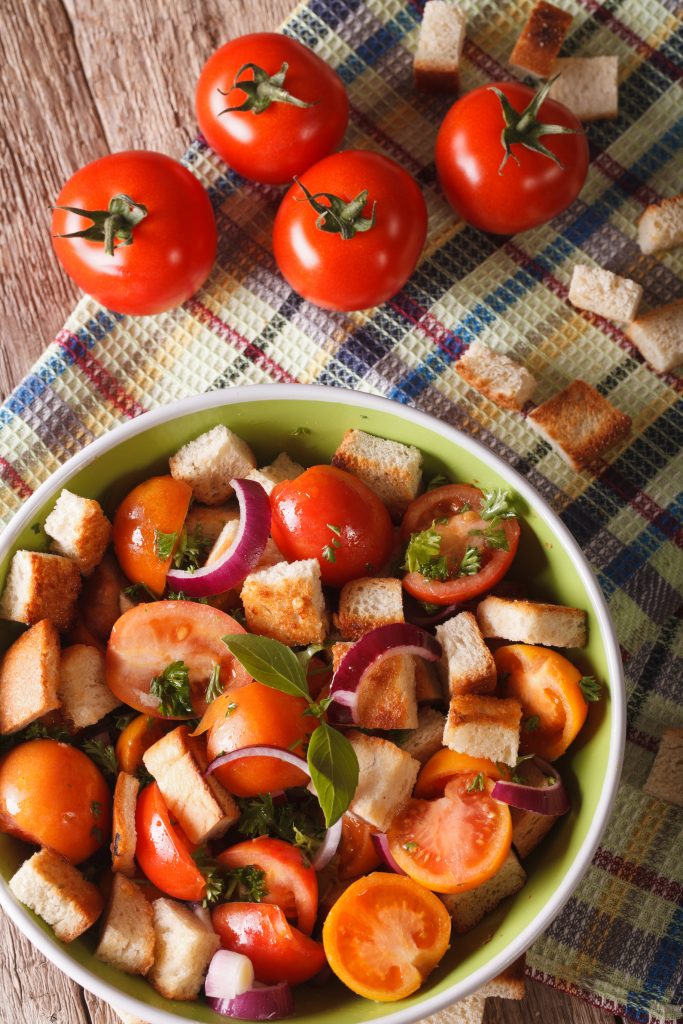 While the recipe is common in various parts of central Italy, Tuscany is considered its real home: mind though, because here panzanella – as it happens with all traditional, regional recipes – can change from village to village, or even from family to family. Some use basil, some don't; some think cucumber is a lovely addition, others consider it sacrilegious; some love green salad in it, while others won't stray from the bread, onions and tomato triad.
The dish's history is little known. Boccaccio mentioned it in one of his works in the 14th century, and apparently it was usual in Medici's times, when painter il Bronzino even dedicated a poem to it. So, while we don't know exactly when and where it was created, we can attest with a certain level of accuracy that it was already popular in Renaissance Tuscany.
Linguistically, the name "panzanella" may have two different origins, with some believing it comes from the joining together of the words pane (bread) and zanella (dialectal form used for a tureen or a large bowl), hinting at its main ingredient and the dish where it was served; others think it derives from the word panzana, that was once synonym with something soft and kind of soggy, just like the bread in the salad.
Now that we know a tad more about panzanella's history and tradition, let's delve into its ingredients because, of course, you can't make a good one with just every type of tomato or every kind of bread.
The best tomatoes are definitely beefsteak tomatoes, but only if they are in season and not too ripe, otherwise go for plum tomatoes, which have the right level of acidity. The ones you should avoid are cherry tomatoes, which are a bit too tangy for this dish.
Red onion is queen here and when we speak of red onion, cipolla rossa di Tropea is the best you can get, as its sweetness and delicate flavor makes it perfect to be eaten raw. Not everyone likes – or can digest – raw onions, though, in which case you can soak it sliced in water and vinegar for one hour to diminish its sharpness, as suggested again by La Cucina Italiana.
And the bread? Well, if you ask a Tuscan, they'll tell you it has to be pane sciapo, the region's traditional salt-free loaf. If you can't find it, any kind of crusty, Italian style bread will do, just stay clear from rolls, sliced sandwich bread or focaccia. As we said, the bread must be soaked in water and vinegar before being added to the salad: the step is essential, as it has to soften the dough, but without turning it into a mush. This is why stale bread is perfect for it, but if you don't have it, just cube some fresh bread and stick in the oven to toast before soaking.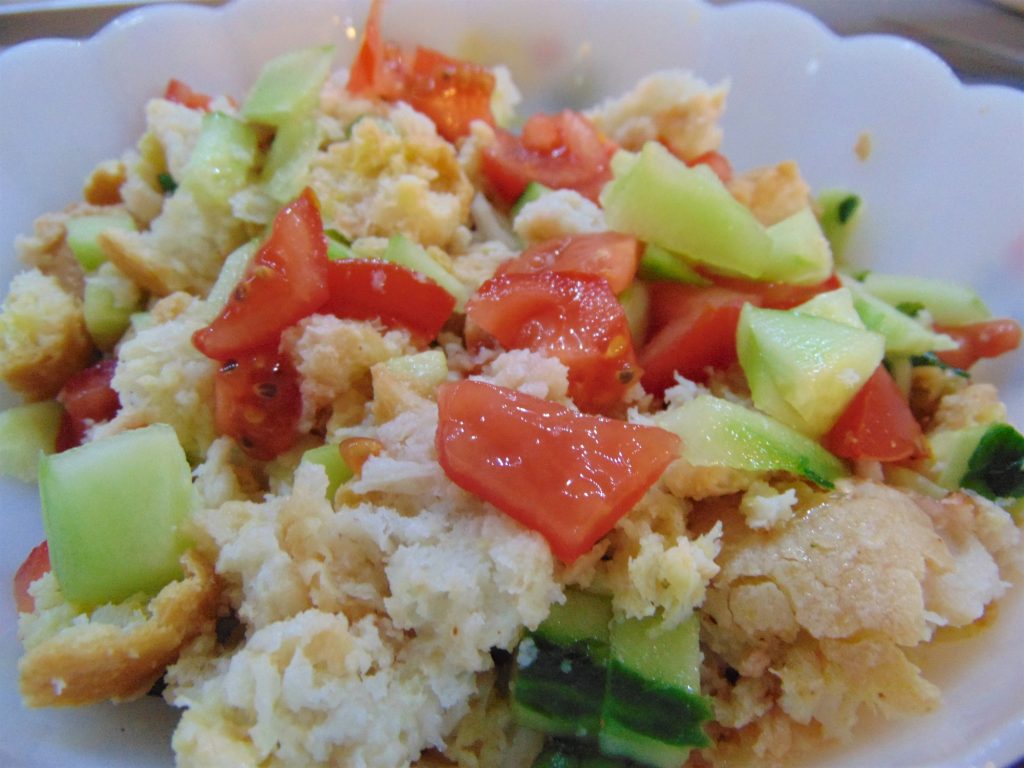 Last but not least, the vinegar: here, you should stick to the high-quality stuff, but not balsamic, please. If you can choose, pick something delicate and not too overpowering.
Once you got your mitts on the right ingredients, preparing panzanella is very simple: soak the sliced bread in water, if it gets too soggy, don't be shy, just squeeze the excess liquid out, but gently. Then, cube it, put it into a salad bowl and add sliced tomatoes, onions, salt, extra virgin olive oil, fresh basil and, if you like it tangier, some extra vinegar.
It's easy, it's tasty, it's healthy, and it's cheap: what can you ask more from food?
We propose here the recipe from La Cucina Italiana! As you can see, the bread is soaked in water only, but you can always try to soak it in a water and vinegar mixture if you like.
Ingredients (Serves 4)
500 gr (just over 2lbs) of firm beefsteak (or plum) tomatoes
1 red onion
15 basil leaves
400 gr (2lbs) of Tuscan stale bread (or any Italian style bread – see above for suggestions)
Extra virgin olive oil
White wine vinegar
Salt to taste
Pepper to taste
One cucumber (if you like)
Cut the bread in ½ in thick slices and place them in a large dish. Soak them in 250 gr (1 cup) of water (or, alternatively, 125 gr – or ½ cup — of water and 125 gr – ½ cup — of white wine vinegar) and let them rest for 40 to 45 minutes.
Clean and slice thinly the onion, and place it in a bowl with 70 gr (1/3 cup) of water and 70 gr (1/3 cup) of vinegar, then let them rest for 15 to 20 minutes, stirring them often. Drain.
If you want to add the cucumber, peel it, cut it in a half length-wise, then slice it very thin.
Get back to the bread: if it's very soggy, squeeze the excess water off it, then break it into a large salad bowl. Add the drained onions, tomatoes (and cucumber if you opted for it) and the basil leaves, which you can break into the salad simply with your hands.
Let the panzanella rest in the fridge for about one hour, then dress it with four tbsp of extra virgin olive oil, 15 gr (1 tbsp) of white wine vinegar, a pinch of pepper and a pinch of salt (if you are using Tuscan bread, remember it doesn't contain any salt, so you may like to add some extra).