When Beverly Paladeni Riter retired from a career in public health in 1995, there were no rocking chairs or fuzzy slippers awaiting her. Instead, the mother of three put her nursing talents to use, volunteering with the American Red Cross and other organizations to provide disaster relief in the US and abroad.
There was plenty to do. In 2001, Riter coordinated volunteers in support of those who lost family members during the attack on the World Trade Center in New York. The work was not only heart-breaking but dangerous, too. Toxic dust and smoke swirled around the site for weeks.
In 2005, she provided relief efforts during Hurricane Katrina. '"I flew to Texas ahead of the storm," Riter recalled, "then drove to Baton Rouge, arriving after Katrina hit. My job was to set up and manage health care services at the convention center for 6,000 people."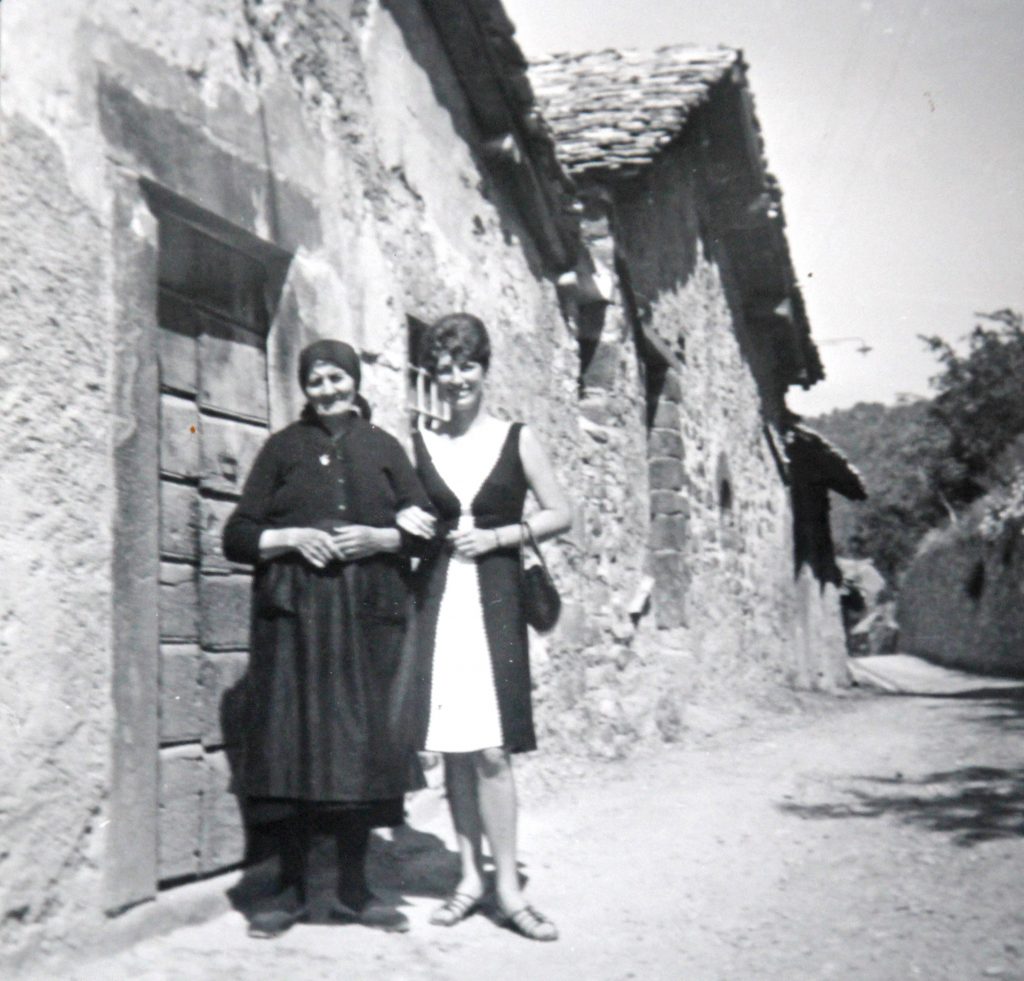 Years earlier, in Albania, she provided mental health support to those escaping the war in Kosovo. Many of the refugees had been hiding for months in the cold snowy mountains, freezing and with little to eat.
From her resume, it's clear that Riter can handle just about any challenge that comes her way. Throughout her life, she's relied on her incredible stamina and perseverance. These skills came in handy during her 50-year quest to track down her family roots in Italy.
Riter's grandfather Michele Paladini (the family name was changed later) was from the small Tuscan village of Gorfigliano on the slopes of Mt. Pisanino; his wife Ottavia hailed from Roggio, a few kilometers away. The couple settled in Portland, Ore., in the early 1900s, then moved to Yacolt, Wash., about 50 miles north. Michele worked in a saw mill and later bought 160 acres for a dairy farm. As with all immigrants, the couple faced many hardships, from homesickness and illness to the threat of internment during World War II.
Riter grew up on an adjoining farm and loved hearing the stories her grandparents shared, in their broken English, about their lives in Italy. After she graduated from college, she set off for Europe for the summer.  One of her goals: to visit the villages where her grandparents were born.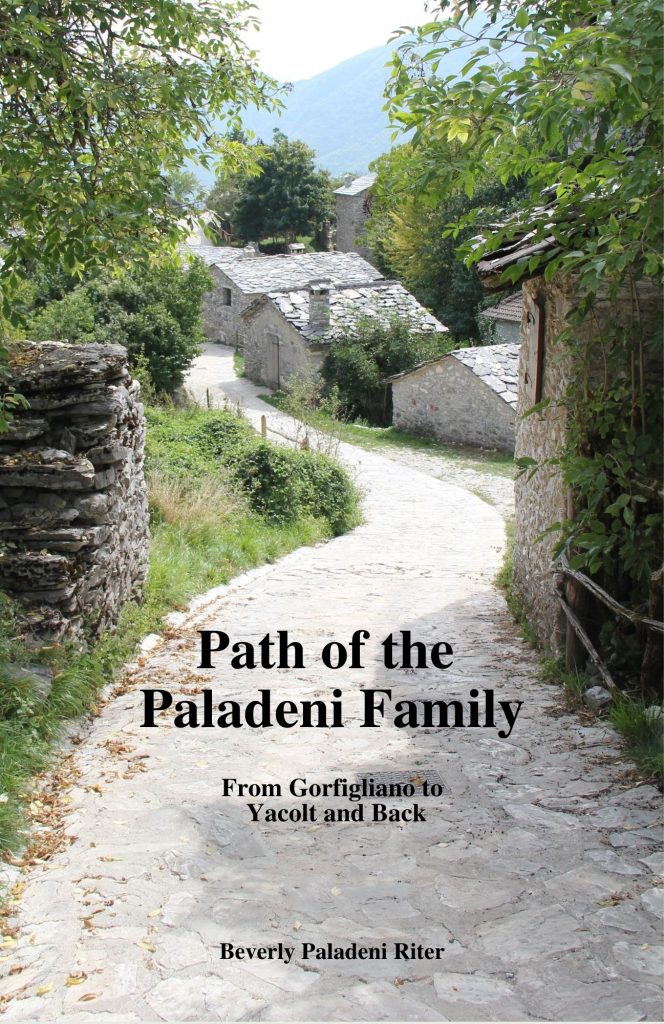 There was just one small hitch: no one knew how to spell the names of her ancestral towns. Her grandmother said they were from a mountain village north of Lucca known for its marble mines. Figuring Lucca was a good place to start. She quickly discovered that the phonetic spellings of the town names were not much help.
Thanks to the kindness of strangers, Riter got a lead and was soon on her way to Gorfigliano, a town of about 2,000 people. At Hotel Pancetti, the only hotel in town, Riter inquired about the Paladeni family. She was told to go around the corner –and there she found her cousin's house.
In subsequent visits – she estimates about 11 in all – she located other family members and walked the same paths that her grandparents had likely traversed. She spent much of her time researching documents in churches and town halls, taking photographs, and tape-recording endless stories her Italian relatives shared. In Roggio, accompanied by her grandmother's youngest sister Angelina, she visited the house where her grandmother and her siblings had been born.
Year after year, Riter added to her rich treasure trove of memories. In the early 1990s, she decided to produce a written record, using the journals she kept during her travels, family documents she uncovered, and the photos she had taken.  For four years, she spent many nights and weekends working on the manuscript.  
To tell the story of the Paladeni family in the Pacific Northwest, Riter visited the National Archives in Washington, DC, and New York City, along with the Clark County (Wash.) Historical Museum, Seattle's Regional Archives, and the LDS Family Library in Bellevue and Everett, Wash. Books, pamphlets and newspaper articles provided additional details.
In 1997, Riter finished her manuscript and made copies for family members. Then some 20 years later, she decided to self-publish. By this time, she had amassed such an intricate and detailed story that she split her material into two books.
The first book, Horses, Cows and Kerosene Lamps: Country Living near Yakult in the 1940's and 1950's, tells the story of the family farm in Washington state. The second, Path of the Paladeni Family: From Gorfigliano to Yacolt and Back, recounts her search for her family roots in Italy. Both books were issued in 2020 and are available on Amazon.
With so many documents in hand, Riter and two of her adult children applied for Italian citizenship; two grandchildren and two nieces followed suit. Citizenship was granted and recorded last spring in Minucciano, the locality in which the village of Gorfigliano is located.
Riter, who lives in Everett, Wash., continues her ties with Italy. An avid hiker, she has been president of the Pacific Northwest chapter of Club Alpino Italiano for the past four years. "In addition to local activities, we organize hiking trips and exchanges to Italy," she said. "We also sponsor and host groups of hikers from Italy and show them our beautiful Pacific Northwest."
Last fall, Riter was scheduled to lead a group from Seattle to the Garfagnana in the province of Lucca to help dedicate the newly refurbished trail #181 near Pizzo d'Uccello, but COVID-19 intervened. No worries. Relying on her ever-present supply of positive thinking, Riter is ready to resume traveling to Italy as soon it is safe.