My grandmother used to say that saffron was more precious than gold, and she did have a point, as it had been for centuries one of the most costly spices.
The word saffron, or "zafferano" as we say in Italian, comes from the Arabic za'feran or, possibly, from the Persian sahafaran, which gave the Latin safranum. The Persian root "asfar" means "yellow," which is the color this fragrant spice gives to all that it touches.
Saffron comes from crocus sativus, a plant that originated in Crete. As a spice – and a dye! – saffron has been known since Antiquity: indeed, it is even mentioned in the Bible's Song of Songs, where it is counted among the most special of all herbs. Saffron flowers appear in the frescoes at Knossos and it is mentioned by the ancient Egyptians in their Papyrus of Ebers. More than a spice, as you can see, saffron is a piece of history.
In Rome, saffron was used to make cosmetics and also as a fabric dye, as well as an ingredient in the kitchen. In the Middle Ages, it became rarer and more expensive, perhaps because it wasn't cultivated in loco and, with the end of the Empire, there was no longer easy access to it. However, medieval monks rediscovered it and began growing it again, especially in Abruzzo, Tuscany, Umbria, Sicily and Sardinia, where it's still cultivated today.
In recent decades especially, Italian saffron has become a symbol of our Made in Italy, because many young entrepreneurs who wanted to invest in agriculture and the land, perhaps taking a leaf off their great-grandparents' old ways of living, picked it as their crop of choice.
It is to one such venture, Piedmont's Safranum, that we want to look at today. It all started in 2011, when Roberto Lembo bought land in the hills around Monforte d'Alba, in the Cuneo province, a town mostly known for its ties with wine and viticulture. We're, here, at the very heart of the Langhe, an area awarded in recent years with UNESCO World Heritage status. It was a life-changing moment for Lembo. He realized how his longing to live in closer contact with nature while taking a step back from the stress of modern life could also become an interesting business venture.
Easier said than done, though, because his property was too large to be a family orchard but too small for the intensive cultivation of Langhe's traditional crops. Piedmont is close to France, so it's not so surprising that the solution came from a Frenchman Lembo met sometime later, and who told him everything about his new venture: growing saffron.
Roberto thought over it and discussed it with a friend, Dario Dutto: they looked at one another and the decision was easily made, they were going to become saffron producers. And so, in 2013, after two years of research about saffron and the territory where they wanted to grow it, Safranum was born.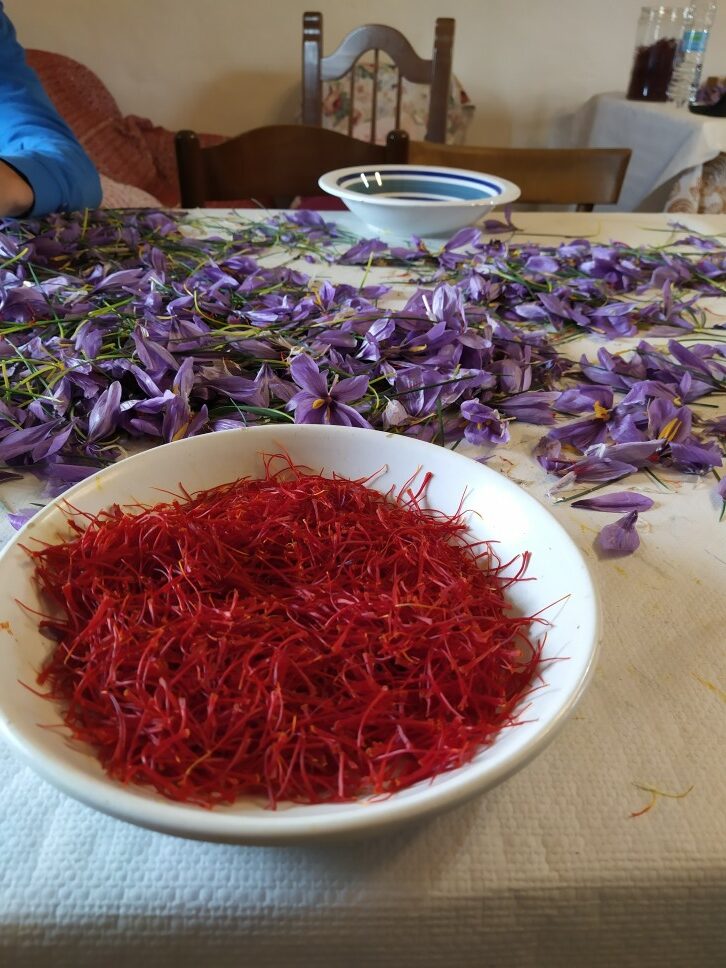 Thanks to the precious micro-climate of Langhe and, we like to think, because of the care and love Roberto, Dario and their collaborators put into it, Safranum produces today some of the highest quality Italian saffron out there, but there is more. Because Safranum doesn't only offer saffron, but also a series of handmade products like chocolates, cookies, grappa and liqueurs, all with a special addition: zafferano. All great products, although the one that probably attracts more people is the saffron hazelnut and cocoa spread: basically, an artisanal version of a super-famous Italian chocolate spread, with a saffron twist.
What strikes about Safranum is how its history and mission hold within some of the most iconic elements of our Made in Italy: a wholesome vision created with someone close (a friend, in this case), dedication, respect for nature and the territory, hard work and, of course, creativity.