Good coffee is just like a cuddle: it's heart-warming, reassuring and bound to cheer you up. And if there is something that Italy and the US have in common, is their love for a quality cup of coffee. It shouldn't surprise, then, that Carlo Di Ruocco, originally from Salerno, saw his dream of roasting and selling Italian-style coffee come true in America, in San Francisco, where he founded Mr. Espresso almost 45 years ago. Today like yesterday, Mr. Espresso is proud of being a family-run business, guided by principles such as quality and sustainability.
We of L'Italo-Americano had a chat with Luigi Di Ruocco, who runs the company along with his siblings, John and Laura. With him, we talked about his father's beginnings in Salerno, the importance of quality coffee and many other things. All while, of course, sipping una buona tazzina di caffè!
Mr. Espresso comes from the dream of Carlo Di Ruocco. A dream born in Salerno, but that became a reality in San Francisco. Can you tell us something more about how it all turned into a reality?
My father, Carlo Di Ruocco, came to the Bay Area in 1967: espresso was hard to find back then. Having grown up in Salerno and having worked for a coffee roaster there, he knew how delicious coffee could be. He missed the Neapolitan-style caffè — rich in flavor, complex and bittersweet.
Driven by his passion for coffee and leaning into his mechanical skills as an elevator engineer, he began importing Italian espresso machines. It was 1978 when Mr. Espresso was launched, offering machine sales and service. He also shared his barista skills, mentoring café owners to produce good espresso. Initially, operations ran out of the family garage and it was solely a family business. My father, my mother, Marie Françoise, along with my older siblings, John and Laura, were the only staff.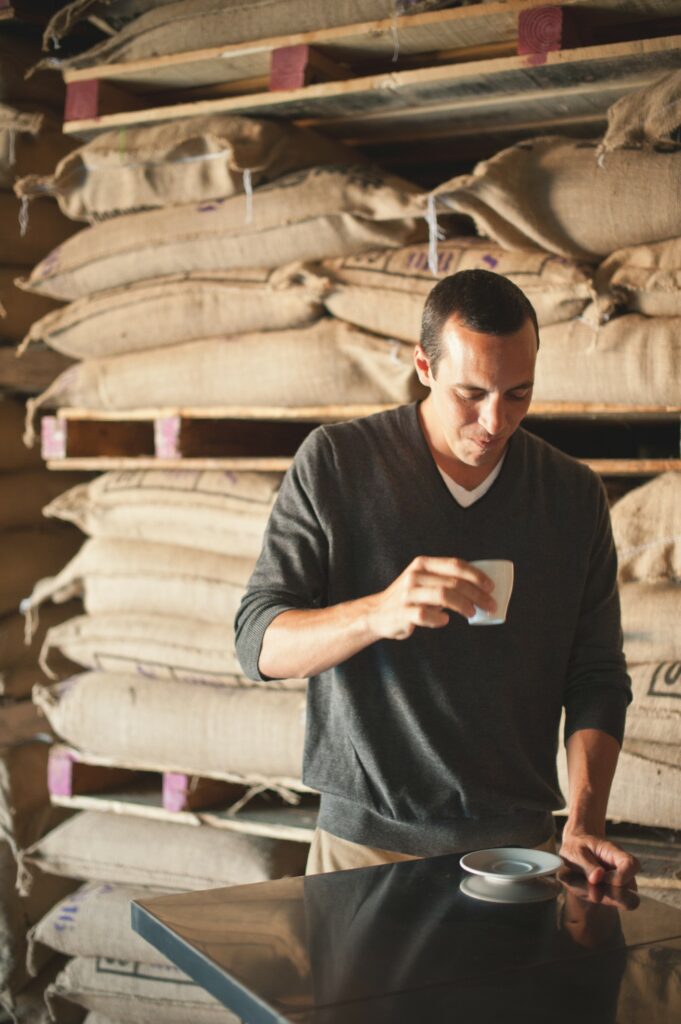 The business flourished, but my father still longed for his Neapolitan-style espresso. The only way to achieve that flavor, he decided, was to roast the beans himself over oak wood—a craft he'd learned as a young man.
With the arrival of a traditional-style, Italian-made, wood-fired roaster in 1981, my father began roasting beans in a truly authentic Italian style: he was the first in the Bay Area. At the same time, a food movement had been taking hold. The farm-to-table chefs, such as Alice Waters, Bradley Ogden, and Jeremiah Tower, wanted a delicious, crafted coffee offering to complement their menu. They found it in our espresso. Today, we continue our commitment to our restaurant industry partners: they've been an important part of our success from the start.
You are Italian-American and yours is a family-run business, so family is important…how do family values get to work in the company ethos?
The business was born about the same time I was. It's been part of our family forever, so it's often hard to separate the two. Our family culture has always been about gathering around a table, over a simple meal prepared with quality ingredients. It's a ritual. My father often tells this story: his own father passed when he was very young. He was one of the youngest of seven children supported by a single mother in WWII Italy: food was scarce in their household. But, on Sundays, their mother would gather fresh, quality ingredients to prepare a family dinner. This precious ritual brought them together and, for a moment each week, they could forget the hardship they faced otherwise.
So it goes back to quality. Sourcing our beans is where the process starts. We purchase our beans from coffee farmers who are committed to the land through sustainable practices. By offering premiums to these producers, we help strengthen the communities where the coffee comes from. In turn, we can offer a quality product to our customers. We are always committed to producing a coffee our customers can be proud to serve at their table and that, at the same time, is ethically sourced.
Another aspect of family that resonates at Mr. Espresso is our support of staff's work/life balance. Family comes first: we recognize and honor that, and we believe it is proven by the longevity of our staff. One-third of them have been with us for over 20 years! It also carries over into the integrity we bring to our relationships with clients. We celebrate the fledgling mom-and-pop businesses: we were once there. We celebrate the legacy businesses: with two generations working side-by-side, we know that, too. We celebrate our long-term customers: their loyalty has seen us through. The bottom line is, as a family, we never forget where we came from – and we believe it has made us stronger.
Mr. Espresso has also a big heart, as the company is directly involved in important charities. Can you tell us more about it?
It's not something we feel completely comfortable talking about. It's just something that we do because it's the right thing. Currently, we are donating a portion of sales of our most popular coffee to two local organizations: Community Kitchens and East Oakland Collective. Through the great work of these two organizations in marginalized communities, we can act on our passion for food justice.
We regularly join our local community of hospitality professionals at fundraisers to support the important work of organizations such as Make-a-Wish Foundation, Meals on Wheels, No Kid Hungry, and Project Open Hand. During the pandemic, we donated over 5,000 pounds of coffee to various groups through our "In Our Hearts" initiative. Oak wood roasted coffee was distributed through many small, local organizations (community, homeless, and senior centers) as well as through larger ones like San Francisco-Marin Food Bank and Alameda County Food Bank. We reached unemployed restaurant workers with coffee donations through World Central Kitchen and the Lee Initiative and we reached overworked frontline hospital staff through local efforts. During Northern California's wildfires, we have begun coffee outreach to first responders and sheltered evacuees.
We derive great pleasure from a good cup of coffee. If we can share that with people in need, even better.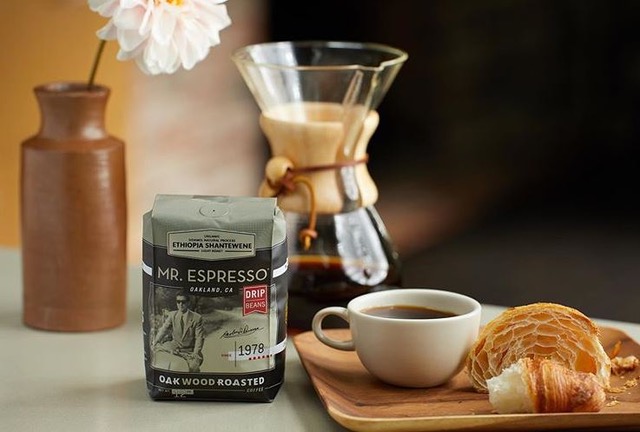 I really like the idea of proposing special coffee recipes for your customers: what inspired you and how did you pick the recipes themselves?

The idea for developing coffee recipes probably originated with our passion for food. Not only is our father devoted to Cucina Italiana and the country's unique coffee culture, our French mother is a baker's daughter with formidable cooking skills of her own. Some of our recipes are based on ones that have been handed down to us, and some come from our countless visits to Italy and France. Then, there are also collaborations with our clients. We work with some of the best chefs and mixologists in the country, all bringing their own experiences to the process: collaborating with them brings a level of creativity that is energizing. The end goal is to develop something that works with their menu and delights their customers.

You're about to open the first Mr. Espresso brick-and-mortar café in Oakland: what can we expect from it?
It's been a long time coming! We are excited to be able to offer a beautiful contemporary space that gives a nod to the Italian coffee bar experience. Unlike American coffee shops, there will be no line-up. As in Italy, customers will approach the bar, order their beverage from the barista, and be welcome to remain in place to enjoy it. We look forward to having this space to expand our presence, provide a setting for old and new friends to gather, and introduce some new things — while always offering our father's enduring Neapolitan Blend.