Italy is known worldwide for its bread: fragrant, tasty, a magnificent balance of crunchiness and softness, it is the perfect companion to all dishes and the most essential ingredient of countless types of sandwiches.
We all know Italian bread comes in a variety of shapes: pagnotta, filone, filoncino. Sfilatino, rosetta and ciabatta. Miccone, treccia and micca tradizionale, all the way to grissini and rubatà. And these are only a handful of names and varieties you can find across the country, because — as it happens all the time in Italy — every region seems to have its own special recipes and types.
The profound culinary and cultural connection between the Bel Paese and bread shouldn't surprise that much, if we consider that cereals — wheat and spelt especially — have been at the very heart of the Mediterranean diet for the good part of three millennia, along with the olive and the vine, parents of oil and wine and other two elements of the Mediterranean triad.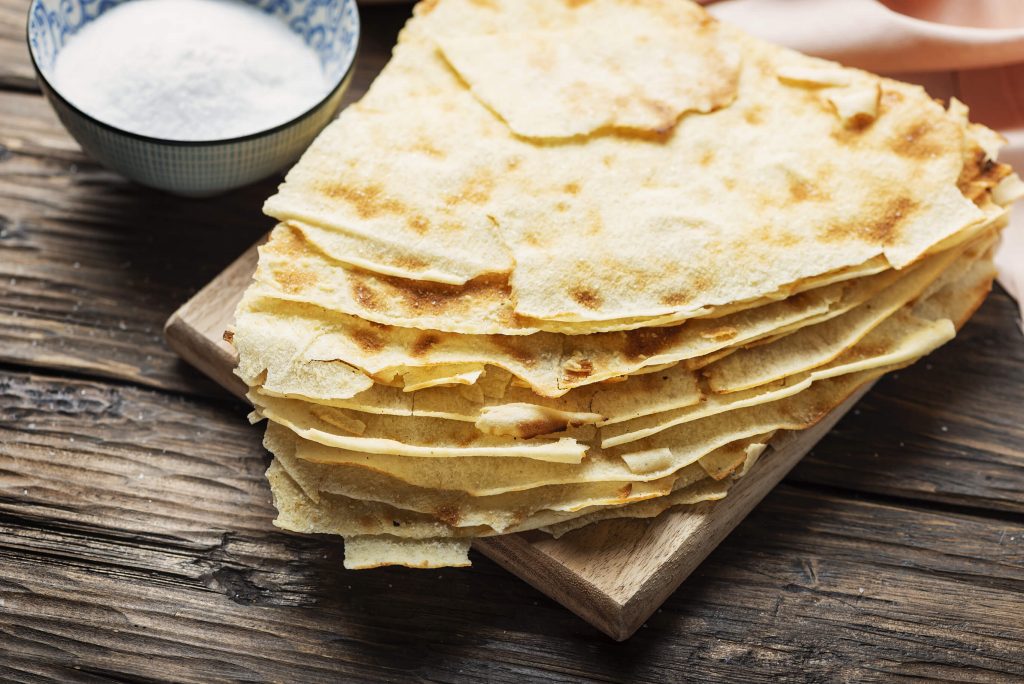 When we think about Italian bread, crunchy crust and soft, flavorsome crumb immediately come to mind, yet there is a bread, a child of mysterious, archaic, beautiful Sardinia, which is quite different from this stereotype: pane carasau.
Ingredient-wise, pane carasau doesn't stray from the norm: water, salt, flour and yeast — even though, we will see, the original recipe was even simpler. A staple of Sardinian cuisine and part of the diet of the island's shepherds for centuries, this crunchy and flavorsome specialty, also romantically known as carta musica, or music sheet, for how thin and crisp it is, has become pretty popular throughout the peninsula, so much so you can find it quite easily in all supermarket. Of course, I am not saying that chain store carasau is the best option, mind.
According to food historians, pane carasau comes from Barbagia, a wild, mountainous area at the heart of Sardinia, and it was first produced thousand and thousand of years ago, as attested by archaeological findings of cooking instruments and bread remnants dating back to the Bronze Age.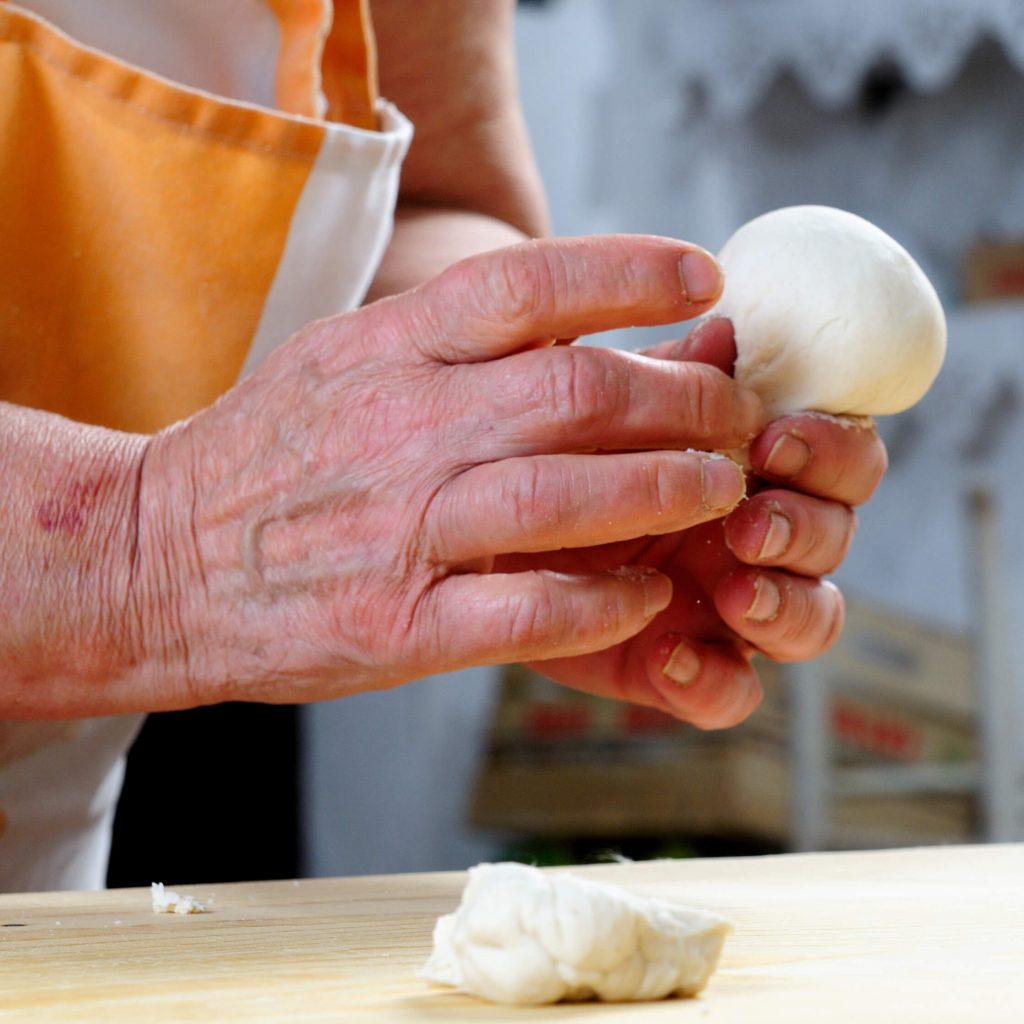 Our carasau is considered one of the oldest types of bread in the world, also in name of the true simplicity of its ingredients, which originally were only two, water and flour. Because of its round shape, crispiness and lack of yeast, the "old" carasau has been widely compared to the bread made in ancient Mesopotamia and in the Middle East. Indeed, it is very close to the bread we associate with the times of Jesus Christ and typical of Israel, unleavened bread.
Historically, carasau is the bread of shepherds. Just like so many other quintessential staples of our cuisine, like pesto, pasta cacio e pepe and even Puglia's burrata, it became common because of how well it kept in time: regularly forced to spend long periods of the year away from home to tend to their sheep, Sardinian shepherds needed a bread able to last without spoiling: with its simple combination of water and wheat (or sometimes barley, which was cheaper) flour, and thin crispy texture, carasau could last for weeks and weeks without molding nor getting stale. It was usually consumed with ricotta or other cheeses, which were layered on top of it, as if it were a plate. In time, pane carasau became common in all families and was often used as currency in rural exchange economy.
Its preparation truly was a ritual which even today, if you really want to make it the right way, you should follow. Called sa cotta, it involved always three women either related or connected through community ties (friends or neighbors, for instance), who would help one another in the preparation and often paid the favor back with cheese or olive oil. Sa cotta would start at sunrise, when the women would mix water and flour together to make a dough, which they would then knead patiently until it became firm and smooth. Then, the dough was left to rest for a few hours inside special terra-cotta containers, then cut into round, regular pieces, which were flattened with a rolling pin until they reached a diameter of about 40 cm (16 in) and only 2 to 3 mm in thickness (0.08 in). The disks were then baked in a stone oven at extremely high temperature (between 800 and 900 F), which caused them to puff up. The women would then take them out of the oven and separate the two thin, puffed up layers with a pairing knife, obtaining two crunchy bread sheets. All the sheets were then piled one upon the other, divided by linen sheets until they were completely cool.
Once cold, the carasatura process, which gives this bread its name, began. The bread sheets were baked a second time to obtain their typical golden color and crisp texture. In time, salt and yeast were added to the old, traditional recipe: this meant the dough had to rest for more hours before being rolled out and baked.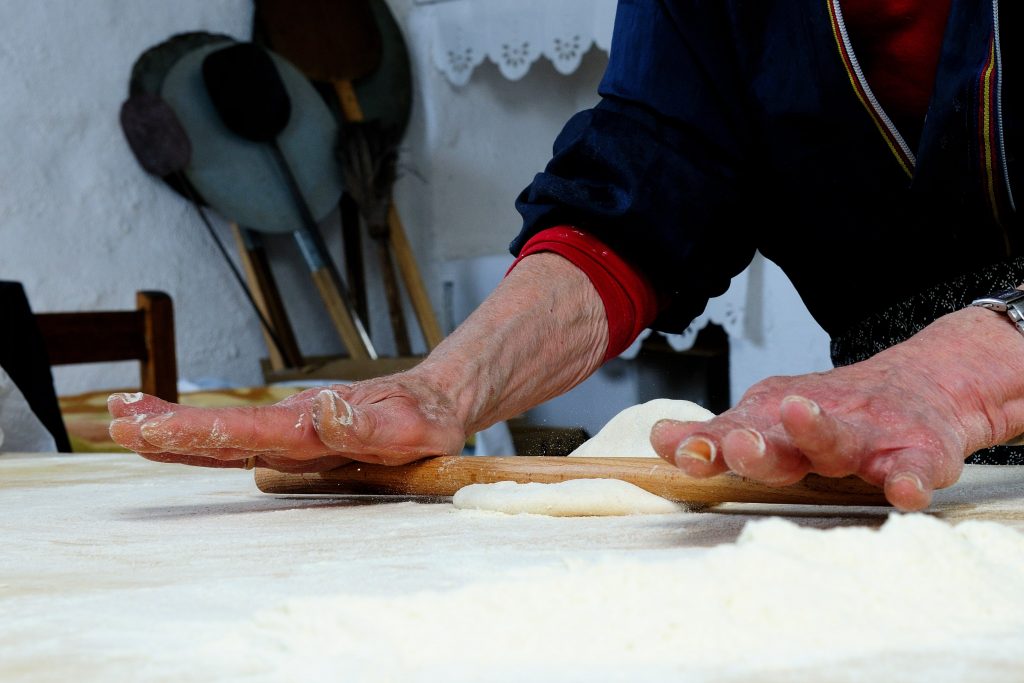 Pane carasau is a very versatile ingredient: you can have it just as it is and enjoy its incredible texture, or make pane frattau and pane guttiau with it. For pane frattau, just quickly wet the bread in some boiling water or broth, then dress it with tomato sauce, a fried egg and some grated cheese. If pane guttiau strikes better your fancy, then only add some drops of olive oil and a pinch of salt, stick it in the oven for a couple of minutes, and voilà.
If you want to have it with deli meats or cheeses, you can quickly wet it with some water or broth (it shouldn't absorb too much liquid, so be careful!) and go ahead with your feast: wetting it makes it soft enough to be rolled around whatever you want to have it with.
Now, let's make it!
Traditional recipe (without yeast)
1 kg (2 lbs) of durum wheat flour
Water enough to make a firm and smooth dough with the amount of flour above.
Mix together the ingredients and knead until you obtain a smooth dough. Divide it in smaller sections and roll it into a round, very thin (not more than 2 or 3 mm, or 0.08 in) circle. Let the dough disks rest for a couple of hours, making sure you cover them with a woolen cloth.
Cook them one by one for a handful of seconds at the highest temperature your oven can reach, until they puff up. Take them out of the oven, divide the base sheet of the disk from the puffed up sheet, let them all cool, then bake them again for a couple of minutes in the oven to make them nice and crunchy.
Recipe with yeast (as proposed by La Cucina Italiana)
500 gr (1 lbs) of durum wheat flour
300 ml of water
a pinch of salt
5 gr (0.18 oz) of yeast
– Turn on the oven and pre-heat it at 220C or 430F, leaving a large baking tray in it to heat up.
Mix the yeast in a little water and add to the flour. Start mixing, then add the salt and gradually the rest of the water until you obtain a smooth and firm dough, which you will then knead for about 10 minutes.
Divide the dough into 16 balls and let them rise, covered, for about 3 hours, or until their volume doubles.
Then, roll each of them out with a rolling pin (don't forget to flour the table, lest the dough sticks to it), making them thin.
Once you turned all the balls into disks, take two and put them one upon the other, then roll them out again.
Place the disks (one by one) on the heated baking tray (use an oven mitt when handling it) and bake them for not more than 15-20 seconds, until they puff up.
With a knife, divide the two parts of the puffed up sheet, as explained in the previous recipe, then place the sheets in the oven again and bake for about 8 minutes at 170C or 340F.
Let them cool and enjoy!
PS: according to the people at La Cucina Italiana (and they know a thing or two about cooking, let me tell you), heating up the baking tray before placing the disks on it is essential, so don't bypass this step.