Montalcino may be best known for its splendid Brunello but buzzing across its rolling hills are amazing honeybees silently working their magic amongst the vines. From the deep dark chestnut honey, to the gentle sunflower honey, each  exquisitely assumes the flavor of the plants and flowers that cover the land.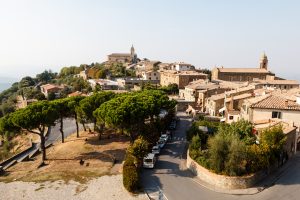 On a recent trip back to my home in Montalcino, I stopped by my favorite honey store perched at the top of the village near the fortress.  The shop is awash in jars of honey of all flavors and sizes. Tucked in between the jars  are bottles of first press olive oil and award winning Brunello.  All the products come from the wonderful vineyard, Villa I Cipressi, which is a short distance just outside the walls of the village.  As much as I love my Brunello and olive oil, the lure of all those flavors of honey always pulls me in and has me shipping cases back to America.
Shipping honey back to America translates to me getting to play with said honey back here in the States.  This shipment had three very different flavors – castagne (chestnut), girasole (sunflower) and rosmarino (rosemary). The deep dark chestnut honey pairs beautifully with the sharpness of pecorino.  The gentle sunflower honey adds a delicate sweetness of my morning toast. The rosemary honey is the perfect addition to roast pork.
To get my cooking game on, I first made a honey infused cocktail with vodka and lemon juice.  Honey syrup is used, as thick honey will not dissolve well in cocktails. It is made exactly like simple syrup – a 1:1 ratio of honey to water.  I didn't want to make too much so I simply dissolved ¼ cup of honey with ¼ cup of water over low heat.  Cocktail in hand, I then decided lunch was in order. The chestnut honey paired nicely with a simple risotto made with sausage and green apple.  A few handfuls of grated sharp pecorino, a big drizzle of honey and a julienne of green apple was a marriage made in heaven.  On a roll, I used sunflower honey to make a simple honey lemon dressing to drizzle atop some fresh crisp greens.
A honey-infused lunch is served!  Buon appetito!
Risotto with sausage, green apple and pecorino
Ingredients:
● 1 pound sweet or hot Italian sausage
● Olive oil
● 2 medium green apples
● Juice ½ lemon
● About 6 cups chicken stock
● 3 tablespoons butter, divided
● 1 large onion, diced
● 1 ½ cups Arborio rice
● ½ cup dry white wine
● ½ cup grated Pecorino, plus additional for serving
● Salt
● Freshly ground black pepper
● 1 tablespoon honey
Directions:
1. If the sausage is in casings, slit open and crumble the sausage into a heavy skillet or Dutch oven that will be used for the risotto.  Add a drizzle of olive oil. Heat over medium heat until the sausage is cooked through and browned, breaking up any large pieces with a wooden spoon as it cooks. Remove the sausage from the pan.
2. Prepare the apple:  peel the apples top to bottom, creating long strips of peel.  Julienne (very thinly slice) the peels and place in a small bowl. Sprinkle with the juice of half a lemon.   Remove the core of the apple and cut into ¼ or ½ inch dice.
3. In a separate medium pot, heat the chicken stock over medium heat until it comes to a boil. Lower heat and keep at a low simmer.
4. As the stock heats, add 1 tablespoon butter to the heavy skillet or Dutch oven. Heat over medium heat until the butter foams. Add the onion and apple and cook, stirring, until the onion is soft and translucent and starts to take on color, about 5 minutes.
5. Add the rice and stir until well coated. Add the wine to the pot. Stir until all the wine is absorbed then reduce the heat to medium low.
6. Begin adding  half ladlefuls of simmering stock to the rice, stirring constantly and allowing each ladle to be absorbed before adding the next. Continue adding stock until the rice is tender yet slightly chewy, approximately 20-25 minutes.  (Note: you may have stock remaining or should you need more liquid, use boiling water.)
7. Remove the skillet from the heat. Add the cheese, sausage and remaining 2 tablespoons of butter to the rice and stir. Season with salt and pepper to taste. Drizzle with the honey.
8. Serve immediately with additional Pecorino and topped with the green apple julienne.
Honey Lemon Dressing
● About 1 teaspoon lemon zest
● Juice of 1 lemon
● 1 tablespoon honey
● ½ cup extra-virgin olive oil
● Kosher salt
● Freshly ground pepper
Directions:
In a small bowl, whisk the lemon juice with the lemon zest and honey. Whisk in the olive oil and season with salt and pepper.
Joe and Michele Becci are a brother and sister team who love all things Italian. Together, from opposite coasts, they co-author the blog www.OurItalianTable.com.