Imagine the stupor, the surprise Paolo Dal Poggetto, then director of the Museo delle Cappelle Medicee Florence, must have felt when he discovered, entirely by chance, the last secret of Michelangelo Buonarroti. The year was 1975, the location was the Basilica di San Lorenzo, more precisely the Sagrestia Nuova, created during the Renaissance by Michelangelo himself, as a burial chamber for the Medicis. Just as you'd expect in a movie, Dal Poggetto and his team discovered, hidden under a wardrobe, a trap door, probably locked since the Renaissance. As described by Claudia Kalb in her article for National Geographic, the room that welcomed them was nothing more than a coal deposit. But Dal Poggetto had a hunch, something was telling him that there was more in that small room, with its one single window providing only a sliver of light to its occupants.
The team meticulously removed the surface layer of plaster covering the walls, discovering dozens of charcoal and chalk drawings, many of which made by the unmistakable hand of Buonarroti. Indeed, some of them were very reminiscent of previous works of his, including a marble statue found in the Sagrestia Nuova that decorates the tomb of Giuliano de'Medici; a Laocoonte head, a character that Michelangelo had studied as a young artist in Rome, in 1506; several reworkings of his David and of some of the majestic figures he painted on the Sistine Chapel's vault. There is even a possible self-portrait, an elderly, hunched figure that resembles the artist closely. It is also possible that some of the sketches represented ideas Buonarroti wanted to develop once he was free.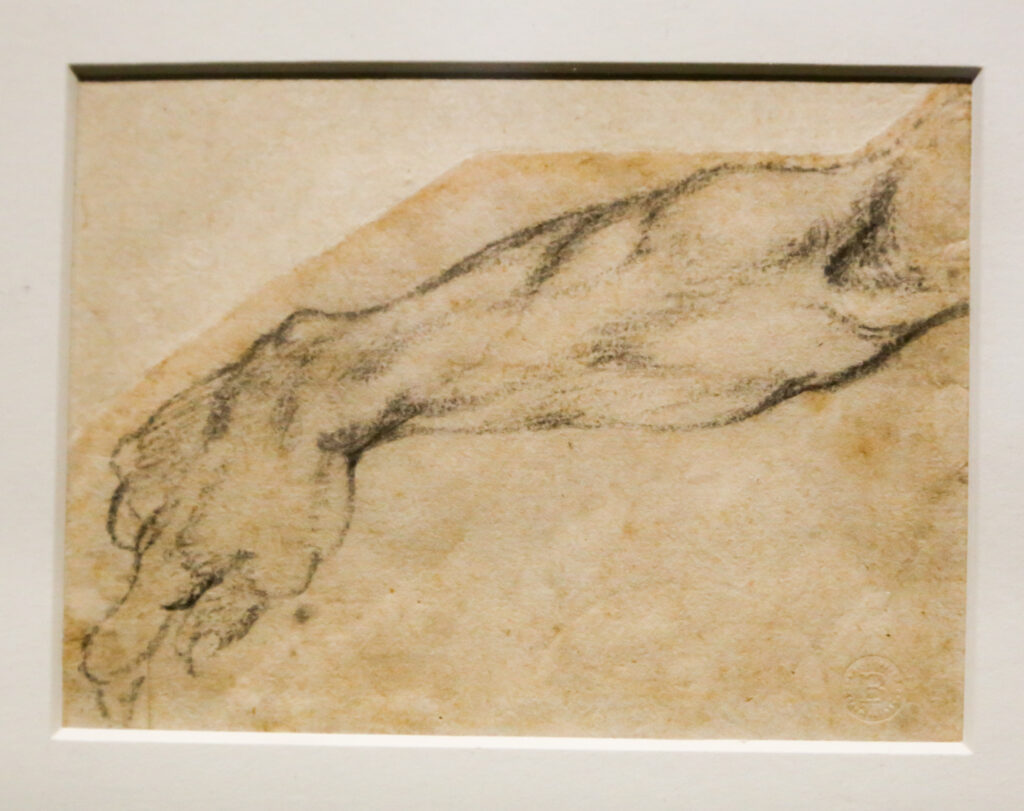 It was a great discovery, but also the beginning of a mystery: why did Michelangelo sketch on the walls of an underground chamber and when did he do it? Dal Poggetto believed that the artist had found refuge there for a few weeks in 1530 when the Medicis returned to power after the popular revolts that forced them to flee temporarily some months earlier. Michelangelo had, apparently, supported the rebels and was therefore persona non grata in the Medicis' town. Only in November 1530, after Pope Clement VII – who incidentally was a Medici – guaranteed for his safety, did Buonarroti emerge from his hiding place to complete his work in the above Sagrestia Nuova.
Not everyone agrees, however, on the authenticity of the drawings. William Wallace, professor in the Art History and Archeology Department at Washington University in St. Louis and specialized in Italian art from the 14th to the 18th century, is not convinced Michelangelo is the author of the hidden room's drawings, or at least, not all of them. He also finds the idea that Buonarroti had to hide for two months underground hard to believe. As he declared in 2019 to Kalb, the artist was a well-known figure in Florence, and he could have found refuge with some of his important friends and allies if he needed to. In other words, if he wanted to lie low for a while, he could have done so easily somewhere else.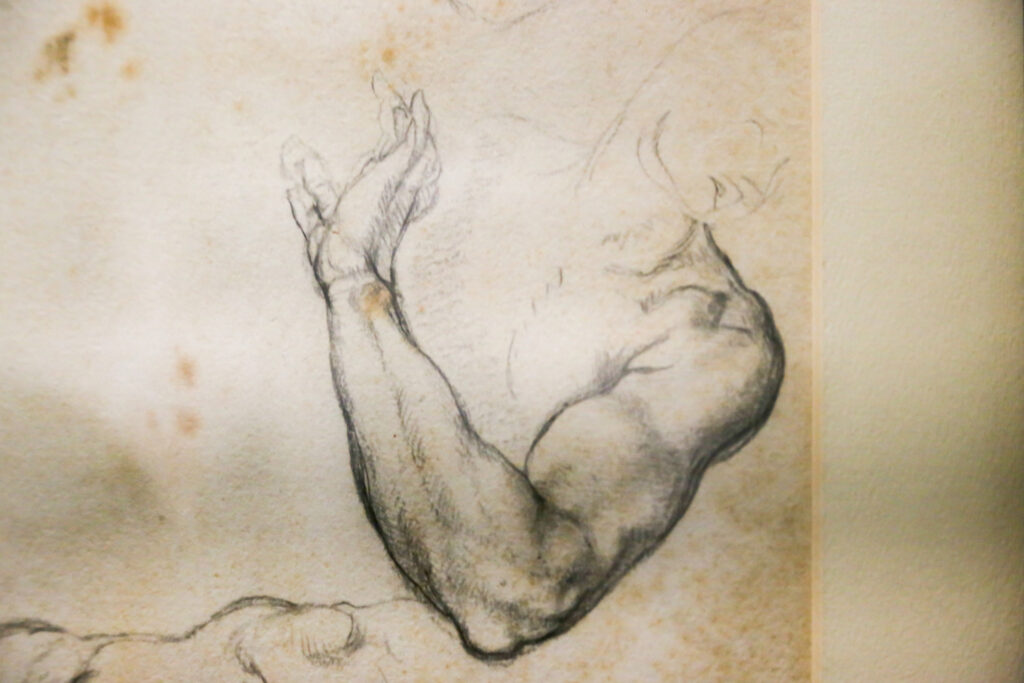 That said, Wallace continues, it is possible some of the drawings are Michelangelo's, but they were likely made before 1530, in the months when he and his apprentices were working on the Sagrestia Nuova. The idea is that Michelangelo's helpers probably sketched figures on the walls of the underground chamber during their breaks, just to kill time, and possibly he did the same.
Since its discovery, the chamber remained the realm of archeologists, conservators, and art historians, but there was a project to finally open it to the public in 2020. We all know what happened in 2020, so it seems that we may still need to wait a while before visiting.
The importance of Dal Poggetto's discovery, however, remains: it gives an excellent insight not only into the history of the city of Florence, a city that, in those time, dictated the faith and history of Europe, but also into the creative ingenuity of an artist with no equals who created, painted and shaped stone throughout his life, until the very end. Buonarroti died at 89, and he was still an active artist.
The secret chamber's drawings, at least those who are his, show us an artist who was assessing his work through re-elaboration and nurtured a vivid, active imagination through continuous production: past works and future ideas merge with simplicity in this little room, perhaps along with the sketches of those who worked with him and from him were learning: their drawings, sometimes similar in style to those of their master, are testament to the immense influence and talent of Michelangelo, but also proof of how the old artist ateliers of the Renaissance used to work: a place where young talents would refine their hand under the guidance of a known artist, but where, perhaps, developing an independent style, at least at the very beginning, may have been difficult. In a city where art is like the air we breathe, Michelangelo's secret drawings are a special gem that let us glance at the inner workings of the artist's mind; they offer us a small window into his creativity.