It's been a busy spring for Michela Tartaglia, whose popular lunch-only eatery, Pasta Casalinga, celebrated its fifth anniversary in March. In a tiny nook with counter space, Tartaglia and her team serve up delicious pasta dishes every day based on what's fresh and in season.
The menu changes frequently and always includes one dish from the sea, one from the land, and one from the garden. In mid-May, for example, the pasta assortment featured such local ingredients as rockfish, rainbow chard, and heirloom carrots.
In a natural outgrowth of her restaurant business, Tartaglia just released her first cookbook based on some of her most beloved recipes. Called Pasta for All Seasons, the book is distinctive for merging the traditional flavors of Italy with the iconic ingredients found in the Pacific Northwest.
The 50 recipes are divided by season, with a section devoted to recipes that are good "any time." Tartaglia also includes a pasta primer, do's and don'ts for making pasta, and an illustrated guide to nearly two dozen pasta varieties. Food photography was provided by Kyle Johnson, and the charming illustrations sprinkled throughout the pages are the work of Rome-based artist Daniele Simonelli. The publisher is Sasquatch Books.
Raised in Turin, Italy, Tartaglia has lived in Seattle for some 15 years. She selected the Northwest for several reasons, as she recently told The Seattle Times: "I was inspired by my friends' stories. Seattle was a city, but not overwhelming like a city, with the most beautiful mountains and the water. After a year, I realized I didn't want to go back to Italy. I wanted to continue to explore."
She opened Pasta Casalinga in 2018 in an atrium space that adjoins the historic Pike Place Market. Many of her ingredients are sourced from vendors who supply the market.
Recently Tartaglia led a cooking demonstration and book signing at the Book Larder, a community cookbook store in Seattle's Fremont neighborhood. As she demonstrated pasta al Pomodoro, she spoke about her new cookbook and Italian cooking in general.
What led you to write a cookbook?
The book springs organically from the restaurant. It's a reflection of what we do every day: fresh pasta, fresh ingredients. The fun comes with the seasonality. You want to eat what's in season and what is available locally. In the spring, our Northwest ingredients include asparagus, nettles, fiddlehead ferns – these are the protagonists of my cookbook.
I was born in the province of Turin, in Piedmont, so learning about Northwest ingredients was an exciting journey for someone like me. Nettles — what are they? I was inspired to cook with new ingredients I had never heard of before.
How did the book evolve?
The book was two-and-one-half years in the making. I wanted to feature ingredients in season so I would start to create a recipe but before I could finish, the season was over – and now we were in a new season. Because of that, it took much longer than I anticipated.
The most challenging part was selecting the recipes. I include 50 in the book. At first, I thought: no way, I love them all. I never thought such a small and compact book would be so much work. I'm not the most organized person and in my restaurant, I never write down the recipes. Now my team is happy that so many of the recipes we use at the restaurant have been recorded.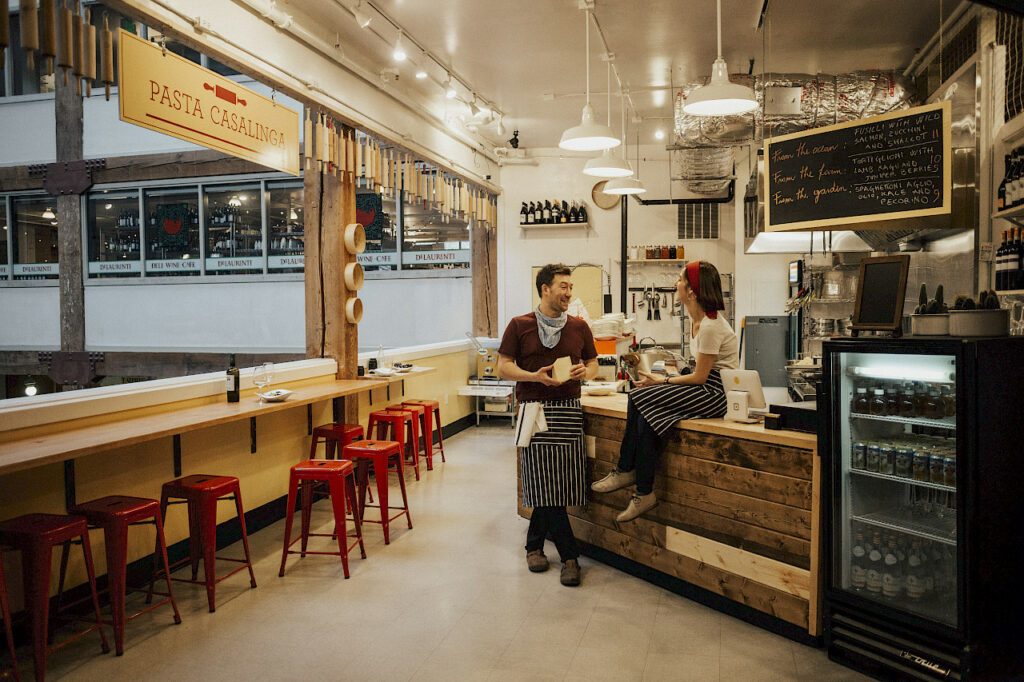 What makes Italian cuisine so distinctive?
The pomodoro, or tomato, is the quintessential ingredient of Italian cooking. We Italians could not live without it. I read a report in which Italians were asked to name things they could not live without. The first item was olive oil, the second was tomatoes.
Everyone has their own tomato sauce recipe in Italy. They are all different and they are all good, although some are better than others. In Italy, entire families spend several days in late August or September putting up tomatoes for the winter. Everyone participates, even the men. We can enough for the rest of the year and store them in our basement or pantry.
What's your advice on garlic?
Garlic should never be overpowering. We seldom chop it in our recipes but mainly use it whole or perhaps halved. And never, ever burn the garlic. In Italy, if you burn the garlic, you might as well throw away the pot. It's the worst thing that can happen in the kitchen.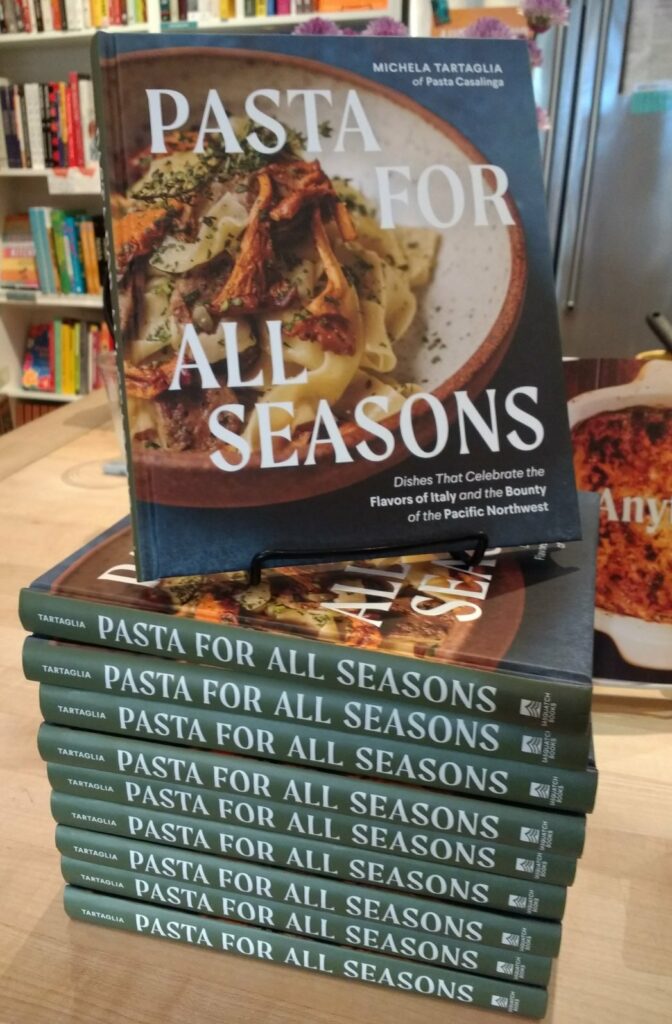 You have said that making pasta is democratic. What does that mean?
Pasta recipes should never be intimidating. You don't need an advanced degree in culinary arts to make pasta. Everyone can make it, enjoy it, and express themselves with it. There are infinite possibilities. It's not like making bread or pizza dough, which need more attention. I believe it's impossible to make a disaster with pasta.
Will the recipes in the book remind us of Italy?
Sometimes yes, sometimes no. My recipes are a tribute to the Pacific Northwest, but they are infused with my Italian sensibilities, culture, and training. They combine classic flavors with creative twists to showcase our local bounty. I hope they encourage people to let the ingredients be their guide and find new ways to incorporate fresh produce, seafood, and meats into their pasta dishes.