Cars, motorcycles, and busses whiz at breakneck speed on the modern roadway that encircles this ancient town. Commerce is healthy here, just as it seems to always have been. Eyes divert, though, to a sea of emerald grass, a solid moat separating the road from a continuous stretch of forbearing massive walls – the acclaimed Mura di Lucca.
Lucca's walls are a major source of pride for the Lucchesi, a crowning visual that encircles the historic center. Walled cities aren't unusual in Italy, but unlike the majority, the length and breadth of Lucca's defensive walls are fully intact. Once meant to keep others out, they now stand as the welcoming sentinels to all who wish to enter and discover one of Tuscany's most authentically preserved towns.
The Apuan Alps run their course along Italy's eastern seaboard into Tuscany, slowly giving way to river-bottom flatlands – this is where you'll come upon Lucca. Strategically positioned along the nearby Serchio River, the town's origins are Etruscan. The same antiquated story played out here as with much of the Italian peninsula – the expansive Roman Empire swallowed up existing civilizations, integrating them and creating new city-states.
As Lucca's position became more strategic, protective walls were erected in 180 BC to defend the expanding town. Peace and prosperity held fast; a new wall was built in 118 AD to encircle the growing city, along with its additions of a fine Roman forum and amphitheater.
The rest is not history, however – the story of Lucca's walls continues. Ongoing growth brought yet another expansion of the walls somewhere around 1300. Reformed in good medieval style, their tall and narrow build was perfect deflection for marauding foes and flying arrows, especially those from mighty Florence. The walls served well until 1504; gunpowder was now a major player in war games, along with the projectiles it powered. The walls became vulnerable: what to do but meet the then-modern challenge with a new type of structure? Lucca's walls would be shortened and greatly thickened with earth to absorb the impact of cannon balls and bullets. Impressive bastions would be built to house the guards and store ammunition, as well as give the citizens safe shelter. It was an undertaking of great scope: completion took 150 years. To quote a good song line – isn't it ironic…the impenetrable walls were never tested in battle! Lucca's status as a peaceful, independent republic held fast due to hefty wealth gained from a flourishing silk trade, along with advantageous connections with papal rulers.
And today those walls still serve a mighty purpose, however, it's the pursuit of happiness rather than the avoidance of peril. Thanks to a brief French rule (1799 – 1805), Lucca benefited from the philanthropic ideas of her appointed mistress, Napoleon's sister Elisa. Despite some of the negatives of this era, Elisa took it upon herself to gentrify Lucca. Projects were initiated to build pathways and parks atop the broad expanse of the wall, along with other outdoor spaces accessible to citizens. Elisa's improvements have been enjoyed ever since.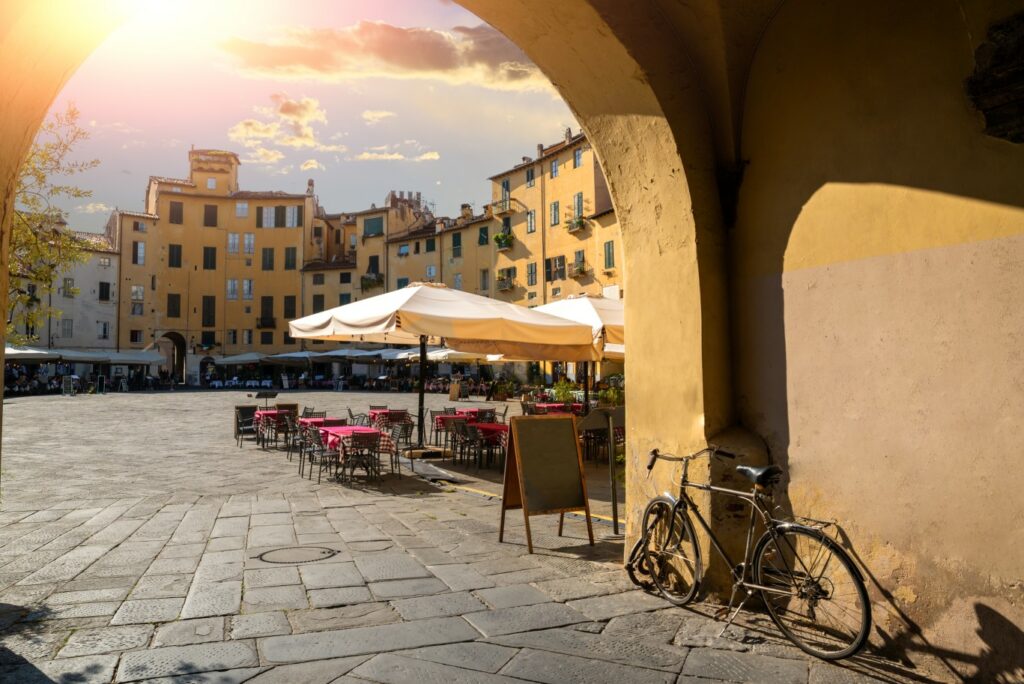 A visit to Lucca almost begs to include exploring her impressive walls — on the seat of a bike is the perfect mode. The tree-lined thoroughfare is spacious at 90 feet across with ample room to accommodate the large numbers of walkers, joggers, and bikers. A total distance of 2.6 miles for a full loop makes for great views over the old town, as well as of the outlying city and countryside. Even in the hottest months, a cool breeze refreshes along the mostly shaded passage. In fact, each quadrant of the wall features a different tree species that tower like guardians protecting those beneath. Guided tours on bike or on foot are a fun way to learn in-depth history, along with the back story to each of the wall's gates and the eleven dramatic bastions. And oh what beautiful parks are found on the outstretch of land over these bastions – quiet benches for watching the day go by, playgrounds, and swaths of cool grass just begging to host a blanket for a midday picnic.
Lucca's flat topography is the perfect pairing for cycling. Once inside the historic center, it's immediately obvious that perhaps half her citizens make their way on bikes. And why not — it's economical, eco-friendly, and finding a parking space becomes a non-issue. For visitors, it's almost imperative to get thee to a bike rental shop, whether for a few hours' rental or the duration of the stay – it's a great opportunity to live like a local!
A leisurely spin around the walls is memorable; one becomes a part of the flow, the moment. Bikes and small pedal-driven trollies ebb and flow with walkers and joggers, all immersed in thought, conversation, or laughter. If crowded, it can be a bit daunting at first, but soon the rhythm makes itself known. Convenient off-ramps into the old town allow exploration along the inviting streets, many looking canyon-like nestled in the shadows between four and five-story historic buildings. At a comfortable pace, a bike seat view makes for fun surveying of shops, homes, eateries, piazzas, churches, and people, along with a good introduction to the layout of the town.
You'll encounter places that will call you back to park your bike and spend a little time. There are many, but a few favorites might include Piazza dell' Anfiteatro, the beautiful oval-shaped piazza that sits atop the ancient Roman amphitheater, which is prime for sipping wine and people-watching. A stop at the Guinigi Tower (1300s) – easy to identify with the trees sprouting from its rooftop – makes for an interesting climb up the 233 steps for magnificent views. One or several of Lucca's magnificent churches might have caught your eye, especially the fabulous inlaid and carved marble façade of San Michele in Foro. Its ascending layers of intricately carved pillars make for a good game of "I Spy" with the multitude of animals, scenes, and figures. And don't forget to explore Lucca's culinary delights to help refuel from all that bike riding. Farro soup, farinata (chickpea bread), tordelli Lucchesi, buccellato (a circular ancient sweet bread), necci (chestnut crepes hugging a rich ricotta center) and others will seduce your senses. Try one, try all! Wash them down with a glass of local Colline Lucchesi wine for a fine finish to an unforgettable day exploring Lucca by bike.