Younger Gen-Xers (no, I don't like the "old millennials" label) – and every generation before – remember the thrill of walking with mille lire in their hand to buy five pacchetti di figurine, or the comfort that same walk would give when it was the time of the week to buy Topolino or Il Corriere dei Piccoli. And so, with a crisp note in the pocket, or a handful of change, we children of the 1980s would be there, in front of the local edicola, our newsstand, eager to get what we'd been queueing for.
It was the best of times, childhood.
During adolescence, sports fans would buy the daily to see what the story was with their favorite team, while angst teens like me would get their weekly fix of grunge culture from a back-then famous music magazine that came out every Wednesday with one of Italy's most popular dailies.
You know, the edicole of my life haven't changed one bit. The one in my village, where I used to buy figurine and Il Corriere dei Piccoli, is still there, near our middle school, just beside the old hospital. The girl working there is no longer a girl, she is a middle-aged woman now, her hair much lighter than the deep, dark brown shade it had during my childhood. The one in the beautiful, Medieval square where my high school was is still there, too, a half-circle kiosk under the portici, set against one of the large pillars that shape and hold each and every arch.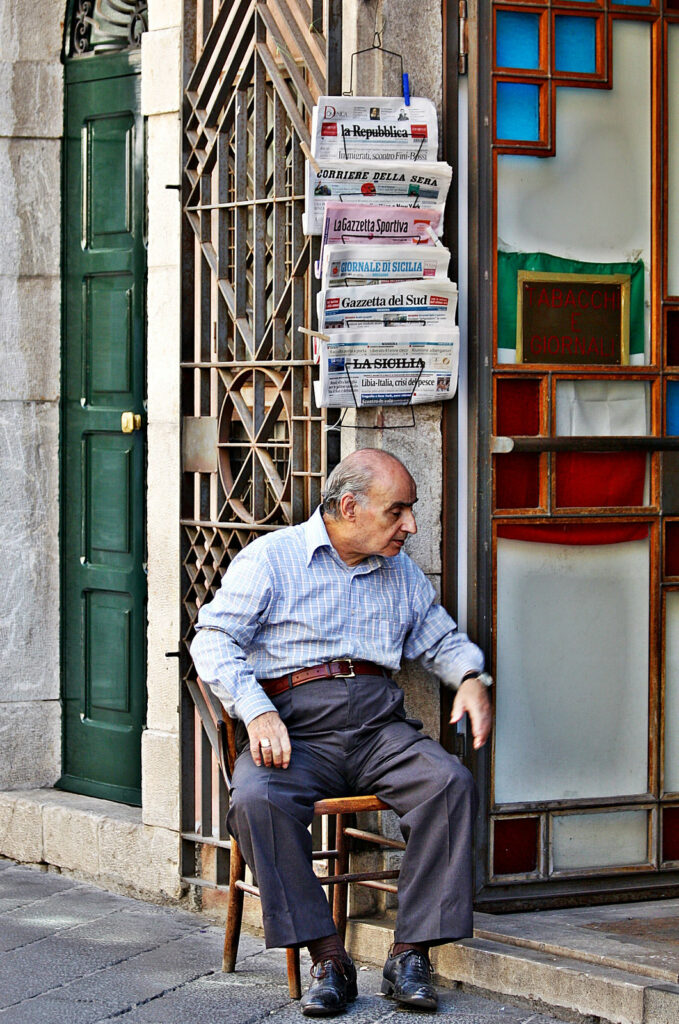 And how I loved the large edicola – there are three, nowadays – at the Porta Nuova station in Turin, where 19-year-old me could buy the Sunday Times and dream about being in London, or Dublin or Edinburgh: even when getting it became part of my weekend normality while living abroad, I always kept that memory, that late-adolescence dream of which, very prosaically, a newspaper was a simple, tangible embodiment, into my heart.
Today, I admit I am no longer a daily visitor of edicole as I used to be all those years ago. All my magazines and dailies are quickly and wirelessly delivered every morning to my iPad, also because they are all non-Italian: the Irish Times, the Guardian, the Washington Post… only my beloved history magazine comes in Italian… The buzz around edicole, however, remains the same. Older people still like to buy their newspaper and read it at the café while having the first espresso of the day; children still do what I used to do: they buy figurine, they wait for their comics religiously, with the same crisp note or handful of coins in their pocket, just it's no longer lire now, but euros.
A few years back, with the popularity and ubiquitousness of tablets, e-readers, and smartphones on the rise, it seemed like the fatal end of edicole' s cultural and social reign was near. But they still stand and, apparently, pretty solidly. Let's not be fooled, paper dailies and magazines' sales have plummeted as you would have expected, but I dare say that the reason edicole are still part of our daily lives isn't only because of the newspapers they sell. Edicole, in Italy, are not that different from the "bar," when you think of it. First of all, they tend to be always in a very busy part of the village or, in cities, of the block. They are on the main square, near the bus stop, at the train station, or under portici's vaults: they are exactly where they are supposed to be, wherever people like to gather.
Because edicole, for decades, fulfilled more than a commercial duty, they had a social role: they were the locus of information exchange, of political commentaries and, why not, even of a bit of gossip. Il giornalaio was the local CIA agent, he knew everything but would dispense that knowledge only to whom he trusted… stuff you'd expect to find in some old English novel or in a black and white movie from the 1940s.
Old-fashioned? Perhaps, because in their 140 or so years of life – the first three edicole in the country date back to 1882 in Mantova, 1884 in Forlì and 1887 in Salerno – edicole didn't really change much; in fact, many of them didn't even change the way they look. But why would they: in the end, they are among the few things in our otherwise modern country that truly don't care if the world thinks they are obsolete: because they, our iconic newsstands, transcend the very reason they were created for. In time, selling newspapers became a secondary raison d' être, because their first was, and still is, that of being a community hub.
Times change. And for people approaching the dreaded "middle age" just like me, it's becoming excruciatingly simple to find memories in our minds of once common things that are no more: phone booths, the red, "Poste" mailboxes on street corners, the honey cereals with the frog on the box… yet edicole are still there, looking the same and doing the same: an unfading memory, a stubborn memento of the past, that still have plenty of things to say.