Powerful, iconic, mysterious and a tad unlucky, if you think the man he brought up as his own child ended up plotting against him and had him killed. This is Julius Caesar to us. The man who led Rome to greatness, an Emperor, —shortly— before Roman Emperors were an actual thing.
We know a lot about him, about his military prowess and intelligence, about his political acumen and some of his words have even gone "viral" through the centuries: who hasn't heard or used the sentence the die is cast? Yes, that's Caesar speaking. And what about Veni, Vidi, Vici: I came, I saw, I conquered… Caesar again.
Non-historians may be more familiar with his tragic death, by many considered the first high profile murder mystery in history: attacked in the Senate by a group of former supporters which included also Brutus, the man he had fostered. Legend wants a dying Caesar uttering the pathos-filled words Tu quoque Brute, fili mi, you too, oh Brutus, my child, a sentence that, to many an Italian, represented the very first encounter with the Latin language (we used to learn it by heart in primary school, in my times).
As any great Roman of those  centuries, Caesar is portrayed also as  a bit of a tombeur de femmes. His statues show a man with an undeniable charm, a strong nose and proud expression, his allure certainly increased by his uniform and power. Yet, what do  we know exactly about his women? Of  course, he  was married  and he did have a pretty controversial relationship with Cleopatra — the closest thing the ancient  world had to a true Hollywood diva — but his love life was  much more eventful than that. I think it may  be worth  taking a look at it more closely. A very good article by Roberto Roveda, published in the January issue of Italian history magazine Focus Storia will help us do just that.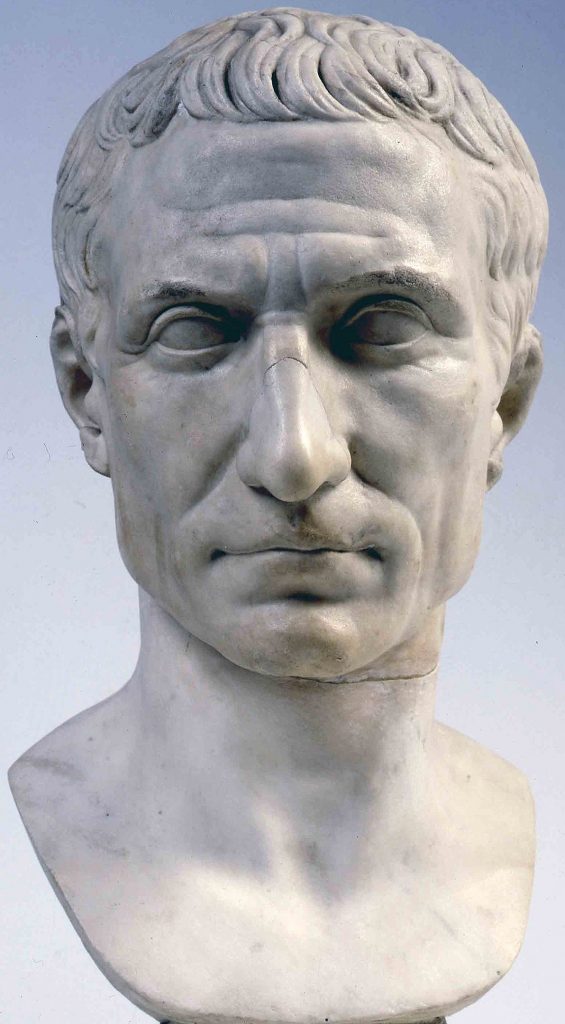 What we know about Caesar's private life mostly comes from the pages of the biographer of Rome's greatest and most powerful, Suetonius, author extraordinaire of The Twelve Caesars, where he recounts the life of Rome most important rulers. Suetonius describes our Julius Caesar as a true conqueror also in the bedroom, keen on seducing his allies' wives and daughters. A real lothario, we'd say today.
He married for the first time in 83 BC with Cornelia, beautiful and rich Roman noblewoman, mother of his beloved daughter Giulia. Now, Caesar loved Cornelia dearly but that wasn't enough to keep his tunic on, so to speak: he notoriously seduced Tertulla, Crassus' wife and also Mutia, the wife of Pompey, great general and man of immense power himself. Mind, Caesar didn't target Mutia just because of her intelligence or good looks, he had a precise plan: he needed her out of the picture, because he wanted Pompey to marry his daughter Giulia to create a more solid alliance with him. A ladies' man and a scheming genius.
Caesar's longest running affair, however, was with Servilia, sister of Cato the Younger, one of Caesar's adversaries, and mother of Brutus. Yes, that Brutus who would end up murdering him. Once she noticed the powerful Caesar was no longer interested in her, Servilia had no issues pushing her own daughter Junia Tertia into his arms to keep him close. However, historians are more prone to believe that Junia Tertia was, in fact, Caesar's daughter and that his interest in her was paternal and not sexual.
In the meanwhile, Caesar's wife Cornelia had passed away and the great general had married twice more: once with Pompeia, whom he repudiated after discovering she had been cheating with Clodius, and another with Calpurnia, the woman who was to stand by him until the day of his death.
While married with Calpurnia, Caesar met the most popular  among all his women, the  one we common mortals know better: Cleopatra. The two  met in 48 BC, when she  was  about 18 and Caesar well over 50. Caesar fell  head over heels for the young Egyptian, to the point he  risked  to  loose his immense  power back  in Rome for her: a case of mid-life crisis? Perhaps.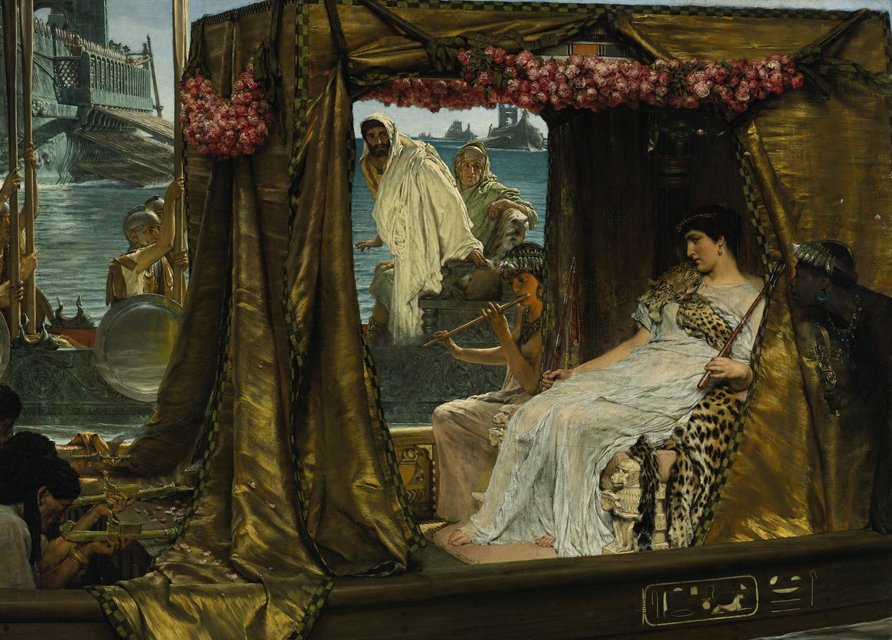 Cleopatra, on the other hand, may have not been that enamored but knew Caesar's protection was the only way to keep her power, threatened in those months by a plot aiming to bring her brother — and husband — Ptolemy XIII on the throne.
Legend says that Cleopatra seduced Caesar secretly entering his own apartments in Alexandria, hidden in a large piece of fabric and covered only in jewels. It was the beginning of a 9 months long relationship who also gave Caesar his only male heir, Caesarion.
What a man, that Julius Caesar. He certainly loved women a lot, right? Well, according to old Suetonius he also loved men to the point one of the most popular jokes about him said he was "the husband of all wives and the wife of all husbands."
No need to explain that, the Romans were pretty matter of fact when it came to this stuff.
Apparently, Suetonius recounts, a twenty year old Caesar had succumbed to the sexual advances of King Nicomedes IV of Bithynia, with whom he shared some steamy nights. The gossip made the rounds in Rome to the point some would mock Caesar calling him the Queen of Bithynia.
In spite of his reputation with women and his military courage, Caesar's alleged bisexuality remained a matter of discussion throughout his career and its veracity is still debated to this day.