It all starts with simple materials, like paper and chalk, or whatever else Mother Nature can offer, like leaves or flowers. Then comes pure creativity, the ability of making Beauty appear from almost nothing: an eternal wonder to our eyes. Then, at last, comes the emotion of seeing it all created, of witnessing the intense, magical moment when art is shaped. In this synthesis, we discover one of the most beautiful forms of Italian art: in it, a spark of creativity that, because of its own very nature, is pure, intense, but short-lived. It is the same spark that created eternal masterpieces like Michelangelo's Pietà or Botticelli's Primavera. But fleeting. An intense instant of poetry that vanishes very quickly: chalk dissolves, flowers wither, their scent fades away. Everything disappears.
But the angel-like face that stared into us from the ground is etched in our memory and our heart. We stood there, in the middle of the street, wide-eyed, with our head bent to enjoy the best perspective, enchanted by delicate expressions, intense colors and artistic portraits.
Have you ever fallen in love with the work of a Madonnaro? Have you ever felt, while looking at their work, just like the children in Mary Poppins, when they jumped into the beautiful park drawn by Bert the chimney sweeper, just before the storm came? And what about the infiorate of Genzano, Spello and Noto? From Lazio and Umbria to Sicily, in the months of May and June, dozens of artists transform villages in beautiful flower carpets under the sky. A tradition born in Baroque Italy, but still very much loved today. In Arborea, Sardinia, on the day of Corpus Domini, the local church and the main square are covered by a soft cloud of petals, in a tradition that brings together culture, art and religion. It isn't a simple Festa di Primavera, it is the surprise one experiences when looking at these soft, multicolored paintings – a true explosion of hues and shades—which are, first and foremost, collective celebrations, made by people for people.
Regardless of the final product, it is impossible not to be mesmerized, or better, feel suspended, when observing an artist at work: we stand still, in silence, and look at things coming into shape. Unless we're just as talented, it's impossible to replicate the perfection emerging from their quick, precise strokes, strokes that create magic from nothing.  Contrarily to paintings or sculptures, though, which we have time to admire, observe and study, even millennia after their creation, we deal here with art as ephemeral as the wind, but alive with intense emotions. Just like a journey or a fortuitous encounter, just like meeting the eyes of a stranger in the street: quick moments that create long lasting memories.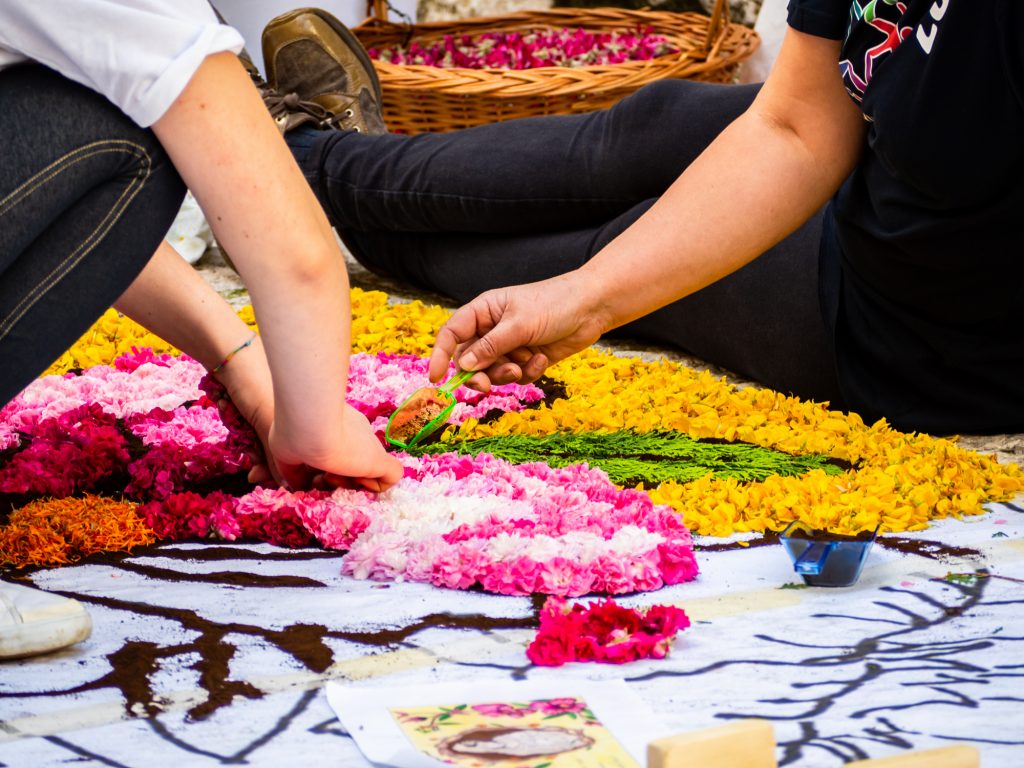 Today, the best holidays are described as "sensorial experiences." The trendiest tour operators speak about "experiential tourism," but whoever loves traveling always knew it: it's the moment you get to Le Cinque Terre and look at the enchanted bay of Portofino; it's when you stand on Sorrento's terrace and the immensity of the sea is all there in front of you; it's when you walk at night under a blanket of stars with an ice cream in your hands. More than any souvenir, it's these hypnotic emotions, these brief moments of wonder you'll bring home with you.
Along with its many crafts and its creative wealth, Italy also has some artistic forms wrongly considered inferior to others. When you think about it, it's impossible to belittle the talent of a Roman engraver who makes metal light and airy; the ability of a glass maker in Murano who, blowing into a hot bubble, gives life to delicate, sinuous objects; or the art of a craftsman who can make incredible floats — like those we see in Viareggio, Putignano, Acireale and Ceggia — from simple strips of paper.
But, within the apparent simplicity of these artefacts, you won't only find craftsmanship, artistic talent, tradition and intergenerational knowledge. Rather, you'll find the union of spirituality, folklore and community spirit, because these objects and works of art are filled with the feelings and emotions of entire villages and cities. It's impossible, therefore, to say that Palermo's Carro di Santa Rosalia, whose story began in 1686, is just made of paper and wood, because in it you'll find –yes — the ability of the artist and the craftsman, but also the genius loci, that is, the soul of the place and of its people.
When you'll be lucky enough to be there, at the feet of the three Cime di Lavaredo, in Alto Adige, the beauty of the Dolomites will erase anything you saw before, and the same will happen when you're in front of the cathedral of Noto, under the blinding sun of Sicily. You'll feel the same when you witness the creation of a multicolored flower painting during an infiorata, or a simple street corner turning into a celestial image with the help of only a few chalks. Yes, you'll be besotted by the visionary eyes of a Madonnaro at work. With them, you'll see Beauty being born. Without a doubt, you'll take a selfie beside their work. But there'll be even more poetry in the rain that, soon, will wash everything away. Because it'll make you understand how lucky you were to be there in the first place. And you'll always keep the experience, its scent, its magic in your heart.