Many of you are probably familiar with La Cucina Italiana, the famous Italian culinary magazine which, since 1929, has been collecting, discussing, and presenting food trends and recipes from the peninsula.
Besides being a treasure trove of recipes and ideas to use in the kitchen, the magazine also became, in 2020, a spokesperson for an important initiative, that of getting Italian food onto the UNESCO Heritage list.
Wait, I can hear what you are saying: Italian food is part of the UNESCO heritage list: we have the art of Neapolitan pizza and the valleys of Langhe and Valdobbiadene where so many of our DOC wines are produced. UNESCO also protects the Mediterranean Diet, which we share with our cousins facing the sea. Yet, what La Cucina Italiana envisaged two years ago, at the beginning of its campaign, was something different.
The idea isn't to protect the dishes themselves, but rather the universal value of Italian culinary culture. In July 2020, the first of 6 collectible issues were published: each featuring a famous Italian chef, supporter of the candidature, starting with Massimo Bottura, followed by Davide Oldani in August 2020, Antonia Klugmann in September, Carlo Cracco in October, Niko Romito in November and, finally, Antonino Cannavacciuolo in December.
The campaign, of course, created a hashtag, too, #lacucinaitalianagoestounesco. Italy follows in the steps of France, Mexico, and Japan, countries whose cuisines are already part of UNESCO's intangible heritage list.
At the heart of the initiative is the cultural and human value of food in Italian life: it is a value to preserve and an important marker of our national identity, worthy of official recognition – because when it comes to popular recognition, I think we all agree that Italian food is king already.
In an article published last year, and penned by Silvia Sassone – who is in charge of the UNESCO candidature project – La Cucina Italiana discussed in depth the reasons that informed its decision to get the procedures for the candidature going. The country was just out of the third Covid-19 wave, and the vaccination campaign was working well: we were slowly, but quite steadily, beginning to see the light at the end of the tunnel. The previous 15 months had been surreal and frightening, but had also brought to Italians something positive: the rediscovery of old culinary traditions, and the pleasure of "making everything from scratch." Especially during the first lockdown, that of March 2020, we all turned into bakers, cooks, and gardeners, eager to fill the time we had on our hands, but also, I believe, to find some sense of safety in things that used to do just that when we were children.
We became, during the pandemic, the number one fans of our own cuisine: we embraced piatti poveri and family recipes, tried new things, and made the time spent in the kitchen a pleasant respite from the madness around us. Our food gave us strength, and not only physically: it gave us something nice and good to look forward to.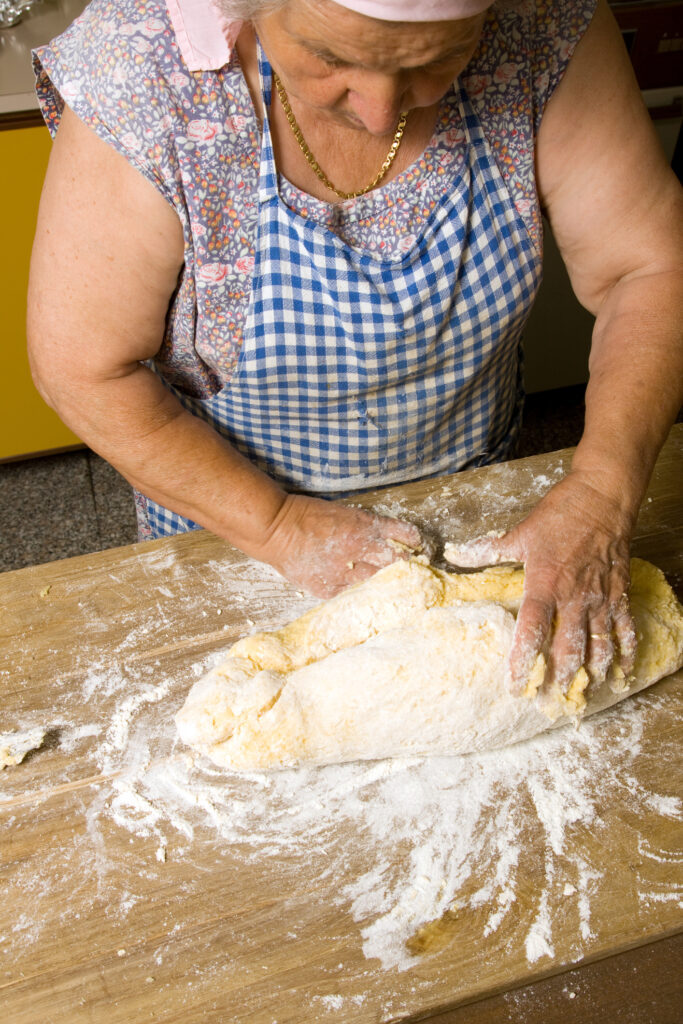 According to the candidature's promoters, cooking is not only "being in the kitchen," it encompasses a variety of little rituals and gestures rooted in the idea that preparing and consuming food is a moment to share, to show love and care to others. Cooking is what our ancestors left us, and what our families defined much of their heritage with. Italian cuisine is a patchwork of traditions and know-how, which develops through connections and exchange, as well as cultural and historical contaminations – think of the Arabic influences we still find in Sicilian food. There is also the importance of limiting waste and the flavorsome tradition of our cucina povera, varieties of which we encounter in every region.
And the title itself of the dossier, which clearly spells out cucina di casa italiana, that is, the most traditional of all cooking, the deepest set in our memories, only further highlights the truly familial nature of our food. The centrality of this connotation is important because it is truly in this the soul of Italian food resides, if it's true that even the greatest of our chefs always paid their respect to mothers, fathers, and grandparents who instilled in them the passion and love for cooking. Those values of convivial warmth and caring for one another through food they inherited from home, are the same they offer, still today, even in their most famous and fabulous restaurants.
The committee in charge of compiling the candidature dossier was formed over a year ago, with members ranging from university professors in anthropology, history of food, linguistics, tourism and hospitality, along with experts in design and culinary literature: their aim was to create the most complete and adequately source-supported dossier to make the importance of domestic Italian cuisine clear even to those who don't know it.
This candidature follows those of two other iconic examples of Italian culture: opera singing, and caffè.