There seems to be a shared fascination with lighthouses the world over. These austere pillars of hope and guidance, most often planted on precarious ground, seem to speak to our need to be watched over, protected, guided through life's storms. Or maybe it's just that they're simply beautiful in their varied shapes, forms, and layouts. Whatever the draw, the fascination is real. 
A quick history lesson tells us that burning heaps of heather and broom placed within watch towers served as the earliest Italian lighthouses for seafaring vessels. This somewhat effective but messy combination gave way during the 1300's to true signal lamps that burned olive oil. Interestingly so, olive oil was used as fuel in Italian lighthouses until the end of the 19th century. One of the most famous – and still in operation – is Genoa's Capo di Faro built in 1326, which is said to have been operated at one point by Christopher Columbus's Uncle Antonio. 
Italy's approximate 5,000 miles of coastline provide a roost to hundreds of lighthouses, the majority qualifying for old-age status. As many as 500 still patiently illuminate safe passage through precarious waters, yet many also sit abandoned to time…and lack of funding. Paired with the high number of lighthouses dotting the Italian coastline are the strapping costs of maintenance and restoration.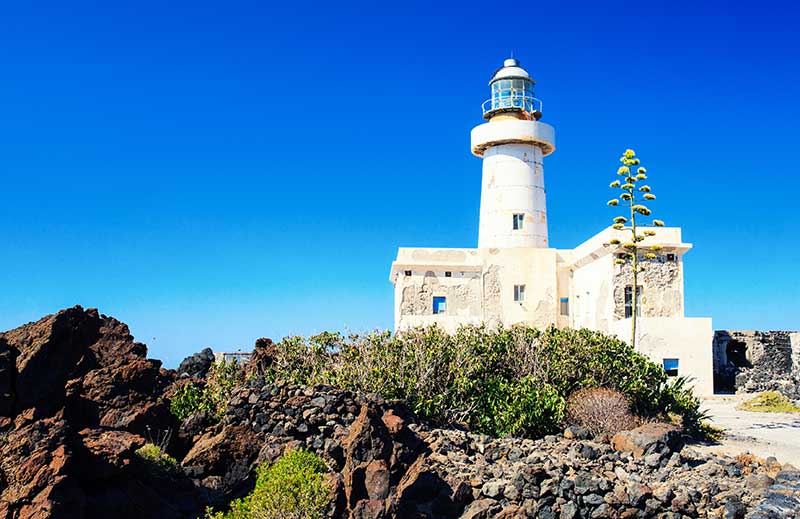 Much like the well-known "Buy a house for a Euro" promotions in numerous Italian villages as a means to protect and preserve cultural heritage, the Italian Agency for State Property (Agenzia del Demanio) initiated a similar program for lighthouse restoration called Valore Paese Faro – the Lighthouse Restoration Project. Modeled on the success of like-minded programs in countries such as Spain, Canada, and the USA, the project's mission is "…the recovery and reuse of lighthouses and coastal buildings for tourism, cultural and social purposes, in line with the principles of sustainability linked to the culture of the sea." And unquestionably the hoped-for bolus of tourist dollars. 
The launch of the program in 2016 initialized with the commission for lease of 20 state-owned lighthouses located throughout Italy. Along with restoration, the program's aim is to reduce government debt by off-loading to private investors, as well as encourage tourism in rural areas. Once a lease is obtained, however, the real investment begins. 
The new proprietor must have experience in the tourism industry, as well as present a feasible plan for refurbishing the lighthouse towards use as a community and tourist attraction. Think lighthouse B&B, destination weddings, seaside café, and so on. A commission is then awarded for up to 50 years, along with the lessee's agreement to maintain the historic integrity of the lighthouse throughout its renovation, as well as integrate sustainable and ecologically sound procedures and practices. Of course, the investor is also guaranteed some of the best of Italy's waterfront property, views worthy of a coffee table book, and the promise of high profit returns. With an average lease commitment of $55,000 a year and the allure of yearly tax credits, it's a tantalizing risk for both private and corporate investors alike. 
What does the Italian government stand to gain, other than bringing new life to decaying but precious architectural history and shuffling off some debt? Initial figures at the inception of the program projected a long-term profit of eight billion euro – a hefty sum to go along with privatized revitalization of crumbling landmarks and increased tourism and employment. And where that profitability stands…or will ultimately end up…is yet to be seen. 
However, it's safe to say that progress does indeed continue to be made at the hands of this worthy project. The Agency for State Property annual report released in July of 2018 shows 29 coastal structures having been commissioned, with nine more to be released at the printing of the report. The outreach has extended to include additional coastal structures such as ancient towers, fortifications, villas, and other historically important buildings that are under the management of Italian Regions and Municipalities.  
Whether all nine properties were commissioned won't be revealed until the release of the 2019 report; however, the listings are alluring for anyone with dreams of preserving and caring for an extraordinary piece of Italian history. Up for grabs — the Fort of Castagneto Carducci, situated on a Tuscan Blue Flag beach and waiting to come to life as the best new beachside B&B in town. Prefer something quieter? It can be yours on the island of Elba where the white-washed Punta Polveraia Lighthouse overlooks an azure Ligurian sea, ripe for rebirth into a stunning retreat. These projects aren't easy, but with steely vision, monumental patience, and good financial backing, a storybook ending is definitely realistic. Sardinia is home to one such example – The Hotel Faro Capo Spartivento. Constructed in 1854 on order of King Emmanuel II of Savoy, the lighthouse and surrounding buildings perched on a craggy Sardinian cliff were abandoned in the early 1980's. An eight years long restoration project brought the once-regal naval structure back to life, even garnering praise from the Italian Navy as a prime example of military architectural restoration. 
Following the mandates of the Lighthouse Restoration Project (Valore Paese Faro), Faro Capo Spartivento's rejuvenation was accomplished with great respect to preservation of its original form, yet done with locally sourced materials and sustainable practices. Off-grid energy via solar panels provides power, while desalinated sea water fills the need for watering the grounds and other utilitarian purposes. The concept also includes, in addition to elegant hotel rooms, community friendly aspects such as wedding packages, creative retreats, team building experiences, and open access for photo shoots. From the images of this solitary retreat, it's not hard to imagine time spent destressing to the songs of the gulls and hum of the sea breeze under a Sardinian sky!  
Beacons of light, these grand old lighthouses are one by one being given the opportunity to shine anew thanks to the Italian Lighthouse Renovation Project. Economic gain is a piece of the puzzle, but more importantly these structures have the chance to remain a viable part of the Italian landscape, a visible testament to the seafaring communities they served, and a cultural link that would be regrettable to see slip away.  Author Steve Berry says it well: "A concentrated effort to preserve our heritage is a vital link to our cultural, educational, aesthetic, inspirational, and economic legacies – of all the things that quite literally make us who we are."