Much of our heritage and old traditions are associated with specific moments of the liturgic calendar: once upon a time, religion and the natural passing of seasons were all people needed to keep track of days and months. As a time of reflection and meditation leading to Easter, the most important Christian festivity, Lent has always been full of events, even if it was – and still is, for those who believe – a moment largely dedicated to contrition and prayer.
Today, religious practices aren't as preponderant as they used to be but our Lent habits and lore remain.
For instance, many Italians still refrain from eating meat during Lent, or at least, on Lent Fridays. The idea of relinquishing meat during the 40 days before Easter connects with that of spending this time focusing on the spiritual rather than the physical: abstaining from eating meat is mentioned already in the Old Testament as a tool for penance because meat was considered a delicacy. Giving it up during Lent symbolized our wish to cleanse through meditation and be ready for a new beginning. But what perhaps is more interesting to us today is the form meat-free Fridays would take our tables: in my house, i venerdì di Quaresima were all about peas with boiled eggs, tuna, and tomato sauce, stoccafisso with potatoes and olives or with potatoes and tomatoes, or scrambled eggs with tomatoes and basil, served with plenty of bread. Typical of the mountain areas of Italy was also polenta concia, heartwarming polenta enriched with butter and cheese. In Sicily, pasta con le sarde would be a Friday must.
Speaking of pasta, in Apulia, there was a habit of not grating cheese on it during Lent. That didn't mean, however, that you wouldn't use the cheese grater for 40 days: instead of parmigiano or pecorino, you'd cover your spaghetti or penne with breadcrumb, which of course you needed to make by transforming stale bread into crumbs. So, on Ashes Wednesday, Apulians would take their cheese graters, used all year round to grate delightfully decadent cheese, and pass a flame on it to clean it: a gesture symbolizing the cleansing action of Lent on people's souls, just like that of fire on objects. The cheese grater, now purified, could then be used to make breadcrumbs for all the pasta you'd have during Lent.
Some of our traditions are definitely more theatrical than others. In many parts of Italy, especially in the South, Lent is often represented by a large rag doll, dressed like an elderly woman and adorned with jewelry made with dried fruits and nuts. Lovingly – or perhaps not so much – known as la Vecchia, the old lady, the raggedy mannequin is often set on fire as an act of communal purification. The tradition in itself, many of you have probably already noticed, finds its roots well into the pagan past of the peninsula, when symbols of the cold season were destroyed and purified with fire, to prepare the earth and the community for the coming of Spring. Indeed, fire rituals such as these are common also at the beginning of the year. In the village of Irsina, in the Matera province of Basilicata, seven dolls dressed in black make their appearance around town, with one disappearing every Sunday until Easter. In Salento, the old lady is known as Caremma (from the French for Lent, Carème): she holds yarn and a spindle in her right hand and an orange with seven feathers stuck in it in the left, each for every Sunday between then and Easter. At the end of each week, one feather is removed and, with it, also a fraction of the community's pain and sorrow. Many historians associate the figure of the Caremma with the ancient Roman Oscilla, already mentioned by Virgil in his Georgics, wax figurines that were hung to trees as a way to obtain the gods' protection on crops. Others, on the other hand, think she is very reminiscent of Clotho, one of the three Fates – or Parcae to say it in Latin – whose duty was that of spinning the thread of human life from her distaff onto her spindle.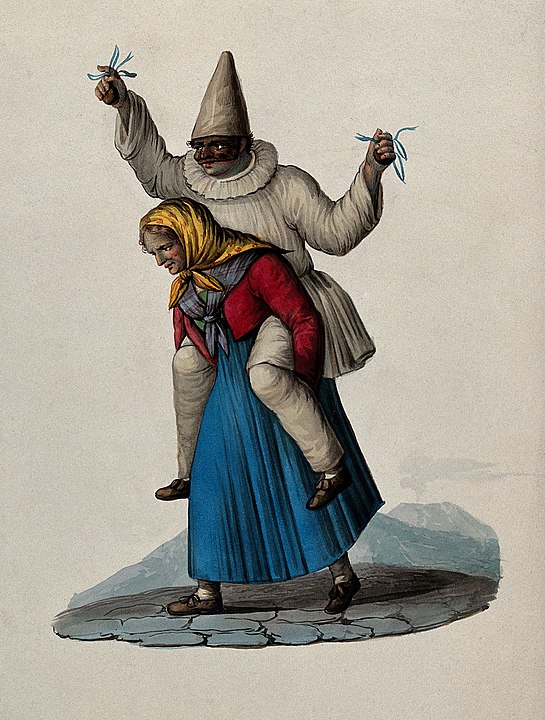 In Naples, the beginning of Lent was once marked by the Carnevale a cavallo della Vecchia, "Carnival riding the Old Lady" where Carnevale was represented by a Pulcinella with long fake legs, sitting on the shoulders of an elderly woman, Lent. The figure walked around the city's streets and danced awkwardly, to symbolize the hardships of penitence typical of this time of the year. The idea was that of picturing each person's struggle against sin and evil; the whole thing was akin to an itinerant theater pantomime or a commedia dell'arte play.
Last but not least, I should mention an evergreen, the habit of fare un fioretto per la Quaresima. The word "fioretto" literally means "little flower" even though you'll never hear it used in that sense. The term comes from Ugolino da Brunforte's Actus Beati Francisci et Sociorum Eius, known in Italian as I Fioretti di San Francesco, a 14th-century text dedicated to the lives of Saint Francis of Assisi and his disciples. Fioretti are little sacrifices that we decide to do during Lent, as a way to show our commitment to personal and spiritual improvement. The most typical fioretti usually involve food or anything we feel we indulge in too much: top of the list is usually candy and chocolate, closely followed by coffee and sodas. Some try to stop swearing, too. I once gave up coffee for Lent: I think it was 2017 and I still have nightmares about those caffeine-free 40 days. On the last evening of Lent, I waited until midnight eagerly and made myself an espresso right before going to bed.