In the past twelve months, we've all become sadly acquainted with the idea of contact tracing: used very successfully in the management of the pandemic in countries like South Korea and Israel, it hasn't been as efficient here in Italy, where a dedicated app, Immuni, has been largely considered a failure on all fronts.
This is pretty strange to say, if you think that the idea itself of contact tracing as a way to control the spread of infectious diseases comes from Italy. We need to go back to the 16th century and the times of the "great pox," most commonly known as syphilis. Back then, the illness was very little known: it was new and there was no mention about anything even remotely similar to it in traditional medical texts of the times, which were based mostly on classical and Arabic treatises. In those years, the University of Padua, in Veneto, was the hub of medical research in Europe and it's not surprising it was there, thanks to the work of anatomist Gabriele Falloppio, that the first epidemiological studies on syphilis were carried out. Falloppio and his team had an important intuition: that to fight the new illness, it was not only necessary to learn about other similar pathologies and the way they behaved, but also to understand how syphilis got to Europe and how it spread around. Interestingly, their basic texts to trace the development and diffusion of the disease were Christopher Columbus' travel journals.
Thanks to the detailed account Columbus left of his trip back from America to Europe, Falloppio was able to track how syphilis had reached the Old Continent with Columbus' crew, and the first hospital cases recorded in Barcelona. The illness then spread through Europe via King Ferdinand II's army and even more via King Charles VIII's mercenary soldiers, employed for great part of the winter of 1495 for the siege of Naples. A first flare up of the illness came during these months, with an even more significant rise in infections when Charles VIII's army was dismantled and mercenaries returned to their countries. Some times later, in the 1530s, another Paduan physician, Bernardino Tomitano understood how syphilis spread from Europe towards the East via Venice and its many commercial connections.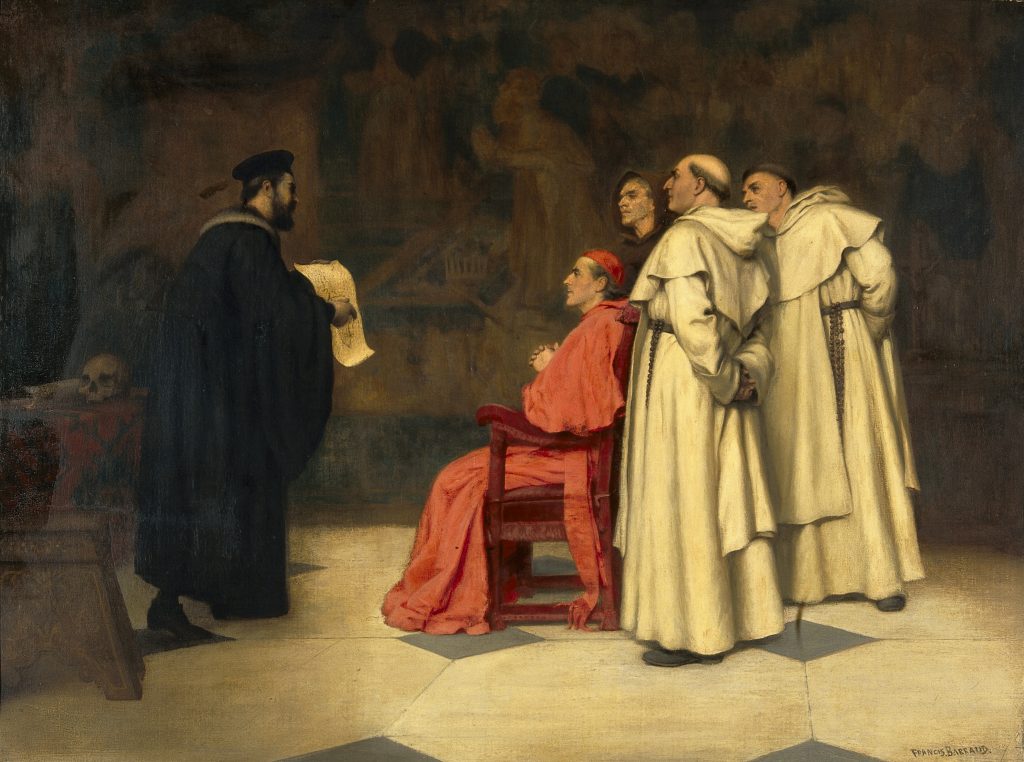 Falloppio and Tomitano's work is important because it opened up the way to further research in the field, but it is to another, much less famous and renowned doctor we owe the real discovery of the importance of contact tracing. It was 1576 when Andrea Gratiolo, a village doctor from Desenzano del Garda, had to deal with a deadly outbreak of bubonic plague in town. People believed it was a woman, who had recently traveled from Trento, who brought the disease to Desenzano, but Gratiolo was not convinced. Today, we known the plague is transmitted by infected rats and fleas through their bites but, in those years, it wasn't clear yet. Gratiolo, however, had a hunch and sensed the woman was not responsible for the outbreak. In a clear example of "modern" contact tracing, he investigated the way the woman traveled from Trento to Padua and discovered she had spent most of the trip in close proximity with another woman who, once home, had gone back to her daily routines and habits, including sleeping in the same bed with her husband and her children. Neither the woman, nor her family had contracted the plague, which was proof for Gratiolo that the outbreak did not originate the way most people believed.
Gratiolo wasn't the only doctor to go against mainstream medicine in those years, as many other practitioners had already begun to question a commonly accepted set of beliefs about spreading and contagion, including the idea that plague was caused by miasmas coming from swampy, unhealthy land, star alignments, bad nutrition and, last but not least, that it was, as all infectious diseases, a punishment sent by God to Mankind for its sins. With our modern minds, perhaps, we can't fully understand the magnitude of Gratiolo's idea: illness wasn't a form of divine punishment for a sinful mistake, but the natural consequence of scientifically proven — or provable— factors.
The validity of Falloppio and Gratiolo's theories and ideas were embraced in Europe quite quickly, or perhaps even developed independently through the continent, as we have documents from Nuremberg, Germany — of uncertain date, but likely compiled between the 16th and the 18th century — where it is proven that hospital patients were asked questions to find out how and where they may have contracted an illness.
In the past twelve months, the careful and adequate use of contact tracing has helped the world limiting the already immense losses caused by Covid-19. Perhaps it never occurred to us that something we consider so simple and so automatic has a long history of discovery and observation behind. Nor that it is to be counted among the many gift Italy has given to the world.
This article is based on a piece by Samuel Cohn and Mona O'Brien, of the University of Glasgow, published on The Conversation.