"Would you like fries with that?" may not be as modern a phrase as we think. You've probably seen the recent headlines extolling the full excavation of a gloriously intact fast-food joint, or thermopolium, in Pompeii. Virtually undisturbed save for a little pilfering in the 17th century, the small food shop has remained as it was, a freeze-frame of everyday foodie life on that fateful day in AD 79.
Known as The Thermopolium of Regio V, this remarkable site is one of approximately 80 other street food venues uncovered thus far in Pompeii. Careful excavation of the remains has exposed exceptionally well-preserved paintings gracing counter walls, along with offering a peek at what the lunch menu of the common folk might've contained. Two of the vibrant paintings reveal eye-catching artwork featuring fowl, another a rendition of a busy scene at the snack bar. Further analyses confirm that the paintings do indeed represent a menu of sorts. Remnants of duck, chicken, and wine within the large clay dolia (vessels containing hot foods) and amphorae provide evidence enough of many a poor soul's last meal.
Situated on a busy corner intersection, the proprietor of The Regio V knew location matters; plentiful pedestrian traffic tends to equal robust sales. And really, that hasn't changed in all these many years! On most any urban Italian street today it's not a hard task to find a colorful cart or food stand preparing hot snacks and quick bites, the enticing aromas snagging hungry passersby.
Wait…street food in modern Italy? The land of two hour meals, where walking or driving while eating is considered "schifoso"…disgusting? True, there are definite guidelines for acceptability when eating, but grabbing a savory snack or light lunch while out and about is fine…as long as the eating is complete before heading on your way!
Italians are as proud of their street food offerings as they are of the makings of a five-course meal. Even though stands are found throughout Italy, variety tends to be more lavish in the south where street foods are a long-standing tradition. But no worries…you don't have to venture to Calabria or Sicily to launch your street food odyssey. The majority of popular offerings can be found throughout the country no matter their region of origin. Whew. So what's on the menu?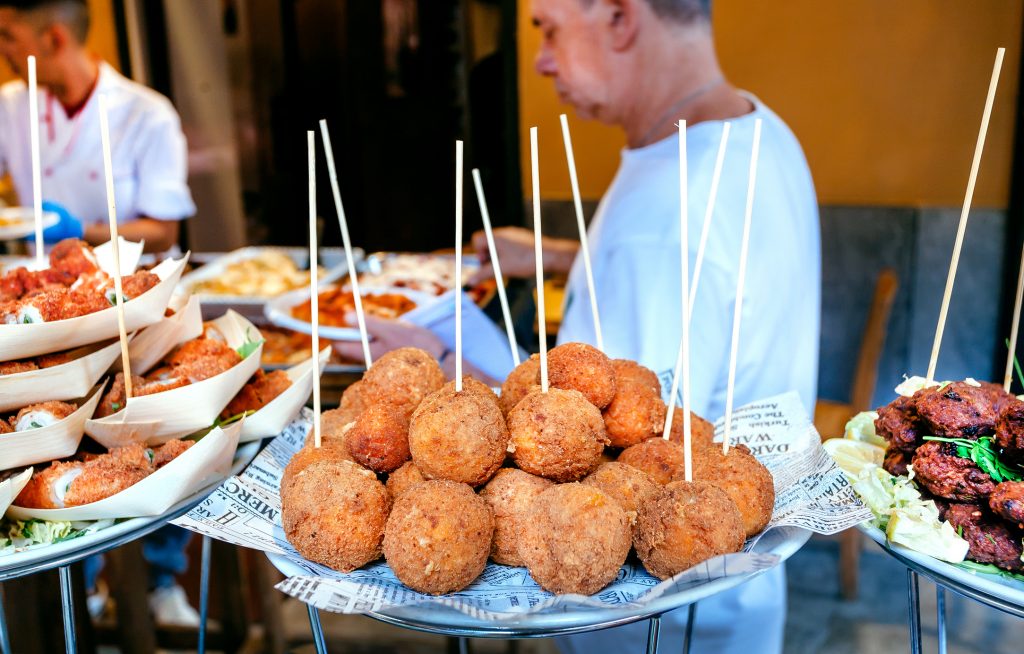 Arancini
These golden fried nuggets of rice wrapped around savory combinations such as meat sauce, prosciutto, cheese, tomatoes, and whatever else the preparer feels inclined to add, are extremely popular in Sicily but can be found in almost any quick-serve vendor's case across Italy. And why not? Freshly fried, the satisfying crunch and pop of heady flavor make stuffing several of these in your mouth a culinary experience not long forgotten. If arancini top your list of street food favorites, be sure and get to Palermo for the Festival of Santa Lucia each December 13th. Number one celebration food: arancini and lots of them.
Supplì
Since we're already dreaming of fried rice balls, Rome's supplì cannot be overlooked. Like a cousin to arancini, supplì also feature a deep-fried mound of rice surrounding a sumptuous filling. However, they are more the conservative cousin, adhering to a prescribed protocol rather than culinary creativity. Rice pre-simmered in a rich tomato sauce is shaped cylindrically around mozzarella…nothing else allowed…breaded, then fried to a golden hue that would rival a sunset. Playfully known in Rome as supplì al telefono, the nickname was earned for the way the gooey cheese stretches like a phone cord (remember those?) when the supplì is ceremoniously pulled apart. A friendly smile to the vendor might be rewarded with a nice splash of the simmering tomato sauce to dip those supplì in.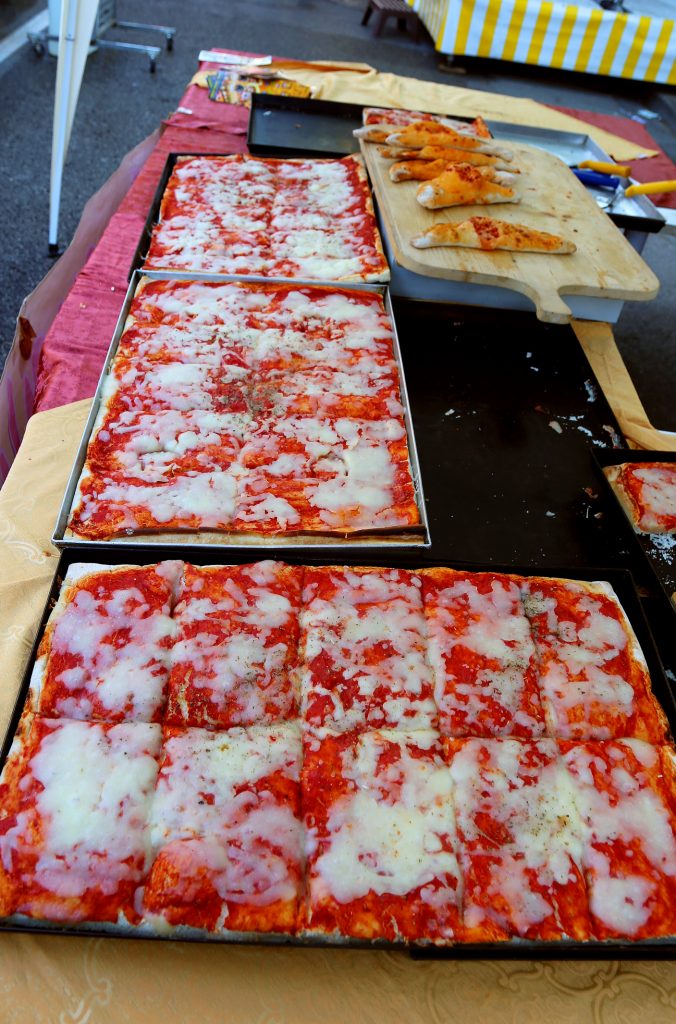 Pizza al taglio
You read that right. Pizza proper is certainly found all over Italy in most any restaurant or trattoria…so what's the difference between that and pizza al taglio? Besides the fact that pizza al taglio is sold from street carts or at walk-up window fronts, the actual product stands apart from our beloved circular pizza in more ways than one. Rather than a traditional thin crust, the dough is rich with yeast and allowed to rise, morphing into a puffy, light bed for simple toppings. Rectangular in shape to make it easier to portion, a serving is cut (hence, "al taglio") and sold by weight. Slapped onto a paper napkin and into one's hands – you may never look back.
Porchetta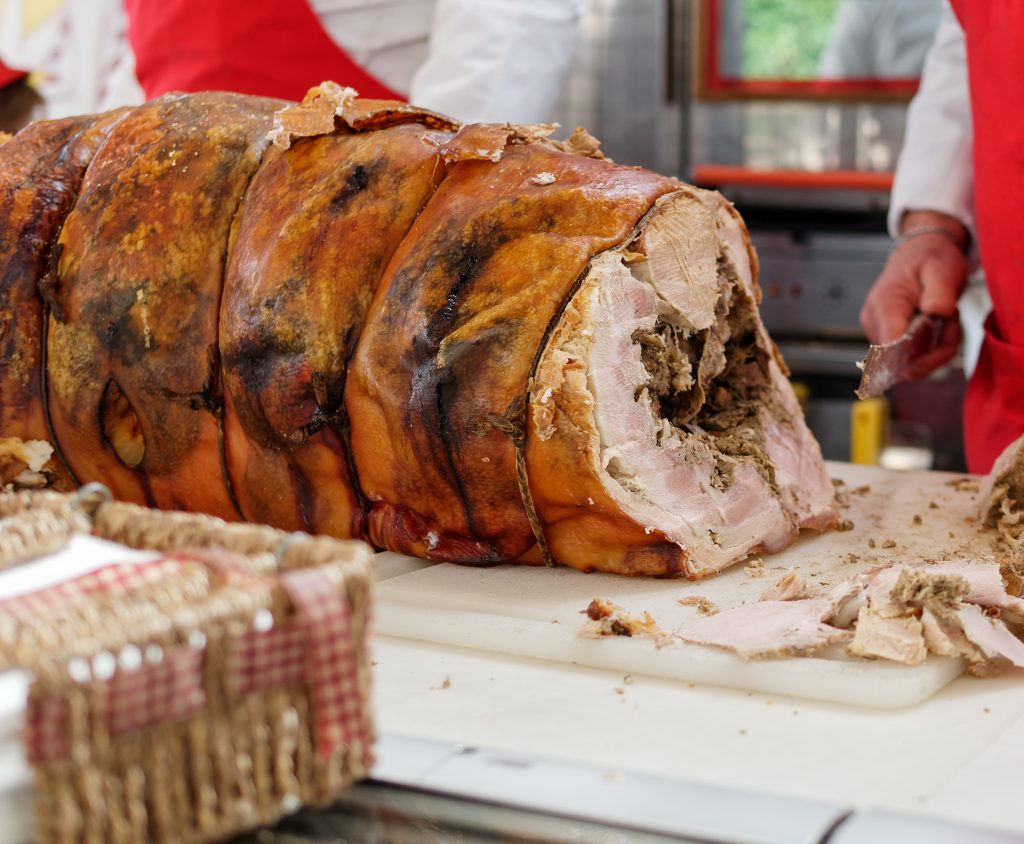 Why no one has come up with a kiosk selling bacon on the street corner is beyond me, but a porchetta stand might be the next best thing. A generous slab of pork is well-seasoned with a mixture of aromatic herbs, stuffed with prosciutto or lard or other leftovers from the pig, then rolled tight and spit-roasted into a crispy, juicy, fragrant delight. Porchetta originated in central Italy; however, its popularity has spread nation-wide, as well as attaining high status as a grab and go meal. Moist, tender slices piled high between crusty slices of bread might easily qualify as the stairway to gastronomic heaven.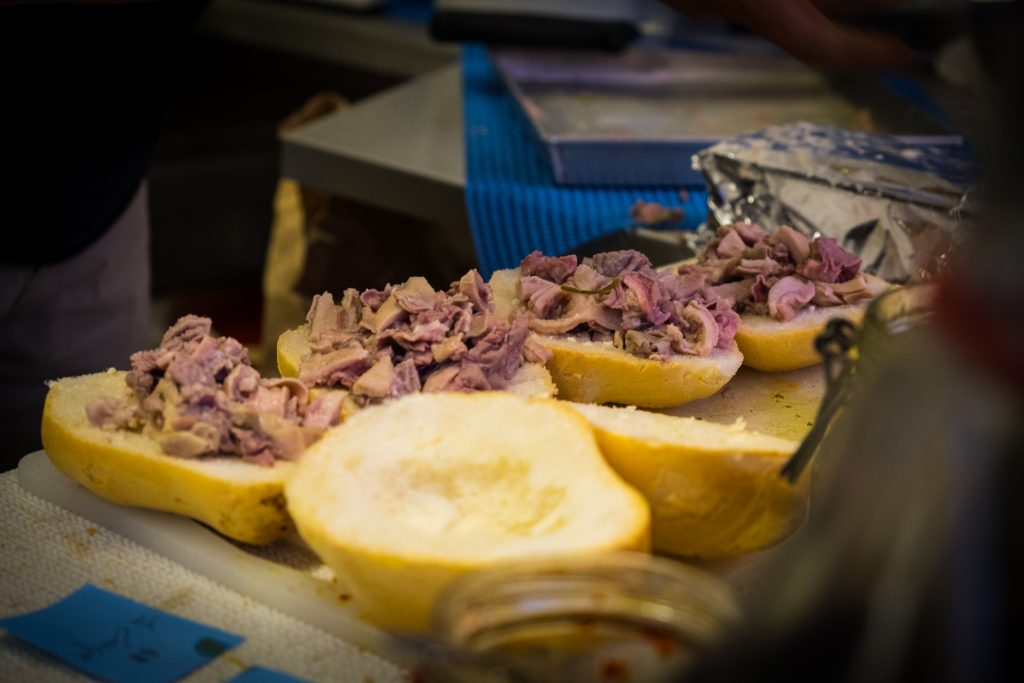 Lampredotto
Certain experiences fall into the "you had to be there" category. This might apply for lampredotto, the famous street food of Florence. A poor man's treat, the basis of this dish is the lining of the 4th stomach of a young cow. Slow simmered in tomatoey broth, it was the Renaissance peasants' answer to unaffordable eel, lampre. These days it's still a local favorite, piled high on a bun topped with a green salsa of parsley, capers, and anchovies. Florentines can't seem to get enough of it, those brave sports.
Farinata di ceci
Imagine a savory, crepe-like flatbread whose popularity has lasted 800 years and has spun off variations throughout Europe and you have farinata di ceci. A regional favorite of Genoa, this chickpea, oil, and salt flatbread is said to have originated by accident when a returning ship was besieged by a storm, toppling its chickpea flour and oil barrels. The substances mingled with salt water, dried in the sun…and poof…a new snack food came into being. Truth of origin or not, baked farinata di ceci is enjoyed daily as a quick snack, sometimes stuffed between bread, or even as an appetizer to a full course meal.
Cultural traditions are revered in Italy and certainly tend to stick around. Treat yourself to one of the tastier kinds and get thee to an Italian street food vendor!