Gina Lollobrigida was much more than a star on the Walk of Fame because acting was only one of the many facets of her kaleidoscopic artistic nature, which kept her on the silver screen for more than 70 years.
Sculpture, drawing, painting, photography. She was also a talented documentarist and in the 1970s, as a journalist, she "bewitched" Fidel Castro. She created art throughout her life, without ever breaking character, without ever abandoning the charming image the public gave her since the beginning of her career. Always incredibly beautiful and well-kept, elegant and flamboyant despite her age: a woman who had really been, just like in her 1955 movie directed by Robert Z. Leonard, "the most beautiful in the world."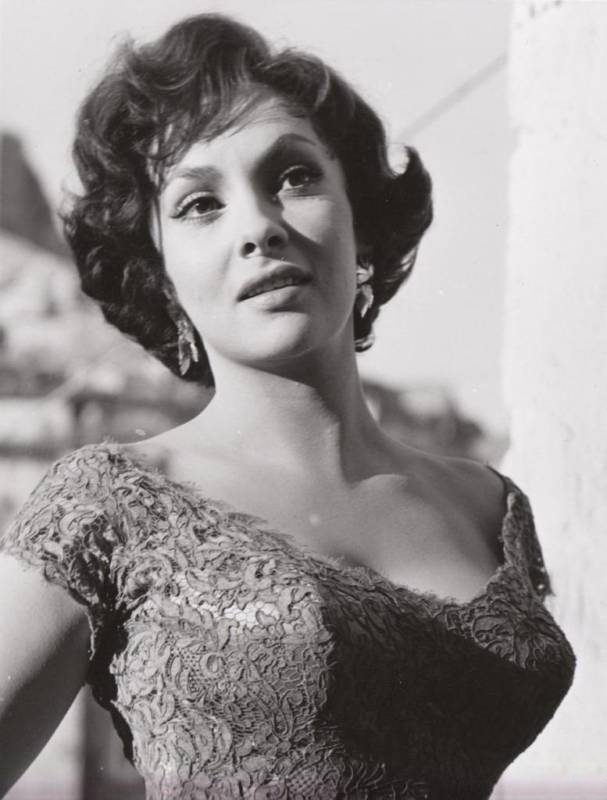 Upon learning of her death, Sophia Loren said she felt "emotional and grief-stricken." And in the Chiesa degli Artisti in Rome, among hundreds of flowers, there were also her roses, a sign that finally disproved the rivalry 1950s newspapers had talked so much about – a rivalry caused by the fact the glamorous Neapolitan actress took her place in the third installment of Pane, Amore e…, after Lollobrigida refused to star in it. "Your body – Loren wrote – may have died, but your star will keep shining on us and in our hearts forever."
Gina Lollobrigida, the charming and strong "Bersagliera," died at 95, after an incredible career that began when she was only 17. An incredibly extensive filmography: more than 60 feature films, plus many TV series, including Comencini's Pinocchio (1972), where she entered the collective imagination of a generation as the Blue Fairy. She won two Golden Globes and received two more nominations; seven David di Donatello and three Nastri D'Argento, the most important Italian cinema awards; one Bafta nomination as leading actress in Pane Amore e Fantasia. And we shouldn't forget she dubbed eight movies and recorded three songs: she had a voice that, if further trained, could have opened up the doors to a career as a singer, if she wanted. She was good at everything. We should also mention the award she received from the Accademia della Arti del Disegno in Florence, in name of her undisputed talent as a visual artist.
She became a Grand Officer of the Order of Merit of the Italian Republic in 1987 but France, the first country to recognize her talent at the very beginning of her career, had already given her two medals of the Order of Arts and Letters in 1985. She was also to become, in 1992, a knight of the French National Order of the Legion of Honor for her artistic achievements. Hollywood, who had welcomed her for the first time in the 1950s and was immediately besotted by her charm, presented her with star number 2,628 on the Walk of Fame: it was February 2018 and, on that occasion, L'Italo-Americano had the opportunity to interview her.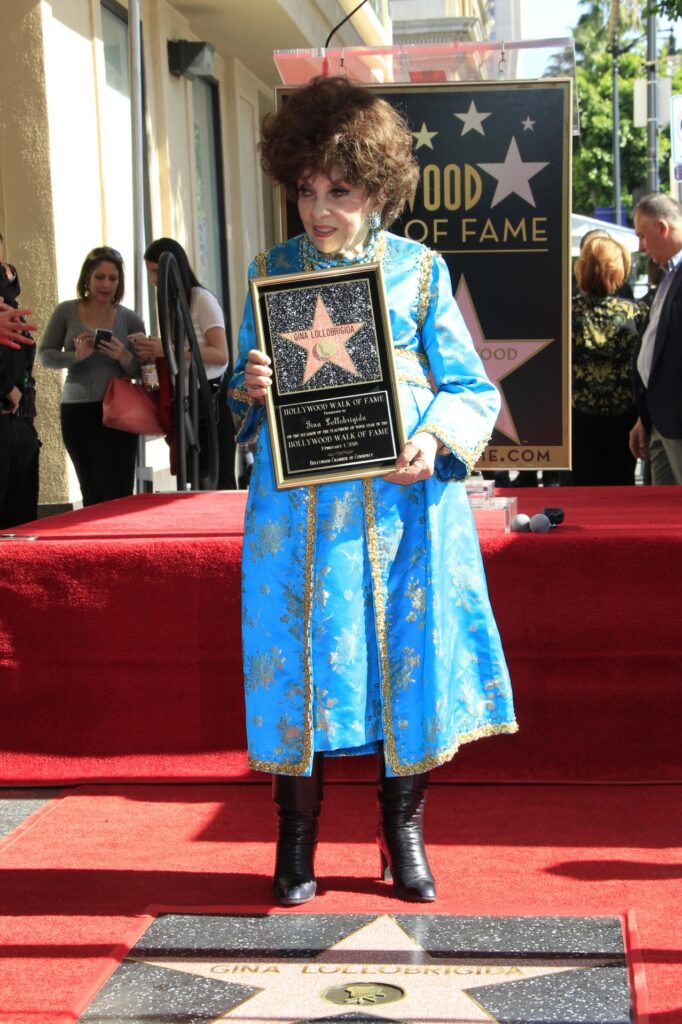 "I am in Hollywood, sixty years later. I didn't expect such love, I didn't expect to receive such a fantastic gift. Being loved by people all over the world truly touches my heart," she confessed then, a tad surprised perhaps, and wrapped in a gold and light blue dress.
In America, she was directed, among others, by Vincent Sherman, Carol Reed, King Vidor, Melvin Frank, Robert Z. Leonard, and worked alongside world-known stars like Rock Hudson, Sean Connery, Robert Alda, Errol Flynn, Lee Grant, Shelley Winters, and David Niven, as well as famous Italian Americans like Dean Martin, Bobby Darin, and Anthony Franciosa. She was the protagonist of internationally-acclaimed Hollywood productions like John Huston's Beat the Devil, with Humphrey Bogart and Jennifer Jones, or Carol Reed's Trapeze, with Burt Lancaster and Tony Curtis, which was a great success. Later, she was a gorgeous and sexy Esmeralda in The Hunchback of Notre Dame by Jean Delannoy, along with Anthony Quinn as Quasimodo; she played with Frank Sinatra and Steve McQuinn in Never so Few and performed with Yul Brynner (who took over the role of Tyrone Power, who died while filming) and George Sanders in Solomon and Sheba.
Mind, this is a very reductive list.
In many an interview, she recalled anecdotes about her relationship with some of the greatest international movie stars in history, in particular, she often spoke about her friendship with Marilyn Monroe, whom she had met during the first years of her American career. In an interview she gave to the Italian TV show Storie Italiane, while showing one of the many sculptures she dedicated to Monroe, she remembered when they met on the day Marilyn shot the famous subway scene for The Seven Year Itch (1955): "Our dresses were almost identical: hers was white, mine pink, made of chiffon. Photographers went crazy. The first thing she told me was: 'They call me the American Gina Lollobrigida.' I was very touched. She was so very down to earth, so naive, so humble, especially. She wasn't very confident. Then we met again in Hollywood and we became friends. I had the opportunity to get to know her better, to appreciate her…but you see…it's a pity she wasn't strong like I am. Who knows, maybe she'd be still alive. She was very, very fragile. I saw her crying and it hurt me."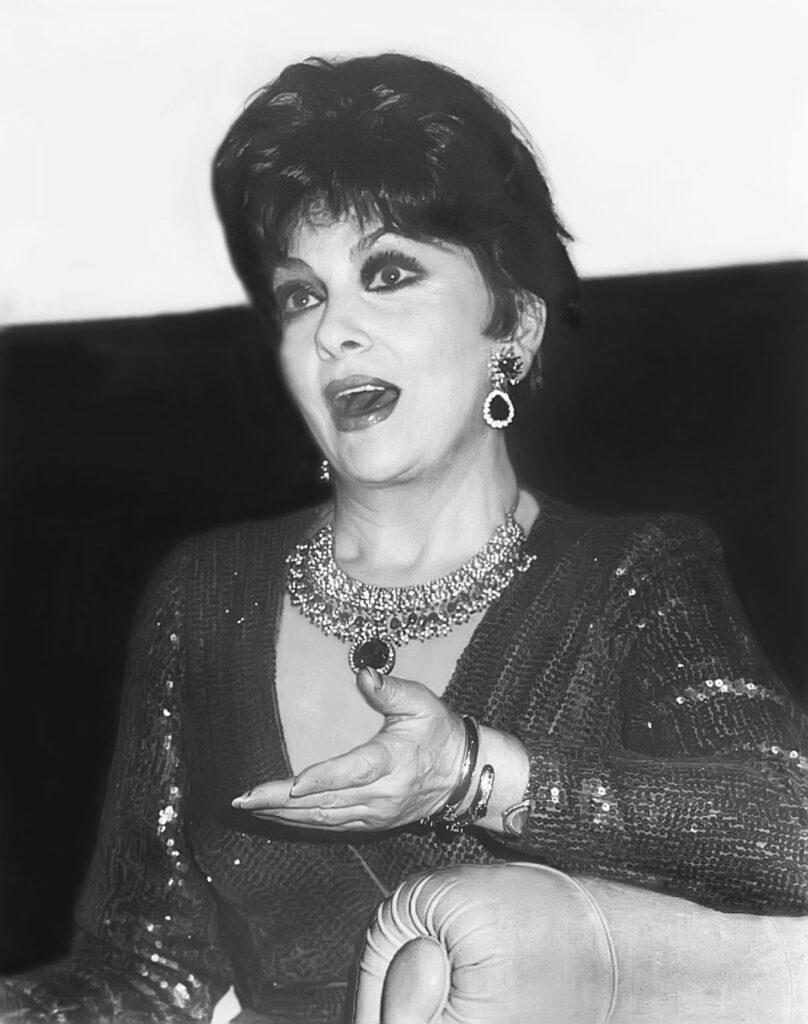 But La Lollo, in the end, said "no" to Hollywood, even if that meant breaking an exclusive contract, and rejecting proposals and romantic overtures from billionaire producer Howard Hughes who, she would eventually reveal, courted her "for twelve years." She preferred to come back home and bet on commedia all'Italiana and on neorealism, where she embodied figures filled with strength and popular passion, which were to turn her into a true icon of the 20th century.
In Italy, she worked with world-renowned directors like De Sica, Germi, Comencini, and Monicelli. If the first international success came in 1952 with French movie Fanfan la Tulip alongside Gerard Philipe, she would triumph in Italy one year later, in 1953, with Luigi Comencini's Pane Amore e Fantasia and its very successful sequel, Pane Amore e Gelosia. These are the movies where her most famous alias was born: la Bersagliera, the nickname given to exuberant Maria, the love interest of Vittorio De Sica's maresciallo.
Speaking of her alleged rivalry with Sophia Loren, Gina declared in a 2019 interview with AGI: "All those rivalries were invented by others, they were publicity stunts. I never looked at other actresses, I focused on myself. Art saved me: I had no mentor, and at the beginning, I didn't even know what cinema was. My experiences helped me improve. In my acting career, both in Hollywood and in Italy, I always sought true stories to tell and to bring to life, more than I sought famous partners or directors. Money and fame never really mattered to me."
In the last few years, she dedicated herself mostly to visual arts, sculpture, and painting, as well as photography. She had many exhibitions around the world and had a book of sketches and drawings published.
In 1947, when she walked on a stage for the first time for the Miss Italia competition – she arrived third, behind winner Lucia Bosé – under the heading "aspirations" she wrote, in elegant handwriting: " I'd love to do something serious with my abilities."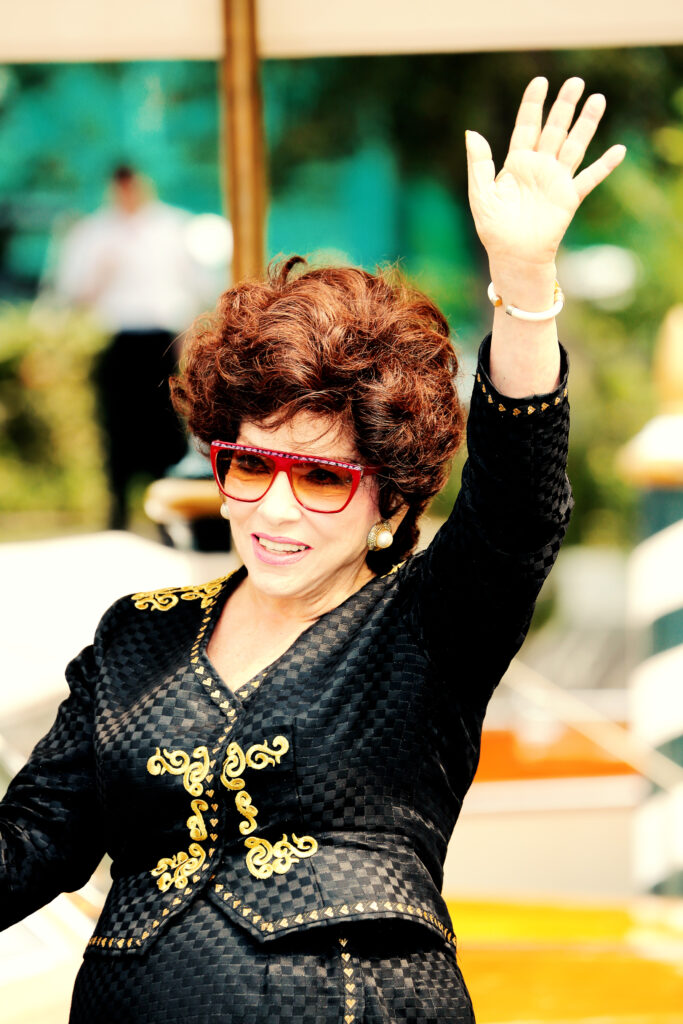 Gina was born in Subbiaco, a small Medieval hamlet in the province of Rome, on the 4th of July 1927, in a family of furniture makers who had lost everything during the war. In 1944, she moved to Rome where she enrolled at the Fine Arts Institute. To earn money and pay for her studies, she would draw charcoal caricatures and became a fotoromanzi (picture stories that were very popular especially during the 1950s and 1960s) with the pseudonym "Diana Loris." From there, the step to work as an extra or a stand-in in movies was short. She obtained her first small roles in opera movies in the early postwar years and then she continued, all the way to stardom. "I started acting for 1,000 liras a day, to help my family," she once recalled.
One of the last awards she received was the David di Donatello in 2016, given to her by President Sergio Mattarella.