To be fair, this habit doesn't belong to Italians only, but it's so popular we may well see where it comes from! Kissing under the mistletoe, or baciarsi sotto al vischio, is a must of the festive season in every corner of the world, as it is believed to bring love and protection, especially if the couple kissing is romantically involved. However, the origins of the tradition are quite peculiar, because for the Vikings, the people we inherited our love for mistletoe from, the plant was initially associated with death.  
Mistletoe, in Italian is vischio, a word that makes us think of something sticky and glue-like, just as the substance produced by mistletoe berries when you crush them.  In fact, we even have an adjective, vischioso,  that clearly comes from our word for mistletoe and means just that, "sticky." Indeed, being sticky is one of mistletoe's special characteristics, which enables this evergreen, hemiparasitic plant to, quite literally, stick to its host and flourish.
Mistletoe (viscum album) attracted the attention of our forefathers in the northern regions of Europe – where the legend I am about to tell you comes from – because it can grow and thrive in the coldest weather, often attached to naked, dormant trees: the contrast between its green, luscious branches and the starkness of nature in the cold season, brought the Vikings, thousands of years ago, to believe there was something magical about it.
In ancient Norse mythology, mistletoe is associated with Baldur, Thor's younger brother. His mother, Frigg, had a premonition of Baldur's untimely death and, in an attempt to avoid, or at least delay, Baldur's fate, she had all creatures in nature, all elements, and all plants swear they would never hurt him. She forgot, however, the mistletoe. Some versions of the legend say Frigg, actually, willingly left the mistletoe out, because it was a young plant unable, she thought, to harm another being.
Loki, the god of mischief and deception, took advantage of Friggs' forgetfulness: he made poisoned arrows from mistletoe branches which he gave, tricking him into accepting them, to Baldur's blind brother, Hǫðr.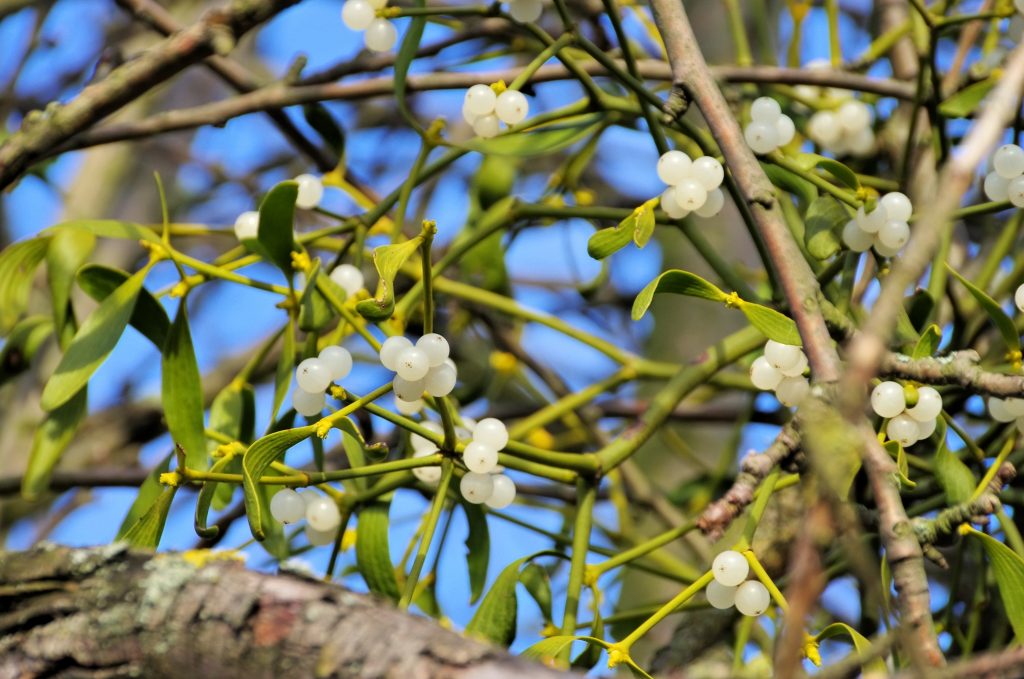 Now, thanks to Frigg's actions, Baldur was virtually invulnerable so he liked to play with the other gods by letting them throw at him anything they could think of: nothing could hurt him, in the end. It is to one of these playful sessions that Hǫðr went, carrying the poisoned mistletoe arrows along with him. Unfortunately, when he shot his brother with one, he killed him.
When Frigg, unconsolable, arrived on the scene, she wept on the body of her child, with her tears becoming the white, sticky berries of the mistletoe. Since then, people place mistletoe branches on their door, as a sign of respect for the dead and at perennial memory of the event.
There is, however, an alternative conclusion to the legend, and it's here we find the root of our "kissing under the mistletoe" tradition. This version of the story says that, once she realized the mistake she had made, Frigg tried to hide it by declaring mistletoe a symbol of universal and eternal love, inviting everyone to kiss under it to strengthen their bond.
The Celts embraced the positive meaning of the plant and considered the mistletoe a symbol of fertility. It is interesting to note that the mistletoe may also appear in Virgil's Eneid when Eneas uses a "golden twig" to travel through Hades as a living person: for some scholars, the golden twig is nothing more than a mistletoe branch, a symbol of the power of life against death.
In spite of its incredibly ancient origin, the habit of hanging mistletoe on a door and kissing underneath it at Christmastime to obtain love and happiness developed way more recently, in Victorian England. And it was the most Victorian of all writers, Charles Dickens, to mention it in writing for the first time back in 1836.