Is there anything more quintessentially Venetian than a gondola? Well yes, perhaps: a gondoliere, or gondolier, to say it in English. We all know these colorful figures, so familiar to all those who visited La Serenissima at least once in their life, with their black pants, straw hats, and striped shirts: but have you ever wondered why they are dressed that way? Where does the uniforme del gondoliere come from?
We should take a step back to understand. During the golden years of the Venetian Republic, gondoliers were privately hired by the most important – and wealthy – families in town for their own gondolas. Back then, their clothes were in line with the baroque style that was en vogue, with its damask coats, gold buttons, and wide trousers that'd tighten at the knee. They were known as gondolier de casada – an expression we learned from Carlo Goldoni's theatre pièces-  and, in the collective imagination of their contemporaries, they were the equivalent of butlers in Edwardian English literature: a bit servant, a bit confidant of their masters. In those years, gondoliers' clothes were made specifically for them, by specialized tailors. 
But today's gondoliers, the ones who make so many tourists happy, are a relatively modern creation. Up to the 1960s, steering gondolas wasn't their only job: gondola rides were a seasonal affair so, often, gondoliers doubled as coalmen during the winter months. Then, mass tourism became a thing, and riding gondolas on the Canal Grande a beloved activity for all visitors. So being a gondolier became a profession in itself.
To fit rightly the part, they embraced a style inspired by sailors' uniforms across Europe, as well as some ad hoc elements: enter the straw hat – often embellished by a ribbon – the black trousers and shoes, the silk cummerbund and, of course, the striped shirt.
Indeed, it is the red and white or – more recently – blue and white shirts we see in our minds when thinking of gondolieri,  a true symbol of the category. And if the association with traditional nautical design is easy to recognize, it may come as a surprise to find out that, perhaps, its adoption as a "uniform" is rooted in the world of cinema, more precisely, in a 1958 Dino Risi movie, Venezia, la Luna e Tu (Venice, the Moon and You), where legendary Alberto Sordi played the part of a gondoliere wearing a white and red striped shirt.  The look was so eye-catching and iconic that gondoliers decided to adopt it for real, or so the legend says.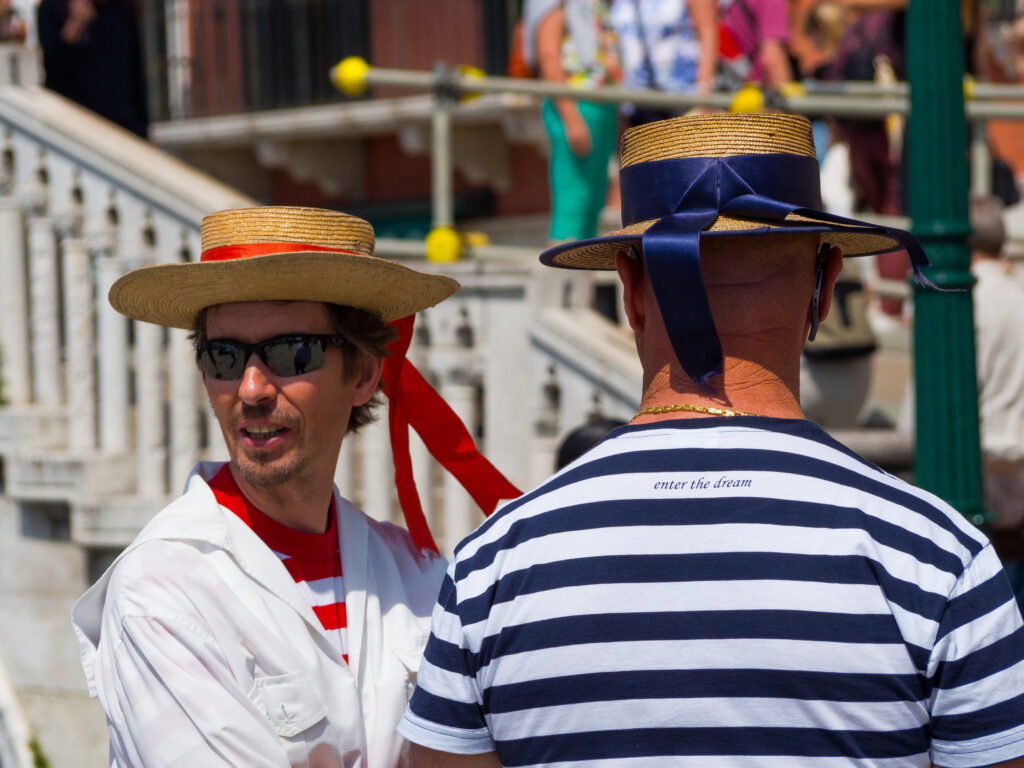 Whether this is the real reason behind the trend or not, the striped shirt has become an official part of gondoliers' uniform, as attested by the Associazione dei Gondolieri, which also specifies the stripes must be exactly 1 inch wide.
Today, being a gondolier is a serious deal: there are schools to attend not only to learn all about gondolas and sailing in the laguna but also foreign languages, which are essential for the job. The school also has compulsory courses on Venetian history and art, because a gondolier is not only a sailor, is a guide to one of the most beautiful cities in the world. Upon completion of the course, aspiring gondoliers must take an exam held by Ente Gondola: if they're successful, they can finally register in the albo of the profession. Before finally investing in their gondola and showing Venice around to tourists, however, new gondoliers must train with an experienced colleague for a period between 6 and 12 months, at the end of which they'll take another exam, a practical one this time, where they are required to "drive in traffic," or on a day of high tide.
Last but not least, all gondoliers are required to steer their gondolas with aplomb, because their profession is a representation of Venice herself: timeless, unique, perhaps quirky, but always elegant.