In the 18th century, at the height of the Baroque period, Naples, one of Italy's most beautiful cities, was known as the città delle cinquecento cupole, "the city with five hundred cupolas," because of the number of churches one could admire in its historical center.
Indeed, the Campania capital counts about one thousand churches and religious buildings on its territory, more than the holy city by definition, Rome, which has "only" nine hundred. Not a huge difference, sure, but you know we Italians are keen on campanilismo, the habit of idolizing our own town to the point of excess, so you can bet Neapolitans are pretty proud of their city's superiority in this field!
The earliest churches in Naples were built shortly before the Edict of Milan of 313 AD when Emperor Constantine declared freedom of cult for Christians in the Roman Empire. Still today, we can see traces of these early, paleochristian places of worship in the hypogea of many of Naples' churches. It is the case, for instance, of the Basilica di San Pietro ad Aram, originally built in the 12th century and expanded in the 17th, or of the churches of San Giorgio Maggiore and San Giovanni Maggiore. Others remain alive in the very architecture of buildings created in centuries closer to us. Others still lie underground, intact, in the city's catacombs, just like in Rome.
Naples is, still today, deeply connected with its spirituality and with religious practices, and it has always been. It doesn't surprise, so, to see so many churches adorning its streets. Not all of them are in use; not all of them are in top-notch conditions, just like those of another incredible place in our beautiful peninsula: Palermo. Yet, even those that were abandoned centuries ago – perhaps because the wealthy families who commissioned them no longer exist or, more prosaically, because the number of worshippers no longer calls for their use – pay tribute to the greatness of the artists and architects who created them and, most of all, to the faith of Neapolitans. Even in their dilapidated state, they charm and they attract: they are still a place of deep, sheer faith.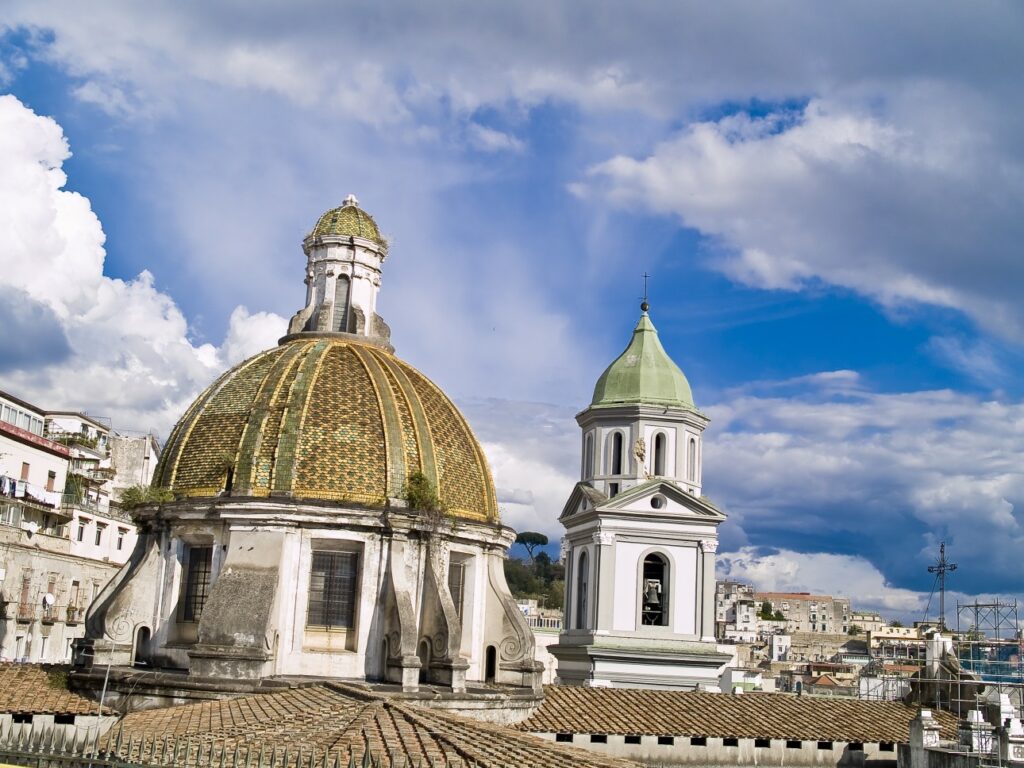 More are, however, the churches that strike for their majesty and beauty, and that we can still visit today. For instance, we should remember the only example still standing of an early medieval church in Naples, San Giovanni a Mare, but also examples of gothic architecture, like San Lorenzo Maggiore or San Pietro a Majella.
We can't write about churches in Naples without mentioning the breathtaking Cappella di Sansevero, once the private chapel of the Sansevero family, who had it built in the 18th century. Indeed, its patron, Raimondo di Sansevero, was quite a character: believed to be an alchemist, he was rumored to have managed to petrify a human body's blood vessels through magic. Today, we also know the Cappella because it is the home of the Cristo Velato, a marble sculpture of the Cristo Morto (Christ lying after death) so beautiful it was thought to have been created with magic, too. Of course, we can't forget Naples' Duomo, the Cattedrale di Santa Maria Assunta, a well-balanced mixture of many architectural styles, from medieval gothic to 19th century neo-gothic: the church is known for homing the famous Tesoro di San Gennaro, all the jewels and gold the people of Naples donated for the saint, or wealthy faithful had commissioned in his honor. It's here that, every year, twice a year, the miracle of San Gennaro's blood takes place.
The last curious Neapolitan church we'd like to mention is the Baroque Santa Maria delle Anime del Purgatorio ad Arco (17th century), which had been commissioned by a group of rich Neapolitan families to become their burial place. The church, a beauty in itself, strikes especially for one thing: the skulls and bones decorating its façade, a clear hint at what the building had been intended for.