Pasta alla carbonara and pasta alla puttanesca: staples of central and southern Italian cuisine that, slowly but surely, became common, beloved dishes across the country. With its creaminess and the luxurious combination of guanciale, egg, black pepper and parmesan, carbonara is decadent and satisfying, so easy to make it is considered in Italy a "student food," just like ramen is in the US or beans on toast are in the UK.
Puttanesca is perhaps not as popular, both in Italy and abroad, as its cousin, but it's just as full of flavor: quintessentially Mediterranean in its ingredients, we have two versions of it, the Neapolitan, with tomatoes, Gaeta olives, capers, oregano – rigorously matched with spaghetti, linguine or vermicelli – and the Roman one, with the addition of salted anchovies, usually served with penne or spaghetti.
Both recipes have interesting origin stories and names.
Carbonara, perhaps, was created in central Italy by the lumberjacks of the Apennines, who chopped wood for coal (carbone, in Italian) all year round: hence the name "alla carbonara," or "following the fashion of coal men." Some others say the recipe became popular in 1944, when a Roman cook invented the dish and named it after his previous occupation, carbonaio (or carbonaro). Last, but not least, the name – and the recipe – could also come from the North, more precisely from the Polesine area of Veneto, where a noblewoman would offer the dish to members of the Carboneria (a secret patriotic society of our Risorgimento) chapter to which she was affiliated.
The origins of puttanesca and its name are a bit… saucier, and you must guarantee us you're of age before reading on!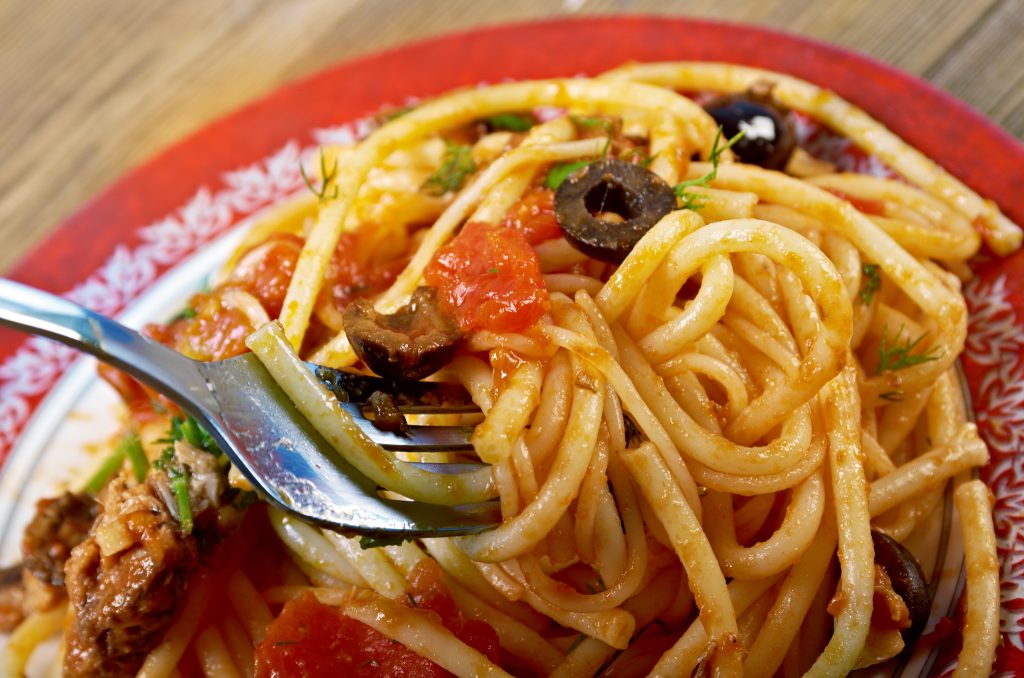 Arthur Schwartz, in his book Naples at the Table, moves the origins of pasta alla puttanesca to Naples, but doesn't change the story much: in Naples, just like in Rome, it was apparently created for the girls of a famous brothel in the Quartieri Spagnoli: again, it was their profession to inspire the name.
There is yet another version of the story that wants our spaghetti alla puttanesca as the invention of a French sex worker called Yvette: we don't know where she lived, but we know she named her culinary invention after… ahem, her job.
There is one last curious anecdote about the origin of puttanesca, one that involves Sandro Petti, owner of a trendy nightclub in Ischia during the years of la dolce vita, the beautiful 1950s. When surprised by a bunch of friends for dinner, Petti had little left in his fridge and complained about it; one of the gang, apparently, told his friend just to make "some b******t up," which in Italian translates – in slang – with a word very close to puttanesca, with the same root and a similar ending, but which I ain't going to write here!
There is one last, more poetic — but not less spicy — version of the puttanesca origin, which says the name was inspired by the bright colors of the underwear of sex workers in the Belle Époque, when they apparently had a penchant for reds (tomatoes), greens (capers and oregano) and purples (Gaeta olives).
Whichever version you want to embrace, there is no escaping the naughtiness of puttanesca!
Carbonara and puttanesca are pasta icons. They are traditional, easy to make, mouthwatering and comforting. They are simple just like our cuisine naturally is, but have ornate, curious stories behind, just as you would expect when something comes from Italy. Dig up your recipes, make them both and let us know which one you and your friends prefer!